Post-sentencing by CBI court, Followers of Baba Ram Rahim do not give up, gear up to challenge Murder case verdict in higher courts.
It was a hectic day for authorities yesterday, Being a day when the quantum of punishment was to be announced for Baba Ram Rahim, the controversial sect head of Dera Sacha Sauda in a murder case of local journalist Ram Chander Chhatrapati. With more than 600 Policemen including RPF men on duty, guarding the Sunaria Jail campus in Rohtak, Haryana, Drones were also used to monitor law and order situation by Haryana police. This may be the only such case in recent times where a spiritual head is making headlines for security arrangements. Even Popular Bollywood actor and politicians do not enjoy such arrangements. The only reason for this is the humongous number of followers this man enjoys. He is definitely not an ordinary Guru.
With 60 million plus followers, this Guru can take on any country with a single command to his followers. But his messages to his followers have always been of peace and harmony and the followers have abided by the same every-time. On one instance when these followers were described as Gundas, taking on machinery, were actually anti-social elements, who took advantage of the situation on 25th August 2017 post-conviction of Baba Gurmeet Ram Rahim in a rape case.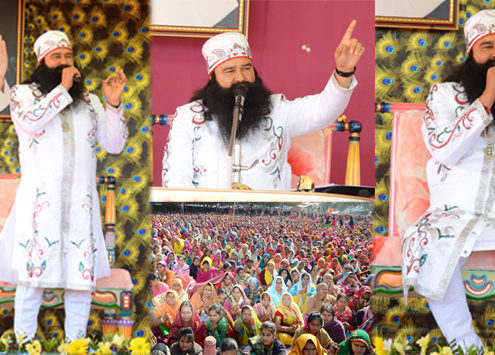 Well with another sentencing due on 17th January had the authorities on their toes fearing a similar situation as on 25th August. But it was definitely not an issue this time. With the punishment coming out in the evening, followers in anticipation of what was going to come their way were actually prepared for this mentally, as he was pronounced guilty on 11th Jan. In fact, contrary to popular belief Dera followers, were more convinced of their Guru being innocent. And they are ready to follow the legal course of action and all set to approach the higher courts to challenge the verdict given by the lower court. In fact, even in the rape case, a petition has been filed in the high court, from Baba Ram Rahim's side, challenging the 20 years sentence given by CBI special court in Panchkula.
Dera Followers meanwhile are keeping their heads high and ready to face any consequences to follow their idol, Baba Gurmeet Ram Rahim and do not seem to be deterred in any way in their quest to seek the truth. Their humanity works, too have been as usual, since 11th Jan, when he was pronounced guilty in Ram Chandra Chhatrapati murder case. Their conviction is indeed out of this world, to continue working towards the social welfare, even in such dire circumstances. It is the teachings of Baba Ram Rahim, and his recorded Satsangs, that are acting as a ray of light for 60 these million souls.