If you are assuming that Victoria Triece might be a Hollywood actor or entrepreneur we are going to talk about, then you are wrong. She doesn't have any connection with the film or business world. Then, who is she? 
She is a celebrated model, social media star, and entertainer from Florida, USA. She is famous for her adult content like hot photos and videos on her social media accounts and OnlyFans—an adult website. 
Apart from being an OnlyFans model, she is a mother of two kids. She came into the spotlight after she was banned from volunteering at her kid's school due to her account on OnlyFans. There is a lot more about Victoria Triece that you might be interested in knowing.
In this blog, we have shared the key facts about Victoria Triece that may surprise you.
Who Is Victoria Triece?
As mentioned above, Victoria Triece is a celebrated model, adult star, social media celebrity, and loving mother. The Instagram celebrity is a popular household name all thanks to her profession. 
All her fame and income are just because of her scandalous content like bold photos and videos that she often shares on her social media accounts and adult website, OnlyFans. Subscribers need to pay monthly charges to view sexual photos and videos on OnlyFans.
One of the main reasons why people are curious to know about such celebrities and their personal lives is just to boost moral policing. However, this creates problems for adult stars as they are often judged on the basis of their profession, action, public appearance, and conversation.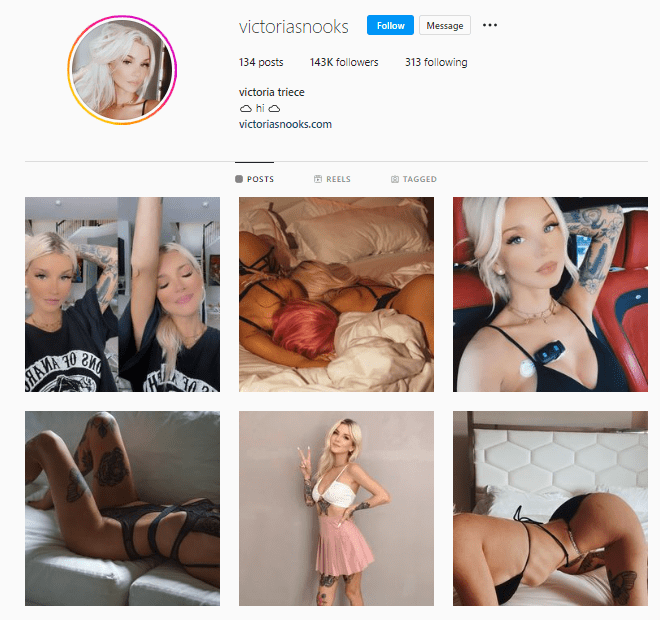 Victoria Triece Is A Social Media Star
Apart from OnlyFan's model, Victoria Triece is also a social media star. She is quite active on social media platforms like Instagram and Twitter. She is popular by the name "Snooks" on all her social media platforms. Victoria has about 143K followers on Instagram and 30.5K followers on Twitter.
She often shares NSFW content like sexy and hot pictures and videos on her both social media accounts. She also posts nude or half-naked photos and showcases her bold body and tattoos. 
None of her social media accounts contains any personal details about Victoria and her kids. 
What Brought Her To Limelight?
Victoria Triece is a mother of two boys, one is 5 years old and the elder one is 10 years old. Both her kids study at Sand Lake Elementary School in Orlando, Florida. 
Both Victoria and her two kids have been volunteering at school for the past 5 years. However, this time they were not allowed to volunteer. Victoria was banned from volunteering at her kid's school just because of her profession. 
The school management took this harsh decision when someone shared Victoria Triece's bold pictures from her account on OnlyFans with the school's administrators. 
As per one of the students of Sand Lake Elementary School, Victoria's adult content was secretly shared by the parent of another student. 
Victoria Expressed Her Anger On Twitter
Victoria felt very disappointed after she got banned from volunteering at her kid's school due to her nature of work. She expressed her anger and disappointment on her Twitter account.  
Victoria tweeted, "the way someone took paid content from my OnlyFans and sent it into my children's school is so cruel. you don't have to like what I do or agree with it but to do something this extreme is just downright wrong."
She further added, "And if you want to see the email that was sent about me or hear the story about how I currently am not allowed around children in the school building because of this email, it's all over the news right now."
A Lawsuit Against School
Victoria's anger was not just confined to her Twitter account. As per WESH, Victoria along with the attorney, Mark NeJame charged the school with a lawsuit worth $1 million for damages and asked to restore her volunteer position.
As per her attorney, "What authoritarian mentality allows somebody to point a discriminating finger at somebody and say we don't approve of you and you can't be around children. That becomes frightening". He further claimed that someone made her adult photos public after which the school took an action to ban her from volunteering.
He further added that Victoria has no criminal record and she has always dressed in appropriate clothes for university events. 
On the other side, Victoria admitted that she felt a huge humiliation and further said no one should be concerned about the profession of any parent.
Let's Wrap Up
Working in the adult industry has turned out to be one of the biggest hurdles for Victoria Triece and her kids. After being banned from volunteering at her kid's school, she felt bad, frustrated, and humiliated. Furthermore, she was surprised to know that her OnlyFans account and the images were shared by a parent of one of the students. 
Above all, one should not be judged on the basis of their profession or identity. What other does to make a living and raise their children is none of anyone's business.