How Does A Healthy Lifestyle Impact Your Spiritual Life?
It goes without saying that your lifestyle leaves a noteworthy impact on your spiritual life. The common adage, 'Healthy Mind Lives in a Healthy Body', corresponds itself with spirituality as well. This is apparently true that if your lifestyle, your habits are not healthy and your body is not healthy, then it will certainly impact adversely on your spiritual life. Saint Gurmeet Ram Rahim Singh Ji Insan has put light on this fact by elaborating this issue in quite a simple way.
Guruji enunciates about this fact and says lifestyle considerably influences one's spiritual life. If your body is not healthy, then walking on the spiritual pavement would also be very daunting and instructing. To keep the connection alive, it's utmost necessary to maintain the daily practice and lifestyle accordingly. Unhealthy living can bring a big blockage in circulating positivity and divine vibes in the body. So, along with the daily practice of God's words, it's essential to keep harmony in everything that you go through in life.
Here are the world-class tips are given by Baba Ram Rahim for a healthy life which eventually results in the perfect spiritual life. Set your lifestyle in this way:
·        Wake up early morning and in fact, try to wake up before sunrise, in between 2 to 5 am and recite God's words at that time. The Simran done at that time would quickly make you capable to meet God. Besides this, the air at that time is totally fresh and bacteria less. So, take a bath or wash out your face thoroughly so that you don't feel lazy while doing so. However, if you missed that time, then at least wake before sunrise and then recites God's words.
·         Go for a morning walk, it's quite important for overall body health.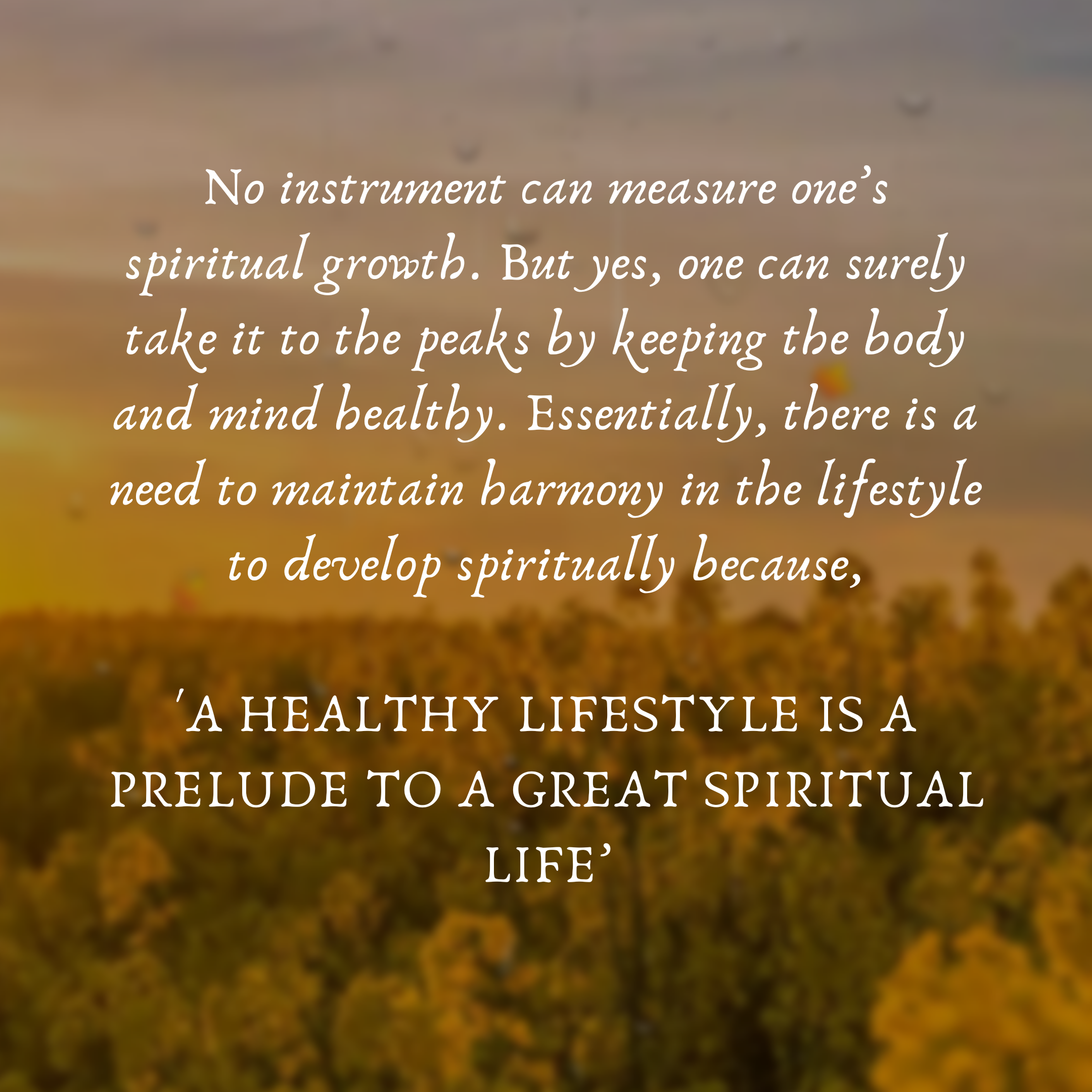 ·    Guruji says, one should eat like a king in the morning (take a healthy diet and eat as much as you can, because it will keep you energetic all, the day long), like a queen in the afternoon (Eat substantially and in moderate amount) and like a beggar at night (take a meager amount of food and prefer only salad to eat). The right way of having it is, you should drink the food and chew the liquid. Surprised? Well, this is the perfect way of getting good health. Drink the food means chew it to that much extent that it can take the liquid form and can get digested easily. However, chew the liquid, so that it can get into the body slowly and any hard particle, if it contains, can be detected quickly thereafter.
·         Your food must contain boiled food items instead of fried ones. Besides taking your health to extinction, fried food also keeps you away from God.
·         Do good deeds and work hard for the whole day and never ever resort to corruption or any other wrong deeds.
·         Take dinner before the sun sets because the quantum of bacteria at that time remains low.
·         Do evenings walk as well, after having dinner?
·         Practice method of meditation either half an hour before dinner or two hours after having it.
·         Sleep early even before the sun sets. If not, then at least before 10 pm.
·         Regularly do Simran with Pranayam because it keeps you connected with God promptly and open up the 10th door (The only way to meet God) quickly. Recite it with pure feelings and with the intention of goodness in your mind.
These are some of the healthy lifestyle tips for all who want to live healthily and improve their spiritual life as well. Besides this, Gurmeet Ram Rahim Singh Ji has also formulated a special diet chart to kick out obesity from you. Fat doesn't let you grow on a religious path and a fat body houses a number of diseases which always create chaos and don't let you meet God easily. So, you definitely need to first pick it away from your body by adopting this diet chart, if you wanna augment your journey towards spirituality. The specialty of this diet chart is, you will never need to stay hungry. It's so fulfilled and energy booster that you will never feel the need to eat more.
Baba Ram Rahim navigates people time to time by sharing the most valuable tips just as given above. His way to make people aware of right and wrong things is not just peculiar, but spectacular too. Implement these tips to improve your lifestyle and make a clear way to meet the Almighty.
Tags:
Baba Ram Rahim
,
Healthy Lifestyle
,
life
,
lifestyle
,
Saint Gurmeet Ram Rahim Singh