Get ready to hear about the buzzworthy couple that has everyone talking – Josh Allen and Hailee Steinfeld! Football fans and pop culture enthusiasts alike have been wondering if these two superstars are an item.  In May, they were spotted together, causing quite a stir. And that's not all – a few months later, they took a romantic trip to Mexico, adding fuel to the rumors.
To top it off, during a recent podcast interview, Josh Allen hinted at having a special someone in his life – could it be Hailee Steinfeld?  What is the most recent information on Josh Allen and Hailee Steinfeld? We've got all the details on their blossoming romance right here for you.
Josh Allen- American Star Quarterback
Joshua Patrick Allen, who is popularly known as Josh Allen is the talented football quarterback taking the NFL by storm as part of the Buffalo Bills. But how did this rising star make his way to the big leagues?  Josh was born on May 21, 1996, in Firebaugh, California. He is currently 27 years old. He grew up with his parents, Joel and Lavonne Allen, and has three siblings named Nicola, Jason, and Makenna.
After graduating from Firebaugh High School in 2014, Josh pursued football by attending Reedley College for a year to improve his skills. In 2015, he joined the University of Wyoming where he studied social science and earned a bachelor's degree in 2017. It was at Wyoming that Josh's football prowess caught the attention of many. In the 2018 NFL Draft, the Buffalo Bills recognized Josh Allen's immense potential and selected him for their team. Since then, he's been impressing fans across the nation with his incredible talent and determination.
Hailee Steinfield: Actress and Singer
Hailee Steinfeld is an actress and singer from the United States. She began her career in 2007 and became famous in 2010 for her role in the movie True Grit. Since then, she has been in other movies and TV shows such as Bumblebee (2018) and Hawkeye (2021).  Hailee Steinfeld was born on December 11, 1996, in Tarzana, Los Angeles, California.
She is currently 26 years old (as of September 2023). Her parents are Cheri (nee Domasin) and Peter Steinfeld, and she has a brother named Griffin Steinfeld. Hailee went to Ascension Lutheran School, Conejo Elementary School, and Colina Middle School for her schooling. From 2008 until she graduated in 2015, she was homeschooled.
Josh Allen, Hailee Steinfeld Love Story
Josh Allen and Hailee Steinfeld's relationship hasn't been well-documented, but we can put together some key events. They were first seen together during a vacation, and later Allen seemed to confirm the rumors that they were in a relationship.  Here is a timeline of Josh Allen and Hailee Steinfield relationship:
May 2023: Josh Allen and Hailee Steinfeld Spotted in NYC
Hailee Steinfeld and Josh Allen were seen together in New York City in May 2023. It's unclear how they met, but rumors of a possible romance started when they were photographed hanging out throughout Memorial Day weekend. There was even a picture where it looked like they were on a double date with friends.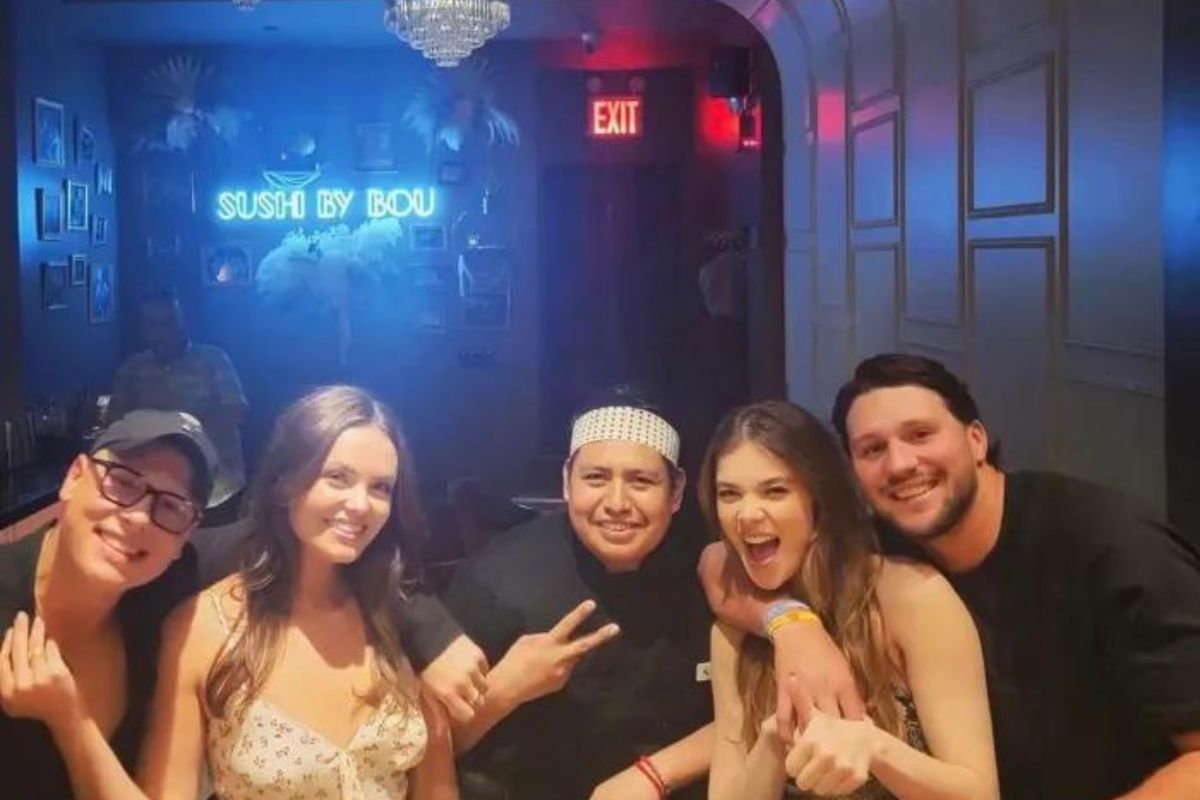 July 2023: A Mexico Vacation
During the Fourth of July weekend in July 2023, Josh Allen and Hailee Steinfeld spent a romantic vacation together in Mexico. Their affection displays further heightened speculation about their relationship.
August 2023: Josh Allen Confirms He's Dating Hailee Steinfeld
Josh Allen recently appeared on the Barstool Sports podcast, Pardon My Take, and discussed his relationship with Hailee Steinfeld. When asked about the news and pictures of their romantic vacation, he was surprised that people still cared about it. He also mentioned how he didn't like being photographed by paparazzi on their private boat. He said it made him and Hailee feel uncomfortable and insecure.
September 2023: Hailee Steinfeld Spotted at Bills Football Game
Actress Hailee Steinfeld was recently seen at a football game in New York, where the Buffalo Bills were playing against the Las Vegas Raiders on September 17. Pictures on social media show her wearing a Bills jersey and supporting her rumored boyfriend as he led the team to a 38-10 win.
Bottom Line
People are still talking about the possible love story between Josh Allen and Hailee Steinfeld. Although they haven't officially said they're dating, fans are excited to find out more about their Josh Allen Hailee Steinfield relationship and what the future holds for them.