How to Screen Tenants for Your Rental Property
If you're a landlord, you'll always sleep easier at night if you have a good tenant. However, if you have a bad tenant, you'll think twice about your property investment if monthly rents are delayed, your property – inside or out – is damaged, or if angry neighbors flood your phone lines with noise complaints.
You should be extremely cautious when choosing the right tenants to rent your property. The best investment you can make is to hire a tenant screening service like Hire Image.
Hire Image screens tenants by performing a thorough background check that includes income, credit check, a criminal background check, and more.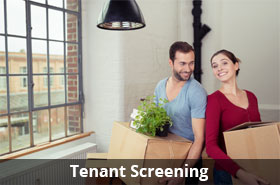 The Top 5 Tenant Screening Tips for DIYers
Pre-Screen Prospective Tenants
Pre-screen your tenants before they take the first step in completing the rental application. You do this by including qualifying statements. For example, if you don't want pets living in or on your property, state it directly in your advertisement. If you don't have the time to pre-screen tenants, hire a tenant screening service.
Make a List of Questions to Ask Prospective Tenants
You should screen different areas of history and background such as employment, credit score, income, and criminal record. It's crucial to ask inquisitive questions when screening your prospective tenants.
Check/Verify Previous Addresses, Landlord and Eviction History
Check with the prospective tenant's previous landlord. Ask questions related to rent amounts, if those payments were made on time, if neighbors had any issues with them, and, generally, how the experience went. Also, check with your local court to see if the applicant has had any evictions.
Interview the Prospective Tenant and Co-Applicants
Collect the application, review the tenant screening document and verify the information provided. Also, review the documents in the presence of the prospective tenant for anything that you feel requires clarification.
Accept or reject the tenant after screening
Once you have collected the credit information and background data, confirmed income and other essential background data, you are ready to make a decision.
Do It Right the First Time
Screening tenants require time, patience, and accuracy. Other than interviewing prospective tenants, you need to run credit checks, conduct criminal checks, verify income and employment, and much more. Renting to the wrong tenant could cost you thousands of dollars in property damage and lost rent. Do it right the first time. It's a small price to pay to hire a tenant screening service like Hire Image to avoid headaches and lost income due to a bad tenant experience.
Tags:
Rental application
,
Tenant Screening Services