Boria Majumdar, an Indian sports journalist, academician, and author, was banned for threatening and bullying Wriddhiman Saha. Boria Majumdar threatens Wriddhiman Saha, an Indian cricket wicket-keeper after he ignores texts from him wanting an interview.
Wriddhiman Saha an Indian cricketer who plays for Gujarat Titans in IPL 2022 shared screenshots of a Whatsapp exchange on Twitter in which he was threatened and tormented by a journalist named Boria Majmudar.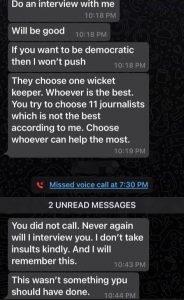 Wriddhiman Saha tweeted on February 19th "After all of my contributions to Indian cricket..this is what I face from a so-called "Respected" journalist!". This is the state of journalism today." Fans reacted warmly to this, with some sympathizing with him and others pressuring Wriddhiman Saha to expose the journalist's identity. The intriguing aspect of the tale is that some people have already speculated that it is Boria Majumdar, who has a bad reputation.
After all of my contributions to Indian cricket..this is what I face from a so called "Respected" journalist! This is where the journalism has gone. pic.twitter.com/woVyq1sOZX

— Wriddhiman Saha (@Wriddhipops) February 19, 2022

Wriddhiman Saha's fans commented on his and mentioned Vikrant, Samip, and Boria as cancer to sports, and wished may God save Indian Cricket from this cancer
Be it Vikrant , Samip , Boria , these guyz are cancer to this sport 😡
Fake rift originated by vikrant , captaincy dressing room saga by TOI etc.
God save Indian cricket from this cancer

— VICKY (@vikktweets) February 19, 2022
In another remark on this tweet, a fan insisted Wriddhiman Saha reveal the name of the journalist so it won't repeat in the future.
Name him please and put all speculation to rest. It will help all those he may threaten in future too

— INDIRA ഇന്ദിര 🇮🇳 (@IndiraDeepak17) February 20, 2022

On Feb 22 Wriddhiman  Saha posted three tweets, wherein the first tweet he expressed his grief and decided to reveal his name, in his second tweet he said he will not reveal his name as it will end someone's career, and in a third tweet of the day Wriddhiman Saha thanked his fans for supporting him.
1/3- I was hurt and offended. I thought not to tolerate such kind of behaviour and didn't want anyone to go through these kind of bullying. I decided I will go out and expose the chat in public eye, but not his/her name

— Wriddhiman Saha (@Wriddhipops) February 22, 2022
2/3- My nature isnt such that I will harm anyone to the extent of ending someone's career. So on grounds of humanity looking at his/her family, I am not exposing the name for the time being. But if any such repetition happens, I will not hold back.

— Wriddhiman Saha (@Wriddhipops) February 22, 2022
3/3- I thank each and everyone who has shown support and extended their willingness to help. My gratitude.

— Wriddhiman Saha (@Wriddhipops) February 22, 2022

Following these tweets, the BCCI began an investigation and found Boria Majumdar to be the perpetrator of bullying, threatening, and intimidating Indian veteran wicket-keeper Wriddhiman Saha, resulting in a two-year ban on Boria Majumdar.
BCCI held a committee to investigate the matter of whether the messages sent by Boria Majumdar were in nature of the threat, and issued a letter in this regard, a copy of which is below:
As you may be aware, Mr. Wriddhiman Saha had shared screenshots of messages sent by a journalist on the social media platform, Twitter, wherein he stated that he felt bullied by the conduct of the said journalist. Mr. Saha in the hearing named Mr. Boria Majumdar as the journalist.
The Board of Control for Cricket in India had taken cognizance of this incident and deemed it necessary to investigate and probe the matter to avoid the recurrence of such instances with other players.
In this regard, BCCI formed a committee comprising Mr. Rajeev Shukla, Vice President, BCCI, Mr. Arun Singh Dhumal, Treasurer, BCCI, and Mr. Prabhtej Singh Bhatia, Councillor, BCCI ("BCCI Committee"). The key issue for deliberation for the BCCI Committee in the matter was to ascertain if the messages sent by the journalist were the nature of threat and intimidation.
The BCCI Committee considered the submissions by both Mr. Saha and Mr. Majumdar and concluded that the actions by Mr. Majumdar were indeed a natural threat and intimidation. The BCCI Committee recommended the following sanctions to the Apex Council of BCCI. The Apex Council of BCCI agreed with the recommendations of the BCC! Committee and imposed the following sanctions:
2 (two) year ban on getting any accreditation as a member of the press in any of the cricket matches (domestic and international) in India;

2 (two) year ban on getting any interview with any registered players in India; and

2 (two) year ban on access to any of BCCI and members associations owned cricket facilities.
In view of the above, we hereby request you to kindly facilitate the compliance of the aforementioned sanctions in your respective associations.
Boria Majumdar is prohibited from interviewing any BCCI-registered cricket player for the next two years, from entering any cricket stadium for the next two years, from obtaining any accreditation as a member of the press, and from using any BCCI or member association-owned cricket facilities.