Gaining reliable profits in the financial market is harder than it looks at first glance. Actually, long term profitability needs two interrelated skill sets. First, traders need strategies in order to make more money than they lose. And the second skill is those tactics perform well. While professional traders know how to earn money in specific market conditions, but they fail in the long run because their tactic does not adapt to the inevitable changes. Here the trading software like Build Alpha comes into the picture. This software allows investors to execute stringent stress tests to prepare for inevitable market changes. There are a lot of reasons to use this automated trading software. Let's have a look:
Help in Achieving Consistency:
Most of the time traders find it difficult to plan their trade and follow that plan. Even when a trading tactic has the probability to be extremely lucrative, some traders overlook the rules due to stress or emotion. Yes, it's true that a trading plan does not succeed all the time as losses are part of the trading game. However, sometimes losses are so shocking that it may force a trader to skip a profitable trade after losing more than one trade in a row. Automation in trading allows traders to be reliable by following the already set and tested plan.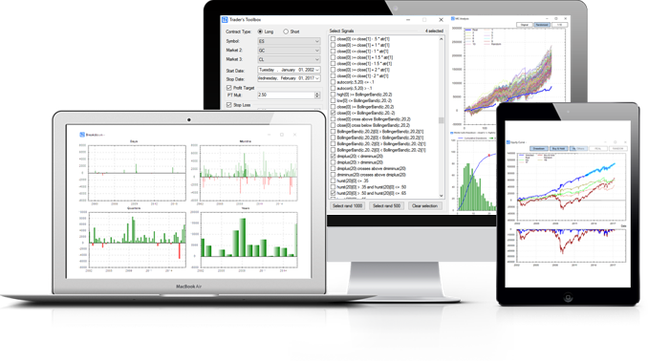 Many Strategies At A Time:
The trading software allows traders to use different strategies at a time. In fact, individuals can also trade in more than one account at the same time and spread his/her risk over diverse instruments. Implementing all these things can be difficult for a human but it can be done easily with automated strategies by the trading software. Build Alpha scans for any trading opportunities across all and any of the markets.
Backtest Trading Strategy:
The trading software allows traders to backtest their trading ideas. This means applying rules to past data in order to verify the feasibility of a trading strategy. Testing trading strategies on historical data let traders test before they risk their own capital in live trading. Along with this, the software helps traders in fine-tuning their strategies and gets an idea of the average amount they can stand to win or lose.
The Software Collects Data Analysis:
The trading software assembles data and statistical analysis from the different strategies, markets, and assets. This lets traders make a well-versed decision and sharpen their trading strategy.
Wrapping Up
In the past, trading needs a lot of hard work and focused knowledge. Thanks to modern technology, traders can automate their strategies using the right trading software these days. The trading software Build Alpha also reduces the risk and costs much less than hiring a programmer, broker, etc. Traders can generate a lot of new systematic trading strategies at the click of a button using this trading software. Hope this article is helpful for you. All the best!