Goan Goat Curry Binoy Nazareth Style
Binoy Nazareth has an undying passion for travel and adventures around the world. In addition to his fondness for food, his desire to score authentic restaurants is relentless. There are people who love to eat good food, and then there are some people who really love food—whose days are spent creating and testing recipes, visiting hidden restaurants, reading about new culinary methods, and devouring everything gourmet that they possibly can. Binoy is one such food enthusiast who also has a penchant for cooking. His favourite cuisine is Indian and Mexican. Some of his original delicacies comprises of Goat, Chicken, some variety of Fish and a few vegetarian fares. He also likes to grill, favorites being grilled lamb, bone-in chicken and Salmon. Binoy doesn't just like it for the taste of the end product, but is also intrigued by how food affects people's health. In following posts, Binoy will discuss about his different recipes that cater to the vegetarian and the non-vegetarian palette, and some of the healthy recipes that might help control some diseases like diabetes.
In this post, Binoy Nazareth shares his trademark recipe for his favourite dish, the Goan Mutton Curry. Made with fresh goat meat and the flavour of coconut milk, curd and rich spices, it is one of the most delicious dishes among Goan curries.
Goan Goat Curry Binoy Nazareth Style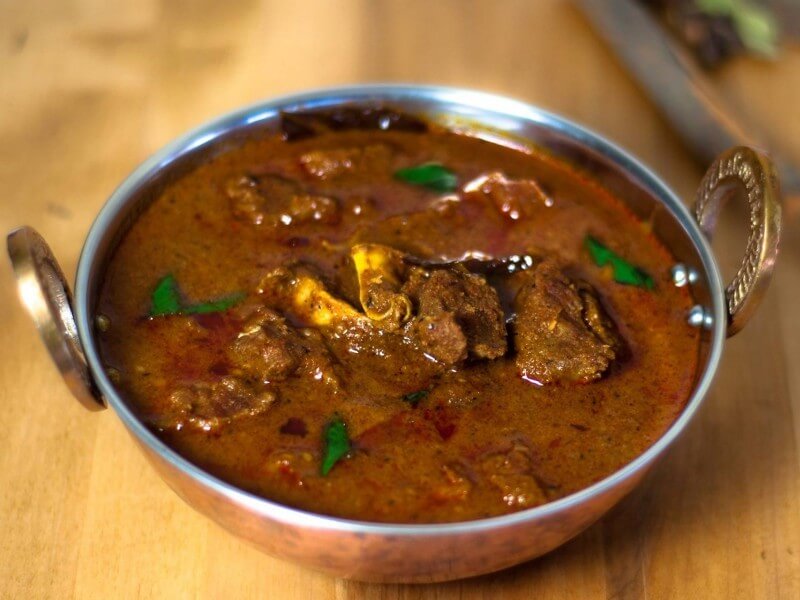 Ingredients:
Mutton cubes – 500 gms
Big onions – 4 (thinly chopped)
Tomatoes – 4 (pureed)
Garlic paste – 1 tbsp
Green chillies – 4 (paste)
Yogurt – 2 tbsp
Ginger – 1 inch (chopped)
Red chilli powder – 1 tsp
Coriander powder – 2 tsp
Turmeric powder – 1/2 tsp
Garam masala powder – 1 tsp
Coconut milk – 2 cups
Bay leaf – 1
Cumin seeds – 1/2 tsp
Vinegar – 1 tsp
Vegetable oil – 2 tbsp
Salt to taste
Instructions:
Use regular running water to wash and clean the mutton thoroughly.
Mix yogurt, salt, red chilli powder, turmeric powder, and garlic paste.
Put the mutton cubes in the above mixture and keep aside for 2-3 hours.
Heat the pan and add oil.
Add bay leaf and cumin seeds and saute for a few seconds.
Add ginger and green chilli paste and sauté for a few more seconds.
Add the onions and stir-fry for couple of minutes then add the pureed tomatoes.
Add the coriander and garam masala powders with a pinch of salt and vinegar.
Add the marinated mutton and mix well.
Cover the pan and cook for 10 minutes on low flame.
Uncover add coconut milk and cook on high flame for 2 minutes.
Check and adjust with the salt and red chilli powder.
Stir fry until mutton starts turning into brownish red in colour.
Cover the pan, bring the mixture to few boils on low flame and cook until mutton is tender.
Serve hot with roti or steamed rice.
Stir continuously at the time of adding the mutton to give the meat a nice colour. The taste of coconut milk gives it a unique flavour and makes this a mouth-watering mutton curry recipe.  Marinate the meat overnight if possible, the longer the better, to enhance the flavour.
This recipe has been a big hit with Binoy's family and friends and blown their socks off many a times.
Tags:
binoy
,
Binoy Nazareth
,
goan mutton curry
,
Goat Curry
,
Ingredients
,
style
,
travel and adventures