Overall Experience
The Manali to Leh Bikin expedition is a fairly demanding trip. Our team of friends have a well-planned itinerary for us to leave our worries aside (somehow :P), focus on our ride, and enjoy the natural wealth of the Himalayas
An itinerary we followed
Day 1: Chandigarh –  Bhuntar – Manali
Day 2: Manali  – Rohtang  – Khokshar – Keylong
Day 3: Keylong – Sarchu
Day 4: Sarchu – Leh
Day 5: Leh Localities :p
Day 6: Leh – Kunzum – Pangong Lake
Day 7: Pangong  – Pangong Tso – Sarchu
Day 8: Sarchu  – Manali
Day 9: Manali – Chandigarh
5 Deadliest Bikes set to rock on a big stage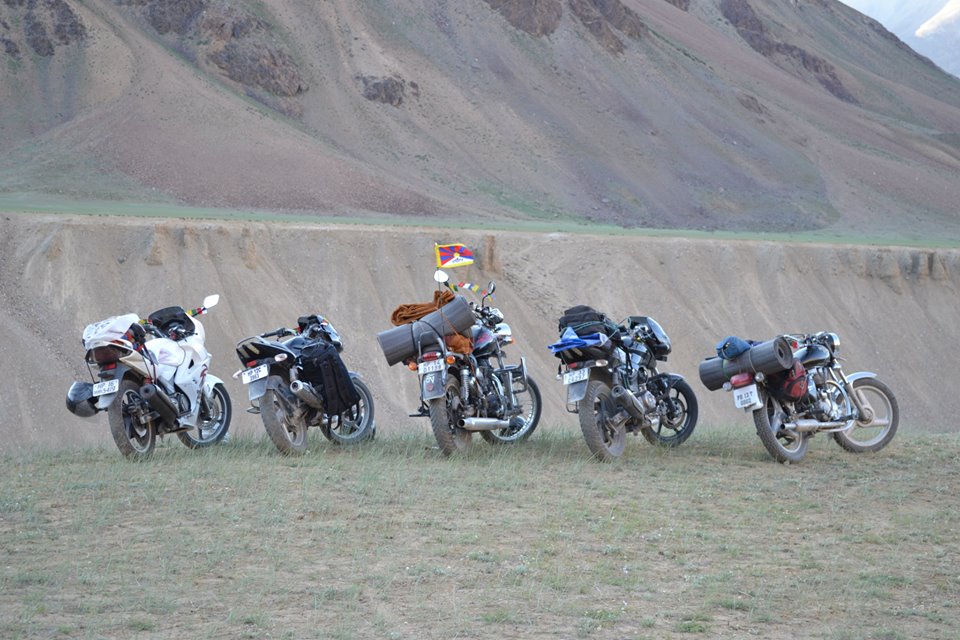 Bikes & Bikers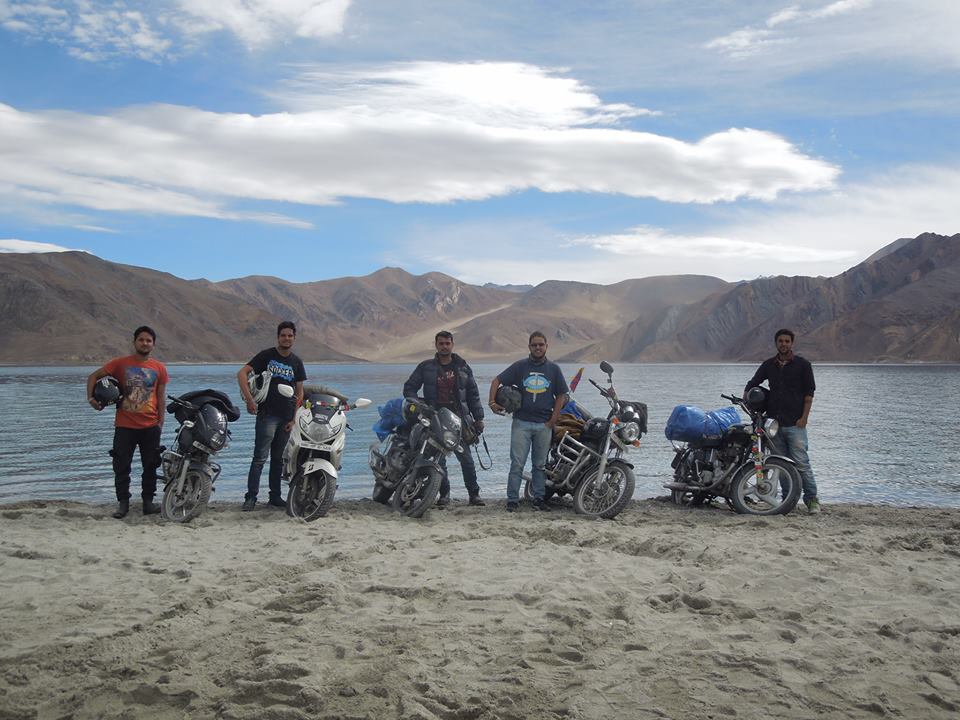 Anchit Sood – Karizma Zmr 5Speed 223cc
Vivek Thakur – RE Bullet 5Speed 350cc
Vanshul Banta – RE Thunderbird 5Speed 350cc
Kuber Sharma – Bajaj Pulsar 4Speed 150cc
Chirag Sharma – Bajaj Pulsar 5Speed 180cc
Off-course  I had no second thought to take any other bike than my own Karizma, though I have had heard a lot that sports bike like ZMR is not meant for these road trips but I gutted my felling to have this wonderful experience which my bike fulfilled like a better half and proved my decision right.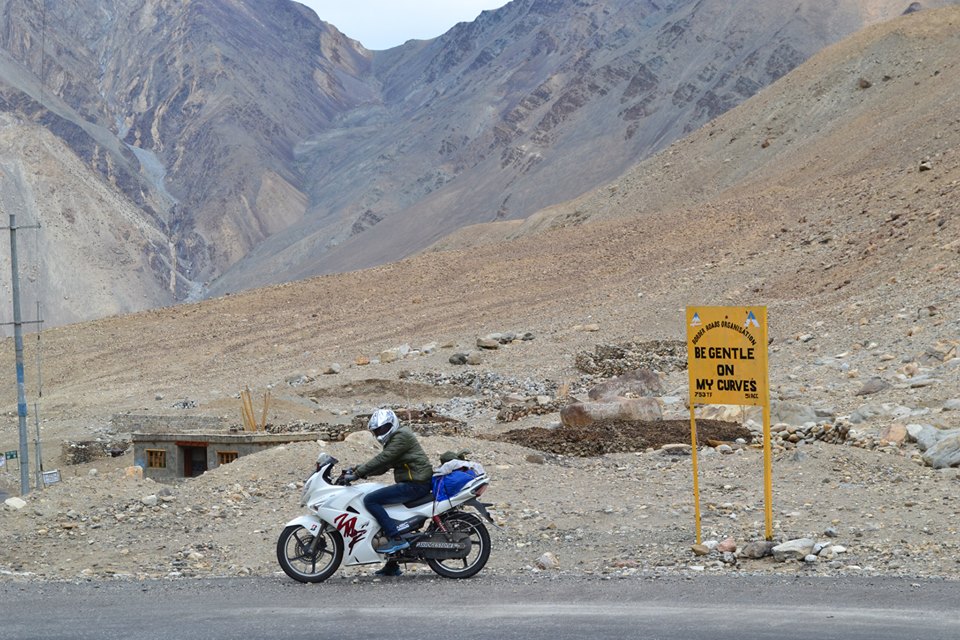 Happiness Is Just Around The Bend Happiness Is Just Around The corners BRO- Border Roads Organisations & ARMY  are doing a commendable job.
A big `thank you to all of you, and possibly many more unnamed ones in this article from whom we have benefitted and were able to complete it.
At various stages of planning and execution, we got some nervy moments where we took a deep breath and kept going.
The maps prepared by the crew were extremely useful too. So was the planning and biking experience and time taken between various places. Also, get updates about road conditions, etc from fellow riders.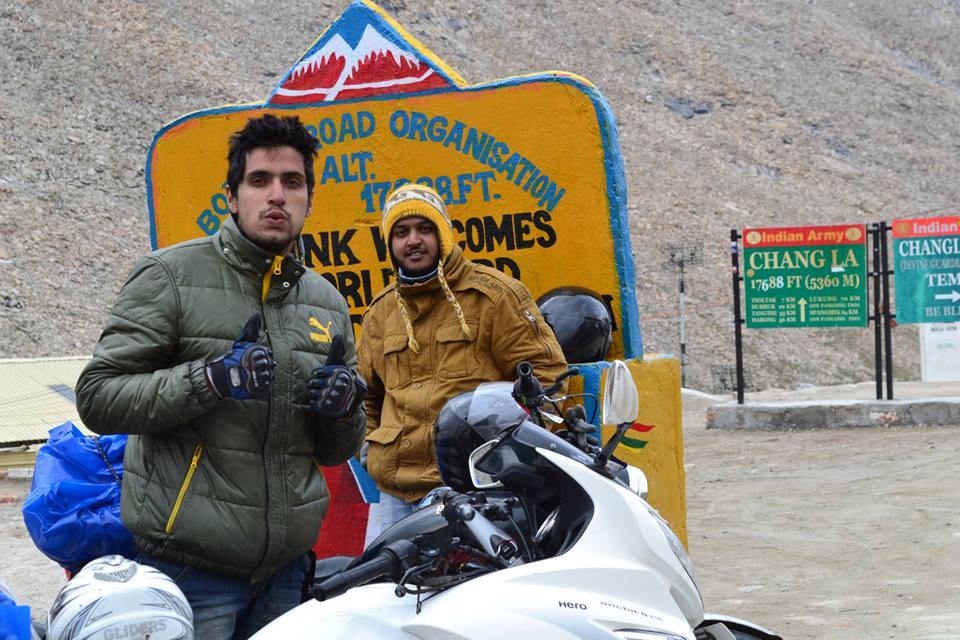 When going gets tough, The tough get going.
Shortcuts are never easy and promising , Sometimes it needs vision and guts to go through. It was a shortcut that rally drivers follow to cut through there lap timings and I was willing to take this on.
This engine never asks to cool down, more I burn the throttle more it gives me the courage to ride.
Safety Saves – If it wasn't the helmet our face must be tanned and it proved to be more safety anyways :p
Above All, they Said – Well said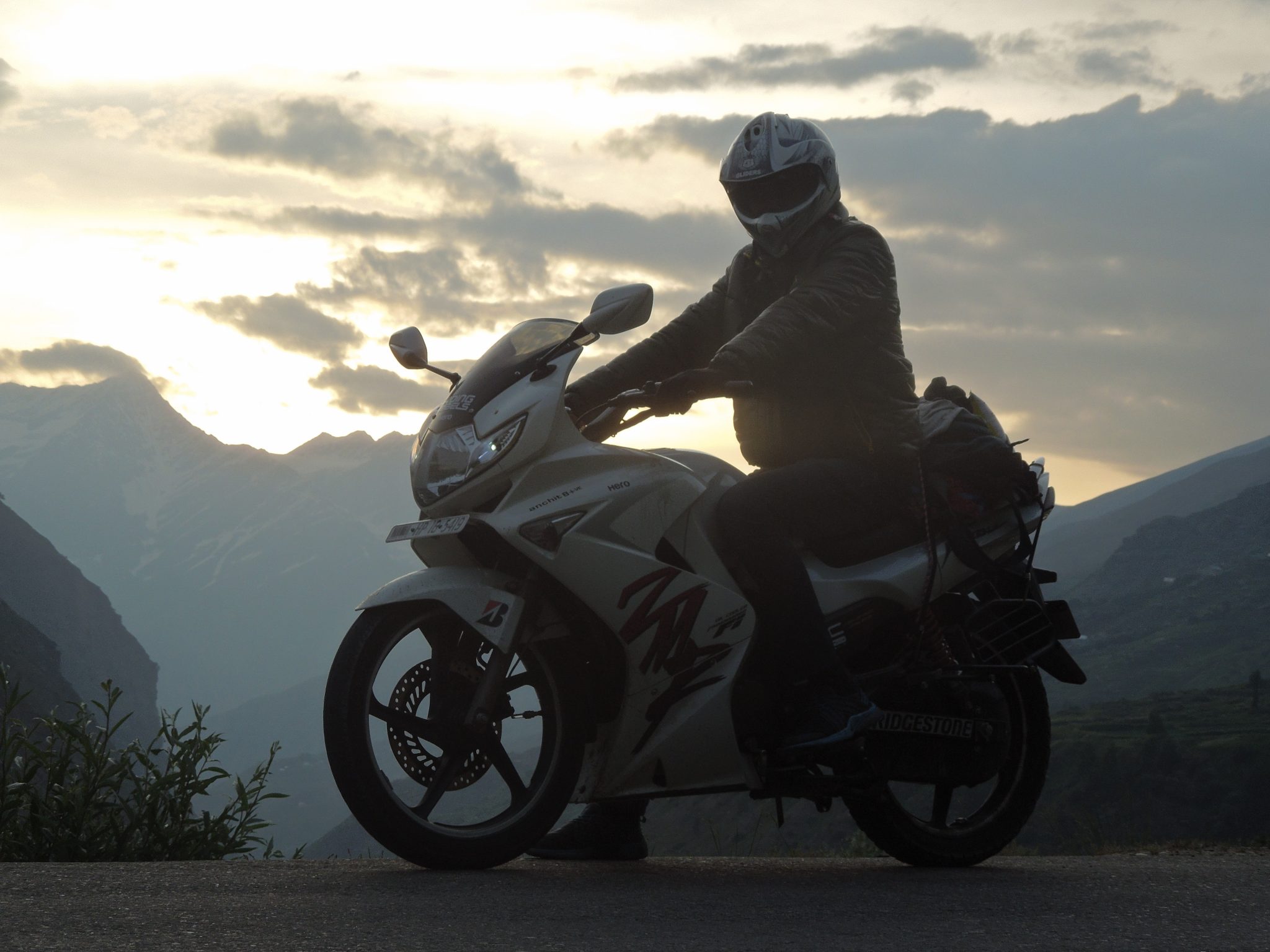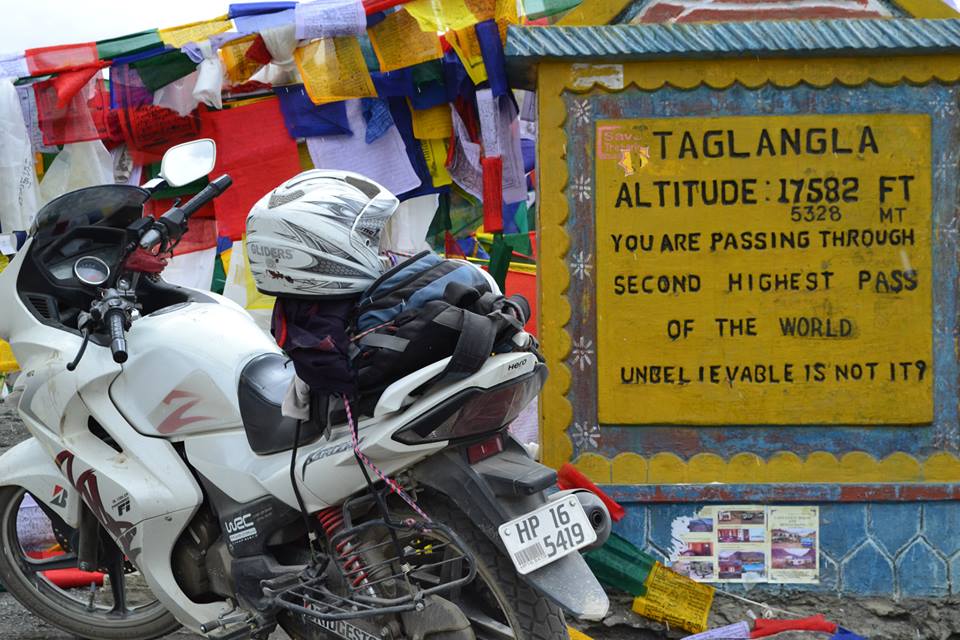 Unbelievable is not it!
World's Second highest mountain pass and the feeling and energy level after reaching there was tremendous. It was like an achievement putting my mobike on that pass.I look my best when I take my helmet off after a long motorcycle ride. I have a glow and a bit of helmet hair on my face. It was such a peaceful place. Perfect place to meditate.
Another big milestone – Khardungla WORLD's highest motorable pass and getting there was more adventurous and biking to this pass really needs some good biking skills. There isn't a lot written about the motorcycle culture or any set of protocols but to get there you need to follow some and one of them is concentrated on the concept or else you are going went and gone.
CHANGLA Pass- Driving a motorcycle is like flying. All your senses are alive. When I was riding through Changla Hills in the early morning, and all the sprinklers have turned off, the scents that wash over me are just heavenly. Being House is like flying, too. You're free of the gravity of what people think.
it was only minus 2 degrees Celsius when we landed here but it felt like the chilling station. It was really like a game of "Survival of the fittest"
I started my journey with a white bike, but mountains were complimenting the bike color all time we were crossing any pass.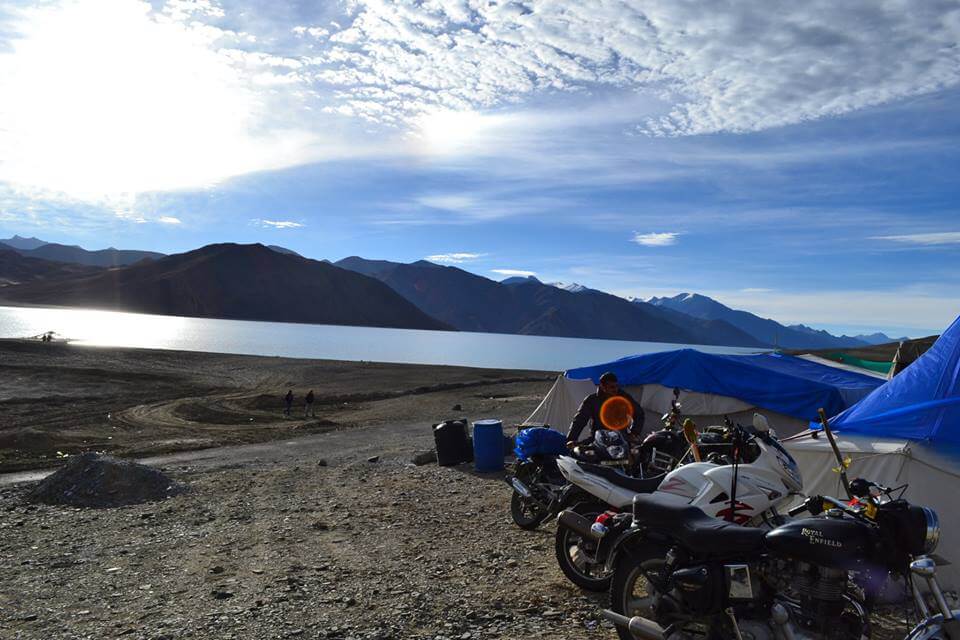 At the moment where my mind, body, and soul are assaulted I know that I'll never be the same ever again in such a wonderful place with my bike. The view has seized me and something tells me he isn't letting me go."
The study of the art of motorcycle maintenance is really a miniature study of the art of rationality itself. Working on a motorcycle, working well, caring, is to become part of a process, to achieve inner peace of mind. The motorcycle is primarily a mental phenomenon. So i took some time to ask her about the experience and thrill we both had.
The world is a book and those who do not travel read only one page This was the time when this quote was on my mind as I was on that page of the book where everything wrote was making me more than happy.
Mountains should be climbed with as little effort as possible and without desire. The reality of your own nature should determine the speed. If you become restless, speed up. If you become winded, slow down. You climb the mountain in an equilibrium between restlessness and exhaustion.
The journey of a thousand miles begins with a single step and this single step I took to make this trip happen which became one of the best tours of my life. If you love biking and are open to adventurous challenges in life then this Leh tour on bikes is a must-go tour for you. Believe me, it was one of the best experience of my life driving my bike 9 days just 2 of us and we went through some wonderful moments, some nervy ones also but overall it sums up to one thing that, Leh journey on the bike is undoubtedly one of the best road trips in India and Memories are made of this.