20 Cool Things You Can Buy With Bitcoin
When Bitcoin first appeared, there was naturally some skepticism, and even today, many people still don't know much about it. However, bitcoin's popularity is undeniable, and its value has risen considerably. 
What is Bitcoin? 
Before getting into the products you can buy with bitcoin, let's talk more about what it is specifically. Bitcoin first appeared in 2009 and was linked to Satoshi Nakamoto. Most experts agree that this is a pseudonym for a team of developers and not an actual name.
Bitcoin and its uses were thoroughly researched by the Scan team. Below, we've compiled a list of 20 amazing things that can be purchased using bitcoin currency right now. 
Bitcoin is a digital-only currency, meaning there aren't any coins or anything for people to use. The lack of a physical, tangible currency could be another reason why it hasn't completely taken off yet. There are many bitcoin infographics, like the ones here, which can help you understand it further. 
Blockchain Technology
Bitcoin and cryptocurrency work heavily with blockchain technology. Blockchains make it incredibly difficult to hack or change something, which makes bitcoin a secure payment method. Blockchain is also known as distributed ledger technology. Investopedia has some great blockchain infographics for those who want to learn more. 
What Can I Buy With Bitcoin
While bitcoin still isn't mainstream, you can use it to purchase a surprising number of goods and services. NCR, one of the payment giants in the US, will be bringing options for buying bitcoin across 650 banks. We can only see bitcoin growing in the future.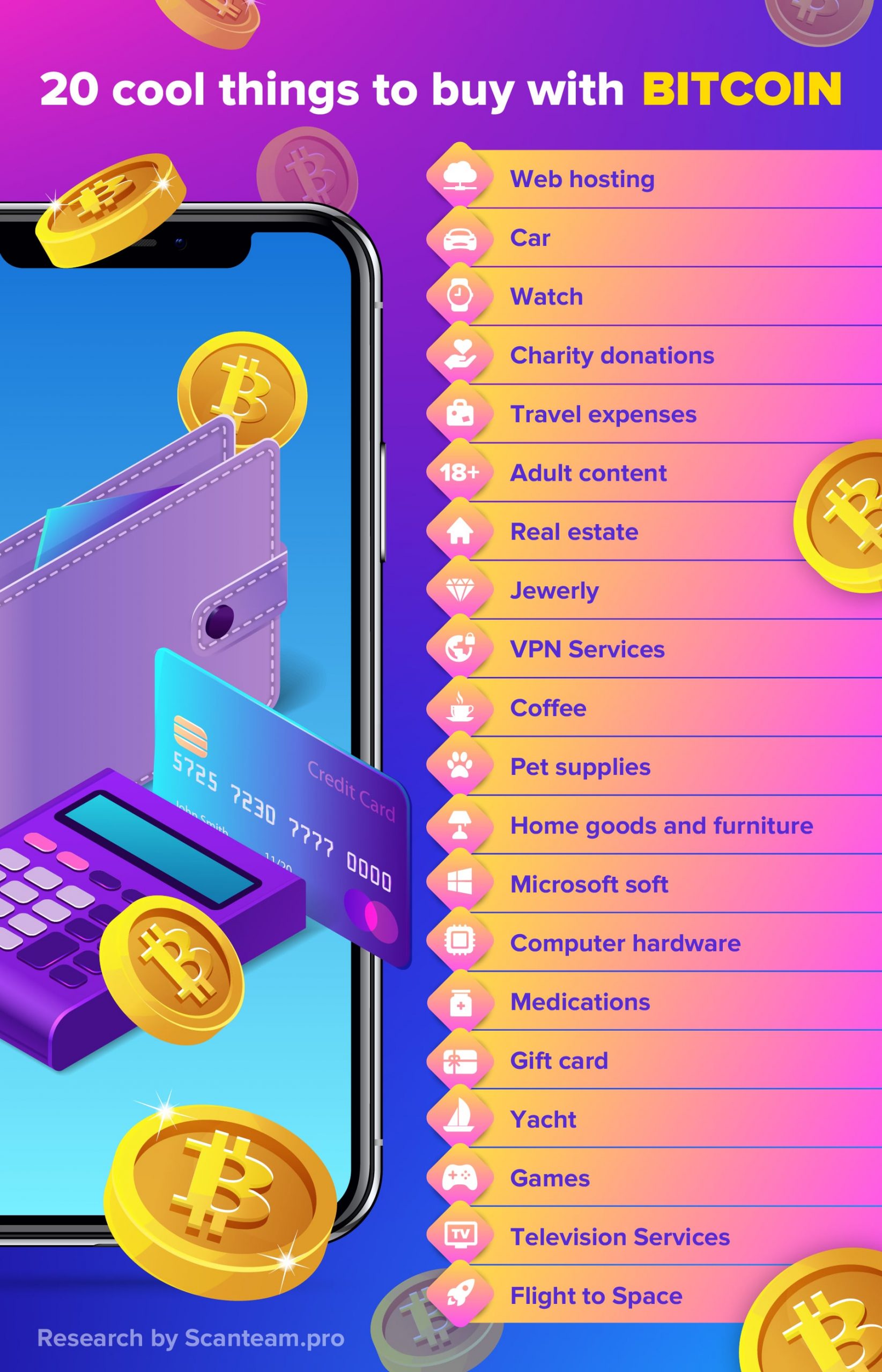 Casino Deposits
Yes, it's no surprise that cryptocurrency would be popular among online gamblers. Many online casinos now accept it as a payment option. Moreover, players value it for security and anonymity. 
Firearms
Central Based Gun Works is a gun shop based in Austin, Texas. They've been accepting bitcoin for all purchases made either online or in person. 
Goods in Japan
Interestingly, bitcoin is widely accepted by Japanese sellers, where popularity has soared. As a result, you can use it to purchase many different goods from Japan. 
Subway
In Allentown, Pennsylvania, a subway store became one of the first in the country to accept bitcoin in 2013. Customers can use it to purchase anything on the menu. 
Beer
Some bars accept bitcoin payment for beer and other drinks. The Old Fitzroy was the first bar in Australia to start taking it in 2013. 
Vegas Casinos
The D Las Vegas and the Golden Gate Hotel and Casino started taking bitcoin in 2014, making them the first in Las Vegas. You can pay at the front desk and even use it in restaurants, gift shops, and bars.  
30 Day Ration Supply
This likely isn't the first thing that would come to people's minds. However, this 300 serving meal ration from Augason Farms can be purchased using bitcoin. 
Taxi Rides
Taxis in Argentina and Hungary are widely known to accept bitcoin payments. They'll usually be marked in some way that bitcoin is accepted. So even if you forgot your actual wallet, feel free to hop in. 
Real Estate 
Yes, you can buy a home or other property using bitcoins. You may need a lot of bitcoins for this purchase, though. 
Gold
JM Bullion is a well-established seller of gold, silver, and other valuable metals. They also accept bitcoin as a payment option.
Airplane Tickets
Were you thinking of jetting off to an exciting destination? At Expedia, you can purchase tickets using cryptocurrency. 
Coffee and Espresso
In the Czech Republic, there's a coffee bar named Bitcoin Coffe, which only accepts cryptocurrency. 
Lottery Tickets 
Residents of New Hampshire and Minnesota can buy Powerball tickets using bitcoin over the app. 
Charity Donations
Donating to charity can be an excellent way to help someone in need. Autism Speaks and Heifer International are two charities accepting crypto-based donations. 
Web Hosting
If you were looking at creating a website for your business, Namecheap would accept bitcoin as a payment option.
Luxury Watches
High-end watches like Rolex and Cartier can all be purchased using bitcoin. 
Adult Content
Given crypto's anonymous nature, it's not surprising why it would be popular for this. Several big names in the industry will readily accept it as a payment option. 
Pet Supplies
There's an online store known as Crypto Pet that accepts cryptocurrency. It has everything from pet food to other supplies. 
Microsoft
The famous computer company is maybe the most prominent name to accept bitcoin payments. You can use it at the Microsoft store.
Gift Cards
At eGifter, you can buy gift cards from over 200 retailers using bitcoin. 
Conclusion
The list of things that you can now buy with bitcoin might be surprising to some people. Ultimately the list of stores accepting cryptocurrencies will only continue to grow.