Dexage: A Multipurpose Decentralized Digital Currency Platform
Let's see out this Decentralized Digital Currency Platform though I am not a big fan of Bitcoin lets see what Dexage brings to the table. I haven't found any details related to the owners of Dexage and didn't either found any details about the team were provided by DexAge. This is what we know about it.
Dexage is a decentralized exchange platform project that is built on a trustless system and designed to serve multiple crypto-related functions. The project is user-centric and has the security and wellbeing of all crypto users as its focal point.
It is being created to serve the following functions:
Decentralized Crypto to Crypto Exchange
Decentralized Crypto to Fiat Exchange
Asset Lending Platform
Social Network
The platform will be an embodiment of decentralization, which by everyone's book is the core feature of all cryptocurrencies and a reason for their existence and adoption.
"A lot of people automatically dismiss e-currency as a lost cause because of all the companies that failed since the 1990's. I hope it's obvious it was only the centrally controlled nature of those systems that doomed them. I think this is the first time we're trying a decentralized, non-trust-based system" – Satoshi Nakamoto (Founder of The First Cryptocurrency)
The team behind Dexage has been able to identify the major challenges faced by Cryptocurrency users over the years and are building a platform for the future, one that will:
Act as a rallying point for crypto enthusiast all over the world
Give everyone total control over their crypto assets
Reduce the cost of transacting with cryptocurrencies
Simplify the transfer and remittance of cryptocurrencies
Integrate socio-economic activities into one platform
Aid the spread and adoption of Cryptocurrencies.
What Dexage Brings To The Table
Decentralized Crypto to Crypto Exchange
Dexage provides fully decentralized crypto to the crypto exchange where users can buy, sell and exchange their Cryptocurrencies through smart contracts.
Funds acquired from the exchange are stored in permission-less and completely autonomous individual wallets, that is inaccessible to third parties including the Dexage platform.
During a transaction, Dexage plays the role of confirming available funds in each party's wallets, ascertaining the transaction's credibility and matching trade requests from its order books.
Decentralized Crypto to Fiat Exchange
Dexage allows users from all over the world, the opportunity to convert their crypto assets to fiat money — a process that serves to maintain DXG's liquidity.
Its team understands the importance of P2P transactions and their power against centralized monopolies. Hence, Crypto to Fiat transactions will be done in a peer to peer model, where a user makes a trade request for a certain currency and is matched with another user.
More innovations will be added to meet user demands as the platform scales.
Lending Platform
There comes a time where we are tied between holding our Cryptocurrencies in anticipation of possible price rise and spending cash on a pressing family emergency or business investment.
It can be a difficult choice to make. However, with Dexage' lending feature you will have the power to spend your fiat money and keep your coins.
All you have to do is deposit certain amount of coins and borrow a percentage of their value for a specified period of time. This way, you don't have to withdraw the fiat value of your holdings to solve that pressing problem but can take a fiat loan while giving up your holdings as collateral.
As soon as you settle your loan obligation, you get your coins back.
This feature is also of immense benefit to creditors and can be used as an income source by anyone who wishes to loan out their Cryptocurrencies.
We have had many people come to us for ways to make money through Cryptocurrencies, a majority of them are scared of trading, and others can't stand the reality that they might have to hold for months to see any reasonable profits. Dexage lending feature is a sure fire way to make money from your coins.
All you have to do is:
Agree on an interest rate
Give out a loan for a specific period of time
Receive your money back with interest or the debtor's coins if he/she does not fulfill their loan obligations
Either way, you have nothing to loss – profits are guaranteed. Dexage ensures that.
Social Network For Socio-Economic Transactions
It is an undeniable fact that we all have had to toggle between our social apps and our financial apps or exchanges to complete transactions. Well, that looks old fashioned with Dexage onboard.
60+% of the entire world population use social media today.
Our perceptions are influenced by what we see online on a daily basis and a single damning article or tweet on our favourite movie star can easily affect our allegiance to them.
We all witnessed what happened when Google and Facebook slammed a ban on Crypto-related articles and ads.
I guess many are still not aware of the dangers posed by exchanges such as Bitfinex – reason being that they haven't heard the news.
Dexage is building an all encompassing platform for everything Cryptocurrency – where everyone will be kept abreast with the latest news, members can communicate with one another in real time, businesses can instantly communicate with suppliers and partners, and funds transferred instantly while chatting – Thanks to Dexage proposed chat Dapp.
Dexage Vision
The team's vision is to create a trustless, permissionless crypto exchange and trading platform, autonomously driven by a synergetic web of traders, users and investors.
The result will be:
Decentralization
Autonomy
Higher liquidity
Lesser price fluctuations
Scalability
Trustless transactions
Security
Convenience
 Dexage Utility Token
Dexage has a token (DXG), the token can be held as a platform stake and also serve a variety of other purposes such as payment of transaction fees, loan collateral, voting and governance.
DXG Staking
The team announced a staking policy that will see its stake holders share 30% of the platform's revenue. The 30% revenue will be shared according to the amount of DXG a user stakes.
The idea is to give users an opportunity to invest in the platform and achieve optimum returns from their investments.
Voting and Governance
The team behind Dexage know the importance of community participation in a decentralized autonomous community (DAO), and have made it possible for everybody who holds DXG to participate in the platform's decision making process.
Holding DXG makes you eligible to vote and raise petitions when need arise. For example, users are to vote for coin listings to ensure no shady coins are added to the platform's exchange.
Users can also raise objections and petitions if they notice any irregularities, in which case the entire community will be required to vote for what is right.
Dexage ICO
Dexage ICO is intended to provide the necessary funds required to get the platform up and running.
The ICO will be conducted on the Ethereum blockchain platform from the 30th of November 2018 to the 28thth of February 2019. A total of 3,500,000,000 billion DXG will be in supply, out of which 45% will be sold on crowdsale, 10% distributed on airdrop bounties, 15% will be sold on presale, 5% will be sold to core investors, 15% will be held in reserve and 15% will be held by the team.
DXG's will be sold at 0.0003 ETH on presale and 0.00005 ETH on crowdsale. Tokens can be bought with ETH throughout the course of the crowdsale event, and unsold DXG's will be burnt.
ICO Schedule
Presale: 30th November 2018 – 31st December 2018 (1 DXG = 0.00003 ETH)
Token Sale 2: 1st January 2019 – 15th January 2019 (1 DXG = 0.0000425 ETH)
Token Sale 3: 15th January 2019 – 30th January 2019 (1 DXG = 0.000045 ETH)
Token Sale 4: 30th January 2019 – 14th February 2019 (1 DXG = 0.0000475 ETH)
Token Sale 5: 14th February 2019 – 28th February 2019 (1 DXG = 0.00005 ETH)
Dexage Road Map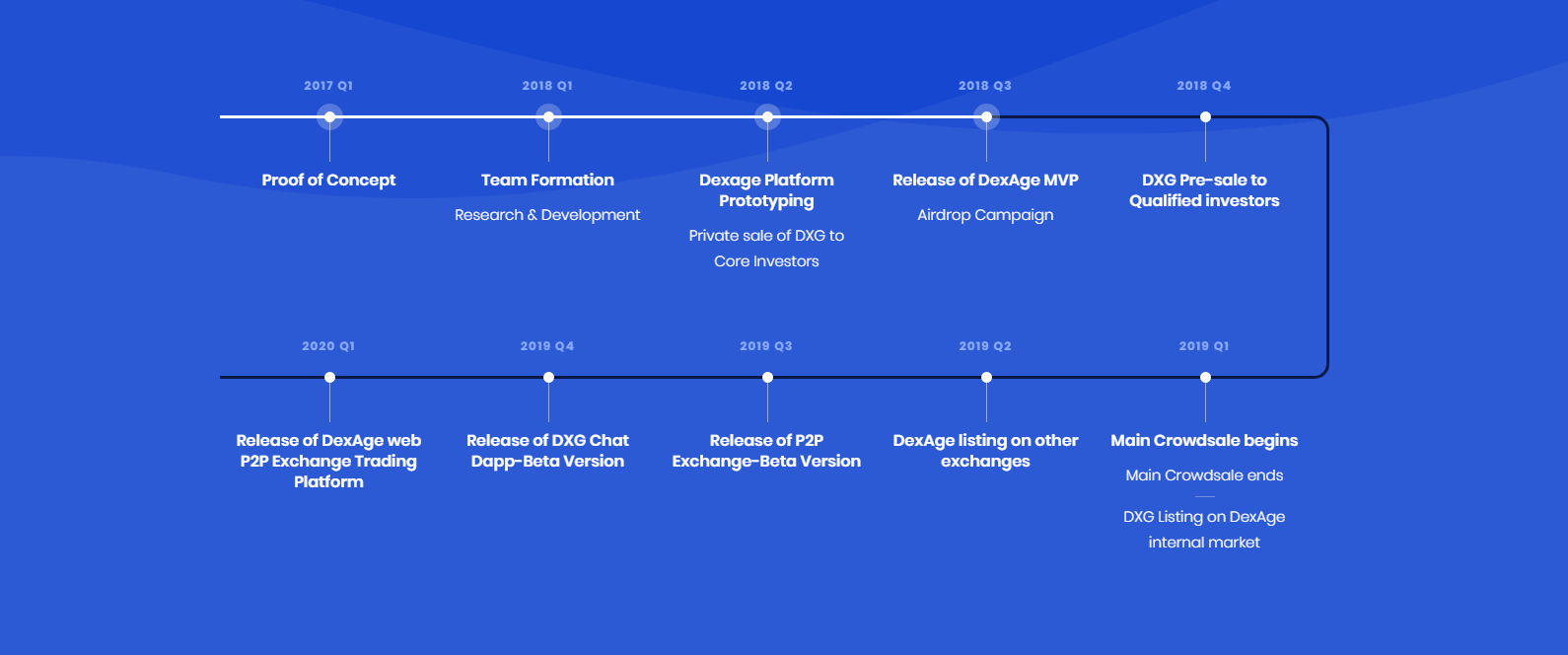 Conclusion
Dexage' mission and objectives are revolutionary and capable of changing the current status quo inherent across the entire cryptocurrency eco-system. Their complete road map and white paper can be accessed on dexage' official website
The Dexage community is growing rapidly and already has over 25,000 passionate members, in its airdrop's 8th day, that figure is expected to quadruple within the coming weeks as more people are made aware of the platform and its growth potentials
You too can partake in dexage' success story. Decentralization is the primary reason for the creation of Cryptocurrencies, be part of a decentralised community – grow your portfolio the right way.
Join The Fight!!… The next run is upon us, be ready for it.
Social Links if you want to Connect With Dexage
Website — https://www.dexage.io
Youtube – https://youtu.be/CBlpf8j8dI0
Telegram – https://t.me/dexage
Twitter – https://twitter.com/dexagetech
Facebook – https://facebook.com/dexagetech
Tags:
cryptocurrency
,
cryptocurrency exchange
,
decentralization
,
dexage