Follow These Mantras to Value the Time and Stay Happy Forever!
Time Doesn't Favor Anyone!
You might have heard this famous adage for a number of times. So, have you started completing your deadlines before time? Do you complete your assignments on time? Above all, have you set your timetable and are strictly following it? Many of you will answer, No! But Saint Baba Gurmeet Ram Rahim exhorts on valuing time as if you respect it, then it will respect you for sure.
It's better to support the time now if you don't want to regret later on. For this, follow these proven mantras by Saint Baba Ram Rahim and enjoy happy days in your life: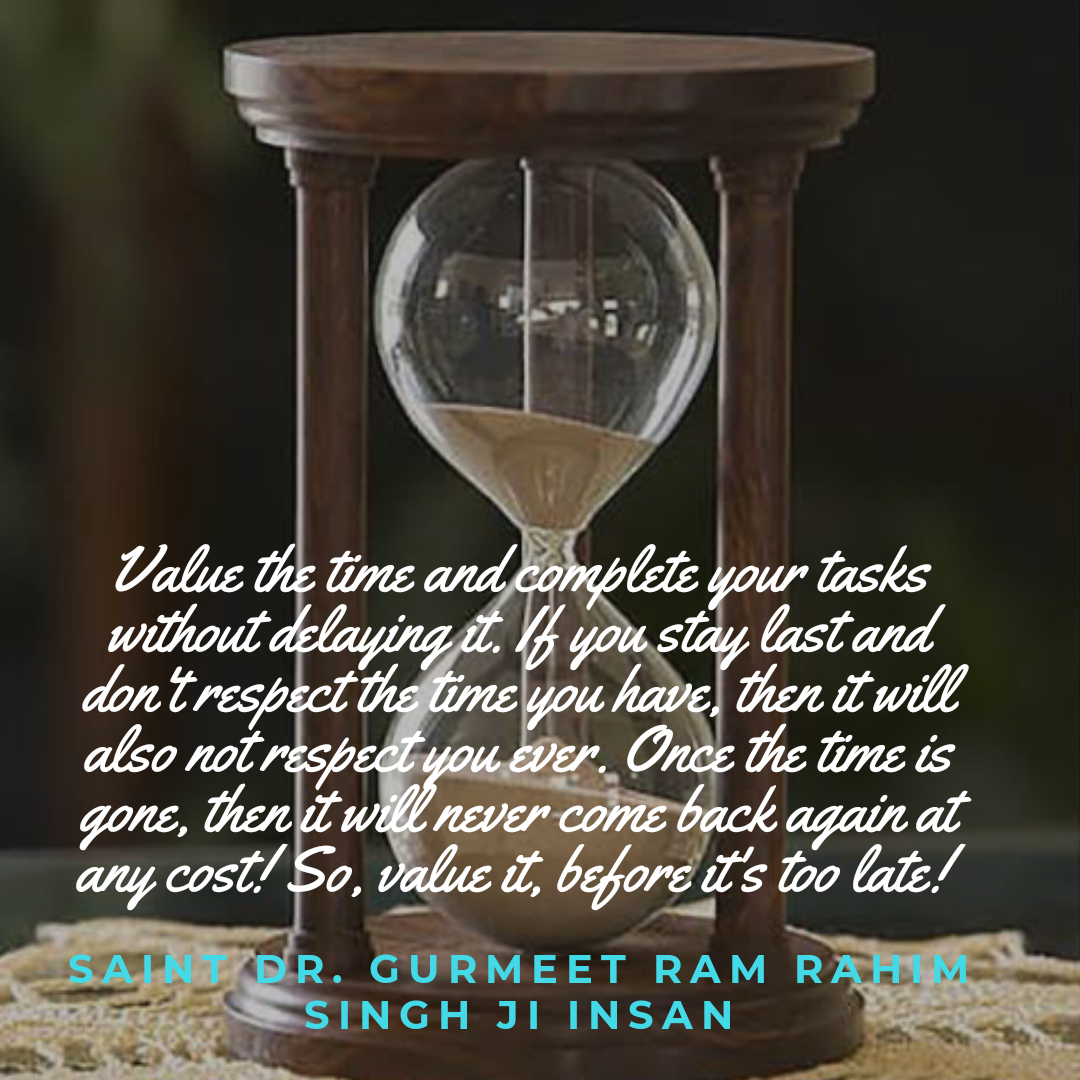 Are You Ready to Beat the Time?
First of all, is it possible to do so? Can anyone beat the time? If yes, then how?
Let us answer one by one!
At the very first, yes, you can definitely beat the time. And, the way is by staying ahead of it!
Saint Dr. Gurmeet Ram Rahim Singh Ji Insan gives its example by comparing time with a running horse. Just like a running horse cannot be stopped by catching its tail, instead, the right way to surmount is by holding its neck. Similarly, if you want to conquer the time, then the only way available to this is to stay advanced always. Keep yourself ahead of time, complete your deadlines before it becomes due so that you can have spare time for other tasks.
This is the only way to stay ahead of it and beat the time. Don't ever resort to laziness, be quick & active to complete your tasks before its too late.
Value the Time, No Matter What Your Age Is!
If you don't appreciate the time you have, the things you have then time will never appreciate you. The simple formula is, if you value time, then it will value you, otherwise, you might face its consequences soon.
So, make it your habit, appreciate your time and complete your chores within the prescribed limits, as no one knows what will happen next!
Respect Time from Childhood!
If you learn to value time from the childhood days, then in adolescence, and even in old age, you will not face any difficulty in living your life. Life will easier, and you will be able to relish the tiniest detail of it.
Special Time for Meditation!
Though you can do meditation all the time along with your daily chores, still, if you spare some special time for it and sit in a squat in tranquil surroundings then you will feel relaxed from the day's hustles. According to Saint Dr. MSG, it's important to hike your confidence level and willpower which is a key to success. Without meditation, it is not possible at all, so fix your time in the morning & evening for it. Morning prayers will give a boost to you to tackle the day long tiredness and let you manage your time properly.
The evening prayers will make you feel relaxed and bring positivity for your daily chores and achievements. So, it's a simple yet most effective way to get the bliss besides boosting your confidence level. It's really a great way to enjoy limitless blessings invariably.
Final Words!
Time will stay loyal to you if you stay loyal to it and complete your tasks before it becomes due. Future stays with only those who make use of time in a righteous way. So, leave laziness and procrastination, if you literally want to achieve your point in the lifetime.
Tags:
Baba Ram Rahim
,
Meditation
,
Time