Kareri Lake:A place less explored deep in himalayas
Its been exactly a month since I had my adventurous road trip to spiti valley.a month is a long time I guess…. As I was like eagerly dying for another trip.Dharamshala is a place that always excites me up as I have a lot of childhood memories associated with this place, there are lot of less explored unknown places near dharamshala that you can visit if you are a traveler and want to visit the serene beautiful places .So I made up a plan with my friends(We have our group name Swaggers :P).
We were 8 guys and decided to visit kareri lake. It was a weekend trip. We decided our dates to be 2nd and 3rd july. We left for Dharamshala through Volvo from Chandigarh late night on Friday.. All of our near and dears had warned us of rainy season and of Dharamshala being wettest places in India(Being himachali I was kind of aware of this and we were mentally prepared for rainy weather as monsoon season had just arrived. We reached there around 4:45 am. On the whole way it was raining but surprisingly it was raining just upto Sakoh(a small village on the way to Dharamshala but not in proper city) .
We occupy the benches at bus stand… and waited for travel guide we had booked from Chandigarh. He was a bogus party so after some arguments we guys decided to do it our own. We got a cab upto kareri village(6000 feet approx.) from dharamshala. Total distance was 30 kms. Road was good upto Ghera village but 10 kms stretch from ghera to kareri is really in bad shape. It's a muddy road with stoney terrain and unmetalled.Anyhow we reached kareri village(After quite skits on muddy road) and rain was like continuously following us. It is a charming little village straddled on a sloping ridge and adorned with terrace fields at the outer fringes. To the east, the peaks of Dhauladhar range washed in snow are standing on constant guard.
The idea of staying a night in this village can never be wrong! But we were having weekend trip so staying here was no option. we got a local guy there ,arranged by our cab driver who prepared breakfast for us. The guy served us dal and Rice. Although it was simple meal but we were so hungry… it seemed so delicious. He was like a true Pahari guy and quite hospitable. He provided us tents and sleeping bags and also agreed to trek with us. We finished our meal and waited for rain to stop. We started our trek from kareri village to lake (about 14 kms) at around 11:50 am. Trek seemed quite easy upto the bridge,but then as we turned left from bridge we found ourselves in complete no man's land in thick forest.Our plan was to reach there upto evening so that we can set up camp there. The trail keeps climbing after the bridge for about an hour till we can see the stacked terrace fields below to your left. The beginning of the climb is through some beautiful stretches of mature jungle hugging both sides of the valley. Most of the hike is over boulders and stones acting like stairs which made the climb sheer and sticky. Hear the roar of the river gradually increasing as you gain height and get closer to it. The river eventually appears to your left, but then a series of boulder hopping about 15 minutes later places it to your right. From here on, Nyund river stays by your side all along the trail to the lake. The trail is still clearly marked and follows the river for an hour till you approach a decrepit bridge to cross the river yet again.We clicked pictures on the way… stopped for our breath breaks. Our Guide was like a true professional hiker.We crossed a beautiful bridge surrounded by high hills to cross river and it was such a magnificent view. As we ascend further the steep increased.
We can see the change in vegetation too. Thick Deodar trees were engulfing pine forests now. We made our way to the uphill. We had a travelling partner too along with us a dog :P. Dog accompanied us through whole journey. We were feeling so tired. Legs were paining due to continuous steep ascend, telling us to wait for a while and relax. We sat on a stone and mean while guide told us that only 1.5 km trek left. We all were relaxed ,smiles can be seen floating into our cheeks,we gathered final courage to trek further more high and reach our destination.the fog was all over there ,engulfing the hills,loud noise coming from river and jungle whispers of birds…one might get lost in such a charm but we need to reach beyond as it was getting dark and cold too. After some further trek we can see a small hut like shop covered with blue plastic cover.we were more then happy to see this as this was our destination. Lake was just a 5 min walk from here. We had tea and maggi and then went to lake. our joys leashed out as we went near it and no one could take in the vast scenery in one glance.
It was a whole lot of fun and we enjoyed a lot, sitting in the supposedly cropped grass, looking at the lake, taking photographs.Then we headed towards our camp site and setup our tents. In night we had bone fire as rain was stopped for a while.we left towards Kareri village next day at 9 am in morning and reached down at around 1 pm.we booked cab on our way back to Chandigarh from dharamshala around 6:30 pm. The 'experience' was now over and here we were, about to begin our normal 'civilized' life with proper bathrooms, bedrooms, kitchens and all with Vitamin H(Himalaya)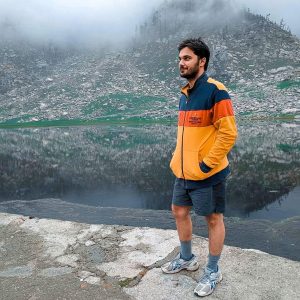 Tags:
Kareri Lake
,
Kareri Lake tour