How to Analyze Raise in Competition in your Targeted Industry
Being unaware of something keeps us unperturbed. But that does not mean being unaware is a good thing. Businesses that are oblivious to the competition in the market miss out on the opportunities that could have brought significant ROIs.
We must all, therefore, have a fair idea about the rising competition in our targeted industry sector. As MedicoReach is a part of the healthcare B2B marketing niche, we took the effort to study and analyze the competition in our industry.  With the help of our findings, we could evaluate our position better and also gain valuable insights to understand and effectively deal with our competitors.
Step 1: With the help of some of the most common keywords in our industry, we got a list of companies in our particular sector. For instance, we used a keyword like "healthcare recruitment agencies" or "healthcare recruitment" (we abstain from sharing the exact keywords we used). These keywords are the ones used extensively in the website content, usually in money landing pages.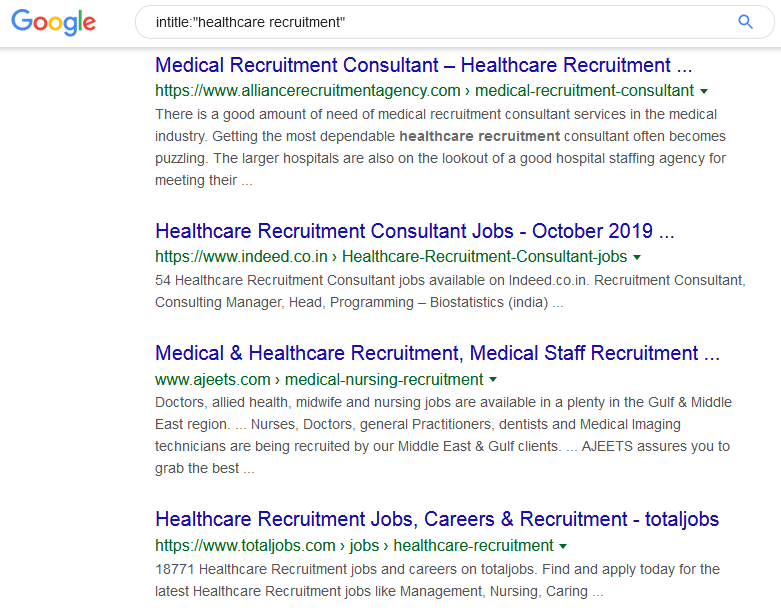 Step 2.1: There are many SEO tools available that can harvest URLs. We use one such SEO tool to harvest the URLs of our competitors based on appropriate keywords. The image below depicts an SEO tool that any SEO expert will be able to recognize.
In this step, we get a list of domain names of our competitors. 


Step 2.2: The harvested URLs can be trimmed further (refer to the top right of the image below) and removes all the dups.
Step 3: After getting the unique URLs of our competitors, we used the 'who is bulk check' off to gather the information about when our competitors' websites were created or registered.  You can use any tool that you would like to use. Just Google it you will find some.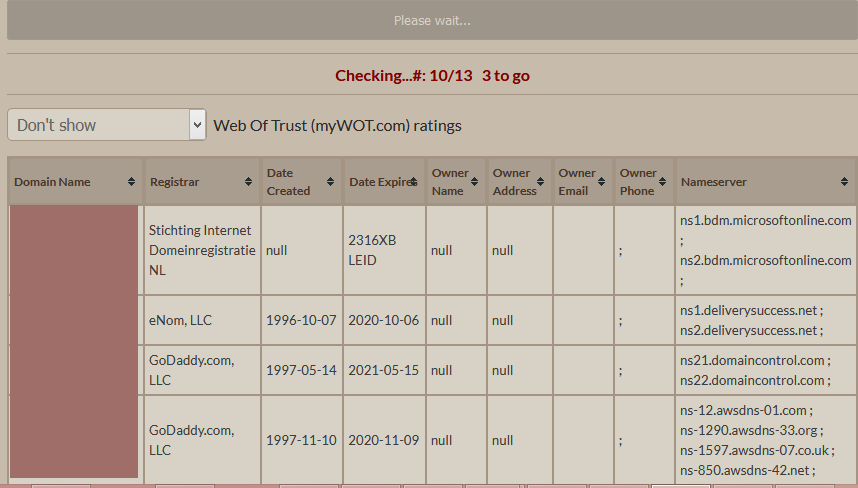 Step 4: Finally, we made the excel template of domain names and their respective dates of registration. We further toned down this list to have a year-wise count of the number of websites. Both the listings are represented as follows: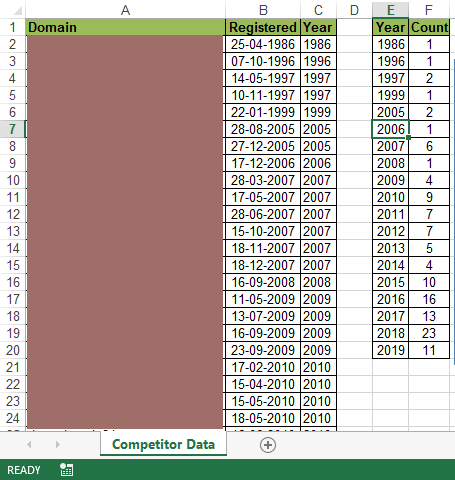 Excel template download links: https://drive.google.com/file/d/1pu_88i_vqPxb4TWzftOPE86_dO1fEpSF/view?usp=sharing
Key Findings
On applying this 4-step method for your targeted industry, you will also get a complete overview of the rise in competition. You can drill down further for more information and plan your strategy accordingly.
Based on the data collected about the competitors from our targeted niche in the past two decades, we can see how significant has been the rise in competition.
The number of websites registered in the late 90s and early 2000s is quite lesser than the number of websites registered in the past ten years in our targeted industry, and the growth curve is steeply increasing from 2010 to 2020.
It is estimated that this growth will continue in the future, making our targeted industry highly competitive in the days to come.
On plotting this data on a graph, we will have a visual representation of the increase in the number of websites, and consequently, the rise in competition in the past two decades.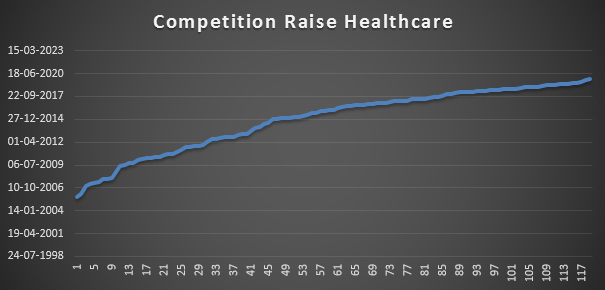 The steepness of the curve shows how the competition has been on the rise over about 15 years. If we extrapolate this data to gather a future estimate, we will find the graph going even steeper upwards.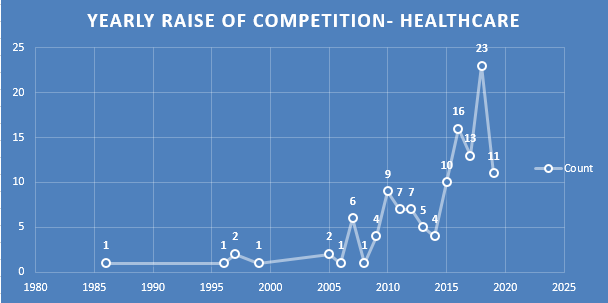 The graph above depicts the year-wise count of the websites in our targeted niche industry. Apart from observing overall growth, we can see the numbers rising in the year 2016 and 2018.
Inference Drawn After Crunching the Numbers
After thorough analysis and research, we found out that some of our competitors had created multiple websites for the same niche to reach their lead targets.
How we did that?
Reverse IP
Domain IP History
We further looked into their activities on all of their websites like whether they were regularly updating the content in all of their websites, what was their strategy with respect to social media marketing, how frequently blogs were being posted, what they were doing for link building, and so on. Having this information is vital because search engines like Google follow the policy of uniform distribution, which means everyone gets an equal chance. Say, there are ten websites in your niche (including yours), Google will view these ten websites as ten competitors while in reality, there may be only three competitors—you, Competitor A with four websites and Competitor B with five websites.
If you dig deeper, you will find more insights. Day in and day out, the competitors' list keeps on shuffling. Those at the top do not necessarily remain there for too long. The same goes for the ones struggling down.
Summing it up!
It is an excellent practice to keep your eyes open and gauze what your competitors are up to. Most SEO experts only check competitor backlinks and other metrics but ignore looking more in-depth into how many new competitors are joining every month and every year. Once we understand their strategies early, we can counter them or apply better ones to stay ahead in the competition. Doing little on the front of competitor research is equivalent to waiting for your competitors to take over your positions.
Tags:
competitors
,
healthcare recruitment