Ashneer Grover, the co-founder and managing director of BharatPe  and perhaps better known for his thrusting remarks to contestants in India's version of the American TV show Shark Tank. 
Grover co-founded BharatPe with Shashwat Nakrani in 2018, with its head office in New Delhi. Last year, it secured an in-principle approval from the Reserve Bank of India to establish a small finance bank with Centrum Financial Services Limited. The fintech firm has a network covering 100 cities of India, and in June 2021 acquired multi-brand loyalty platform PAYBACK India from American Express and ICICI Investments Strategic Fund.
The firm's valuation scaled to almost $2.85 billion within four years of its launch and it raised more than $600 million in funding by selling stakes to top financial funds such as Sequoia Capital India, Insight Partners, Dragoneer Investment Group, Steadfast Capital, and Tiger Global. Its competitors include payment platforms such as Paytm and PhonePe.
After reaching a whopping $2.8 Billion valuation BharatPe has felt a storm when Ashneer one of the former co-founders has been forced to resign from the company he is still the biggest shareholder in.
Earlier a week ago Grover's wife Madhuri Jain Grover was terminated on allegations of misappropriation of funds.
The former founder, in the resignation letter dated March 1, accused BharatPe's core team of leveraging on his personal network to scale up their payments business and later treating him in a "the most disgraceful manner".
Here's what he further quoted in his resignation letter.
I write this with a heavy heart as today I am being forced to bid adieu to a company of which I am a founder. I am now wasting myself fighting a long, lonely battle against my own investors and management. Unfortunately, in this battle, the management has lost what is actually at stake – BharatPe.
With my efforts and hard work, BharatPe has created a network of more than one crore (10M) shopkeepers (Dukandar's) who transact more than 100,000 (INR) Crores ($16B USD) annually and lent out more than Rs 4,000 Crores as loans.
"Am I perfect? As every other human being does, I am sure I have my follies. I have been told that I am too straight forward and have very demanding standards. But it is these qualities that have resulted in BharatPe's exponential growth in becoming an industry behemoth,"

Bharat Pe Share Holding Structure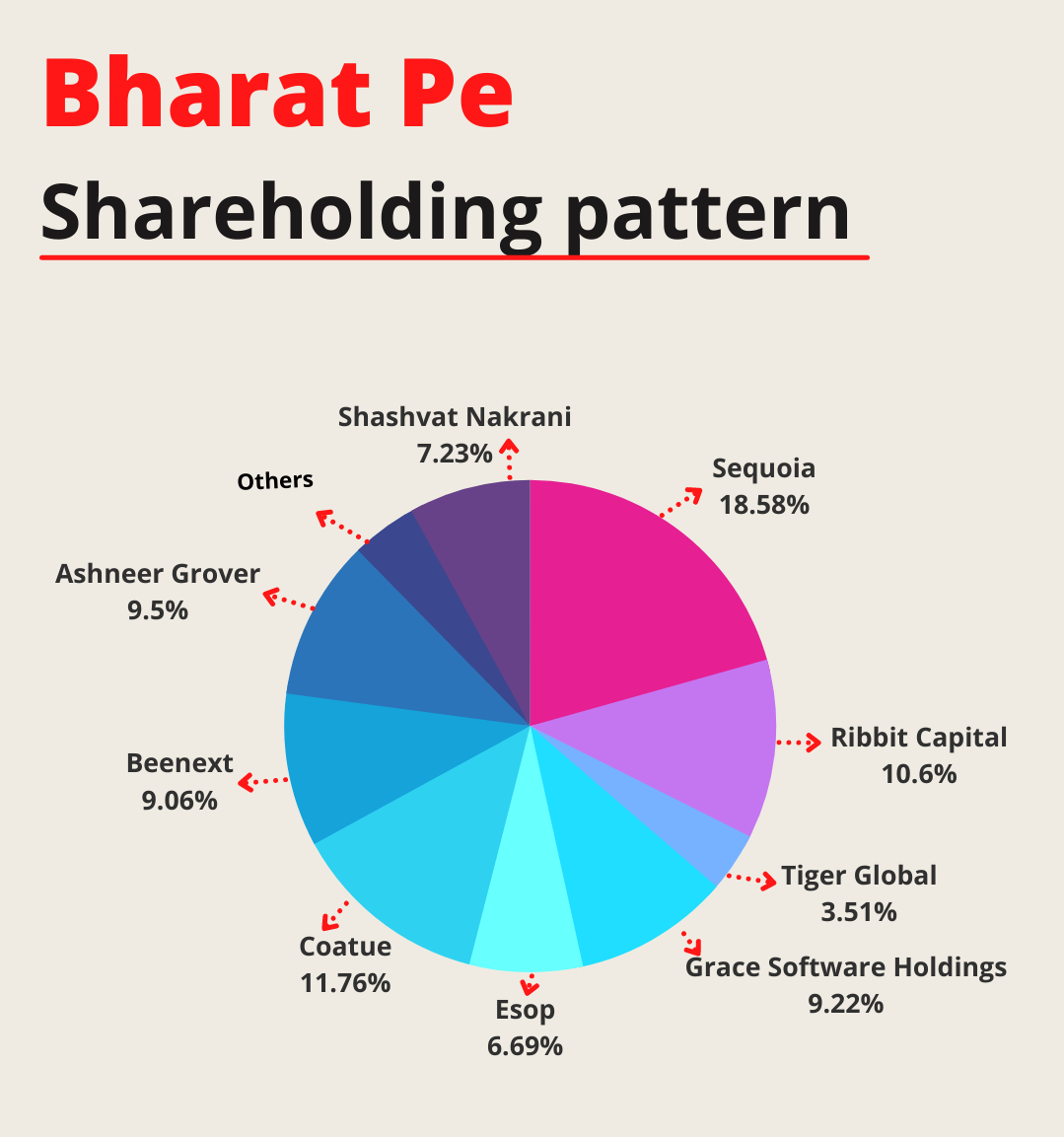 "Ashneer Grover Resigns from BharatPe"#AshneerGrover #bharatpe

Public To Him: pic.twitter.com/GYKilbS4oo

— Ravdeep Singh Chawla (@ravdeeprsc) March 1, 2022
#AshneerGrover resigns as MD of #bharatpe

Happiest Person right now: pic.twitter.com/rmpFrLCWv7

— Malav (@areyaarmalav) March 1, 2022
"Build incrementally even half of the value I created so far – I am leaving you with three times the funds I've utilized till date:" #AshneerGrover has resigned as the Managing Director of #BharatPe. https://t.co/u3SP4CqJXD

— TNIE Business (@TNIEBiz) March 1, 2022
#AshneerGrover resigns from #BharatPe.

The contestants he roasted on #SharkTank : pic.twitter.com/3ItVmPr2fg

— Rofl Gandhi 2.0 🚜🏹 (@RoflGandhi_) March 1, 2022
#ashneergrover
In Shark tank in bharat pay pic.twitter.com/dZ220EZedg

— SURYA (@Suryasaharan) March 1, 2022
*#AshneerGrover quits #BharatPe without those 4000 crores* pic.twitter.com/9rnYj5DNYE

— Adit Jain (@thenameisadit) March 1, 2022
Startup in which he invested must be happy as he can give more time now lol
News: #AshneerGrover resigns #bharatpe

Meanwhile startups in which he invested: pic.twitter.com/4fINhfOmPA

— Tanishq Ganu (@smart__leaks) March 1, 2022
Indian Tech Twitter#bharatpe #ashneergrover pic.twitter.com/WOl1YYdbVR

— Indian Gyaandu (@meme_startup) February 23, 2022
#BharatPe Fires #ashneergrover's Wife Madhuri Jain For Using Company's Fund For Personal Purchases.
#BharatPe Fires #ashneergrover's Wife Madhuri Jain For Using Company's Fund For Personal Purchases. pic.twitter.com/v6aRqNYsEn

— MEWS (@mews_in) February 23, 2022
#SharkTank candidates and #BharatPe management after #AshneerGrover's resignation
#SharkTank candidates and #BharatPe management after #AshneerGrover's resignation pic.twitter.com/6K0vZL8pwU

— A.A. 6.0 (@iamFirki) March 1, 2022
– Week ago wife #MadhuriJain was sacked from #bharatpe for finacical impropriety
– Yesterday #ashneergrover lost an appeal to stop a probe into his alleged wrongdoings
– Today Grover has 'resigned' as BharatPe MD
Sadly we may never get to know the full story.
EPISODE UPDATE:
– Week ago wife #MadhuriJain was sacked from #bharatpe for finacical impropriety
– Yesterday #ashneergrover lost an appeal to stop a probe into his alleged wrongdoings
– Today Grover has 'resigned' as BharatPe MD
Sadly we may never get to know the full story. https://t.co/JXi2ECFOHj pic.twitter.com/7P9RPRstYo

— The DeshBhakt 🇮🇳 (@TheDeshBhakt) March 1, 2022