You could be at the stage where you are hoping to learn a bit more about bankruptcy before taking any further steps. Bankruptcy can be an intimidating and overwhelming process, so it is imperative that you understand the pros and cons to bankruptcy. One step can be to speak with a bankruptcy attorney for a free consultation, however, it can be also helpful to take a bankruptcy calculator to see pros and cons before doing so. 
What is a Bankruptcy Calculator?
Understanding the cost, pros and cons, and credit impact of bankruptcy is crucial before filing. You can find Chapter 7 and Chapter 13 bankruptcy calculators online to learn about the costs, impact, and cons. It won't necessarily go into the nitty gritty details such as why an appraisal is needed for a bankruptcy, but it will give you a good understanding of your options.
How Chapter 7 Bankruptcy Calculators Work
A bankruptcy calculator should provide you with the key information essential to making the decision to file bankruptcy. Chapter 7 bankruptcy, also known as, "the liquidation" bankruptcy, is the process where you wipe out all of your unsecured debts and high value assets. In order to be able to file a Chapter 7 bankruptcy, you need to be able to qualify. Qualification is based a few factors:
Over 8 years since you filed Chapter 7 Bankruptcy last

Annual gross income

Household Size

State of Residence
When taking a Chapter 7 bankruptcy calculator you should be able to receive an estimate of your qualification with an approximated attorney fee and filing cost. Please note that the qualification is based on Chapter 7 bankruptcy income limits.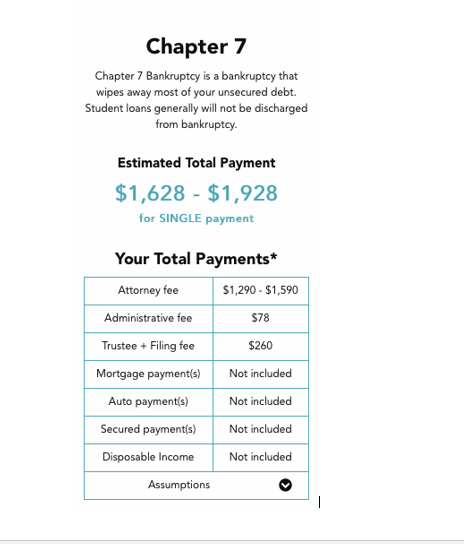 Understand the Costs of Bankruptcy
The calculator will also give you an estimate of how much it costs to file bankruptcy. However, it is important to note which state you are in. Costs for bankruptcy can range from state to state. For example, a Chapter 7 bankruptcy could be more expensive in California than it does in Alaska. That said, there are ways to make Chapter 7 bankruptcy affordable.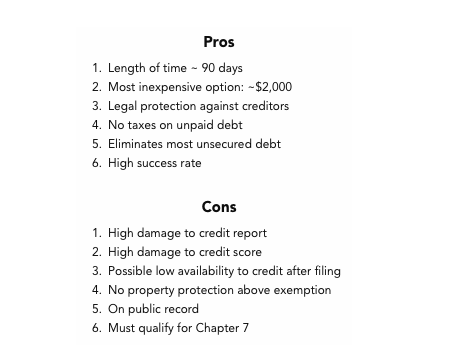 How Chapter 13 Bankruptcy Calculators Work
Chapter 13 bankruptcy, similar to Chapter 7, wipes out your unsecured debt. However, the process of a Chapter 13 bankruptcy is different, as you are restructuring your existing debt into a 3 – 5 year payment plan. The plan payment estimate is different for everyone, as it depends on a number of factors: 
Monthly disposable income

Auto loans

Secured loans

Mortgage payments

Attorney fee

Administrative fee

Trustee fee
When you take the Chapter 13 means test calculator you should be able to receive an estimate of your Chapter 13 plan payment, as well as the pros and cons attached to the process.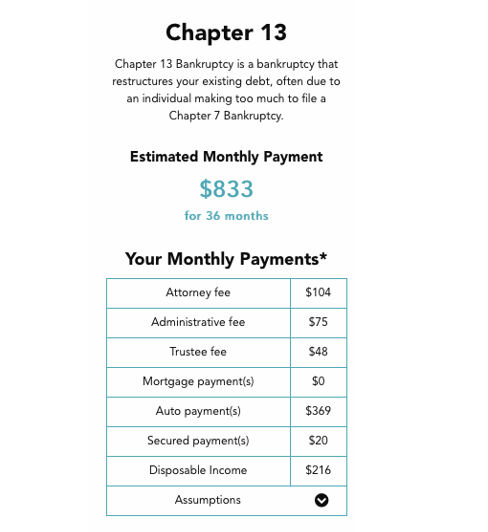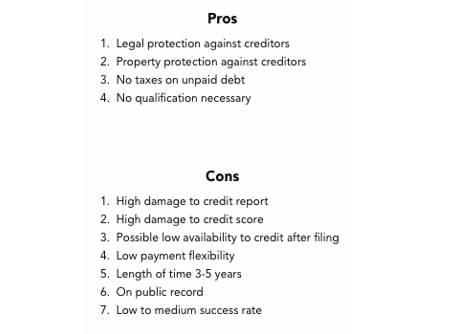 You should be able to see what will be included in your Chapter 13 bankruptcy, as well as the clear pros and cons attached. 
How to Find a Bankruptcy Calculator
Finding the right bankruptcy calculator is key, as it is extremely important to have the most accurate information before speaking with a local attorney for a consultation. If you have already gone through a bankruptcy calculator and are ready to understand attorney fees, you can take the attorney fee calculator to estimate the costs near you. 
As stated earlier in the article, you should find a bankruptcy calculator that lays out all of the fees, pros, cons, and qualifications. There are tons of small pieces included in a bankruptcy, so finding one that takes into account state exemptions can help you understand your best option. You should be able to search up "Chapter 7 Bankruptcy Calculator" or "Chapter 13 Bankruptcy Calculator" in Google to start your search process. 
How to Use the Bankruptcy Calculator
Now that we have told you about what bankruptcy calculators are and how to find one, let's dive into how to actually use the calculator. Here is a step-by-step guide of how to use a bankruptcy calculator: 
1. Understand Your Total Unsecured Debt Amount
You will be asked in the bankruptcy calculator to state your total unsecured debt to help analyze the best option for you. Fortunately, this can just be an estimate, you will get more granular when you speak with the local bankruptcy attorney. 
2. Breakdown Your Household Income
For understanding possible qualifications for Chapter 7 bankruptcy or payment plan for Chapter 13, you will want to have your monthly gross income handy during the calculator.
3. Take a Look at Your Secured Debts
If you have any secured debts such as auto payments, secured loans, or a mortgage, you will want to have those available or understand the monthly expense attached to each. On the note of a mortgage, if you know how much equity you have that will be helpful as well. Understanding your total equity can be extremely helpful as it will let you know if you may be able to protect your home in a Chapter 7 bankruptcy through the bankruptcy homestead exemptions. 
Conclusion
You may be at the point where you are trying to understand the bankruptcy process and which Chapter is right for you. Bankruptcy can be intimidating and overwhelming, so it is imperative to understand the pros and cons of bankruptcy. You can either speak with a local attorney for a free evaluation or first take a bankruptcy calculator to understand costs.