When it comes to beach season, getting your outfits packed for a beach vacation can make many women nervous. No matter what your size is, you should embrace your body gracefully while taking away the attention from the parts that you don't want to show.
Always keep in mind that covering your body with loose and ill-fitted clothes can make a huge blunder and make you look larger than you are. Whether it is your swimsuit or any other plus-size beach dress for women, you must get the more flattering one.
Here, we have collected some ideas for plus-size beach dresses that can be mixed and matched to get something glamorous.
Kaftan
Kaftan is that essential vacation item that must be there in your suitcase. It is a highly versatile piece of a dress that you can wear over your swimsuit. Moreover, it can also be worn over your shorts, leggings, and jeans. It means one you buy the kaftan, it can be worn all year round with different outfits.
For a beach vacation, you must have a kaftan with thin and sheer material that looks amazing over your one-piece swimsuit or bikini. Whenever you shop for a kaftan, you need to ensure that its fabric is such that allows your skin to breathe and makes you feel cool at the time you are on the beach.
When it comes to the shape of the kaftan for plus-size women, it must have an empire line that looks fabulous on you. Also, a kaftan with knees to mid-thigh length looks more stylish. So, pick the one that comes to your upper legs.
Two-piece Swimsuit
Many plus-size women think that a bikini is not meant for them, because they do not want to show off their curves openly. But, do you know when different styles of bikini are available in the market, this makes the bikini far more wearable than other beach dresses for plus-size women?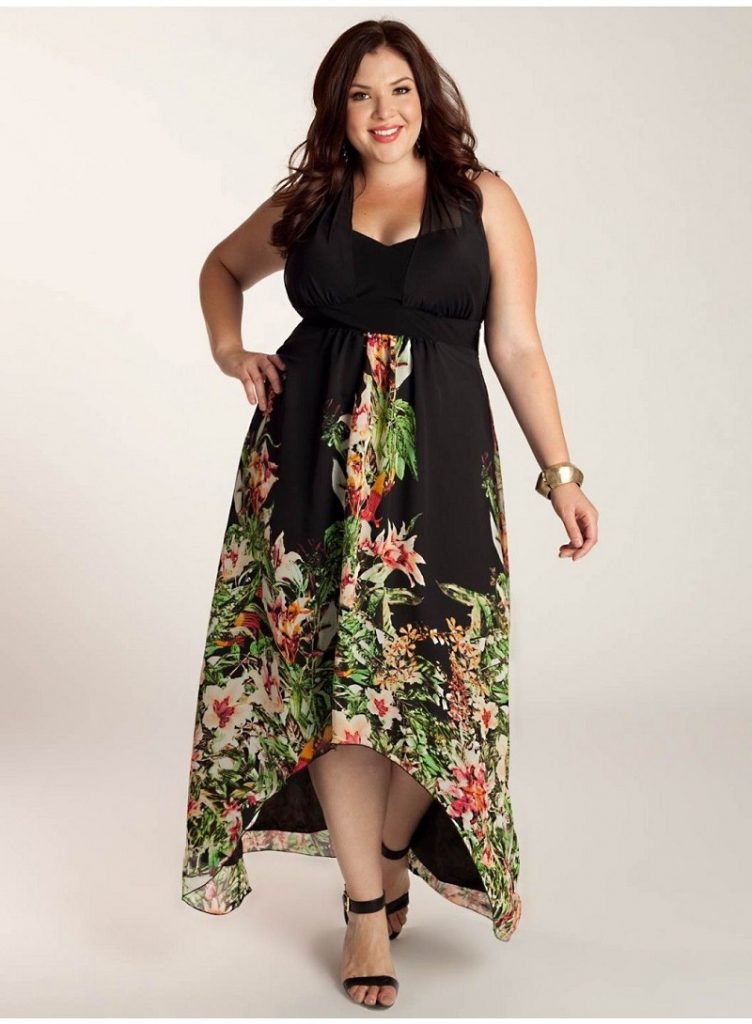 A two-piece swimsuit that has a skirt at the bottom is a great choice for women with a rectangular shape body. It means if you want to create curvy hips to get a visual waist, skirts work wonderfully in this regard. On top, you must have a built-in shelf and molded cups that flatter and work great in keeping your chest in one place.
If you have a smaller chest, you can choose to wear a halter neck triangle bikini. Also, the one with ruffles and other detailing helps in creating the illusion of a larger chest. Moreover, you can choose to cover this two-piece beach dress with a kaftan.
Plus size beach dress
If we talk about the plus-size beach dresses for women, they are not only comfortable in wearing but require minimal styling to get the perfect beach look without putting much effort into your dressing. The main point is to choose a dress that fits perfectly on your along with making the most of your curves.
Another thing to keep in mind while choosing a beach dress is that the dress must be quick and easy to put on. It is so because you can easily dress or undress without any hassle. At the same time, you must stick to the body shape rule when looking for a beach dress for your curvy body. Get the one that can easily skim on your lumps and bumps, such as a dress with an empire line cut.
For the neckline, get a dress that imitates the neckline of your swimwear. Suppose, your bikini or one-piece swimwear has a halter neck, make sure that your dress must also have a halter neck. No matter which style you choose, tying your hair high on your head completes the entire look.
Romper
Do you know rompers are super fashionable no matter what size you have? They are also a great dress option for the beach or any summer vacation. You can easily find different styles of rompers that make stunning plus-size beach dresses for women.
Moreover, you can wear it to the beach, to the hotel and the bar, especially if you choose the right style and pattern. You must also know that rompers with larger patterns look fabulous on plus-size women and make you stand from your group.
Just make sure that you are choosing a flattering neckline, like women with larger busts must go for wraparound or V-neck than the high neck. If you are a plus-size woman with a small bust, you can go for a halter neck or off-shoulder neckline. For women with the apple-shaped figure, going with wrap-topped rompers is great for creating the illusion of your waist and giving a great finish to your overall look.
One-piece Swimsuit
A one-piece swimsuit is one of the great plus-size beach dresses for women and makes it an elegant choice that works great in hiding your tummy. If you do not like to show your tummy, a one-piece swimsuit enables you to cover it gracefully.
They also act as hidden shapewear that helps you to give that extra support to your curves if needed. Another way to wear one-piece swimwear confidently is to get the pattern that flatters. Here, you can go for vertical stripes that help greatly in elongating your torso while keeping your bumps smooth. The deep-cut neckline looks great on those with a small chest.
Always keep in mind that bustier women need some extra support for their chests, so you must choose a one-piece swimsuit that has in-built cups or a bra. To have a bold look this time, you can try a monokini that is not only easily wearable and more flattering but also keeps you looking stylish and hot on the beach. You can also pair your one-piece with a sarong wrapped around your waist.
Additional ideas to look fabulous on the beach
What makes these plus-size beach dresses for women more stylish are the right accessories that must be there in your bag when you are on the beach vacation.
You can wear a classic-shaped hat that not only looks stylish but also protects you from the sun.
Aviator-shaped sunglasses enhance your look as well as protect your eyes from harmful UV rays.
The long-chain necklace is another accessory that looks great over your beach dress.
Get a pair of flats for your feet, such as bright-colored plastic flip flops are great for the beach and also give a cool look.
Final Words
Going on the beach vacation must not make you fear what would look perfect on you. You must wear a fun and stylish beach outfit that not only gives you confidence but also helps in looking you the best.
Always remember that no matter what kind of plus-size beach dresses for women you have chosen to wear, you need to be confident in your dress and make your vacation more memorable with fun and happy moments, not with fear or horror.