Bespoke Wedding Ring For Your Man
When it's time to select the wedding bands, choosing the man's wedding ring can sometimes be difficult. Though some may think that most men do not care about it, it is after all the one jewellery that he will likely wear every single day, so surely he has some opinions about it. Another issue that may occur is when the man's taste of jewellery may differ entirely from his future bride's. In many cases, determining a man's wedding ring simply comes down to comfort and making few needed compromises.
May this quick guide help you select the kind of wedding band that your future husband will love.
Does it have to match hers? 
The main issue when picking out wedding bands is that too many people believe the fact that the bride and groom's wedding ring must match to the very last detail. This can make the process a bit difficult, particularly when the bride wants her wedding ring to be a part of a matched set.
In this case, it is possible that your groom ends up with a wedding ring that he will likely wear entirely out of duty or obligation. To prevent this problem from happening, you must give your husband-to-be some sort of freedom when it comes to choosing a ring that he likes. Rather than opting for a matching ring set, provide some design ideas based on your choice of wedding ring design or allow him to choose a matching design in a different type of metal. While the rings won't exactly match, they will still compliment one another.
Comfortability matters 

A lot of men would not want to wear fine jewellery on a day-to-day basis, but getting married means they have to wear their wedding ring every time. In order to help him get used to wearing a wedding ring, it is crucial to pick out a design that is comfortable enough to wear. There's a reason why most men's wedding rings are crafted with rounded edges which mainly provides comfort. In addition, consider the career of your future husband when choosing his wedding ring.
Choosing the right wedding ring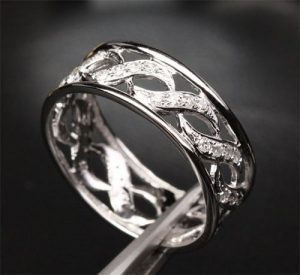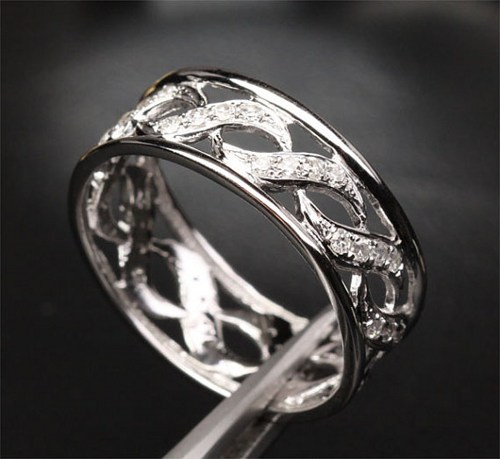 In the end, the right kind of wedding ring for your future husband is the one he enjoys wearing every single day So if you have a specific style you are set on, try finding a happy middle ground that will allow him to wear a comfortable ring.
This is why opting for bespoke wedding rings are essential as you can freely choose the design of your wedding bands. You can personalize everything, down to the very last details, and this makes your ring even more special.
Whether that means choosing different metals or giving him total freedom of the design will solely depend upon the couple. Nevertheless, if you are having a difficult time compromising each design, there is a simple solution: engraving. While you may have different preferences when it comes to the metal and gems to be integrated in the design, having both of your wedding bands engraved on the inside renders a lasting connection. Bespoke jewellery gives you the flexibility of choosing what to engrave in your wedding bands too.
Lastly, you have to remember that no matter what ring style he picks, he is still your husband-to-be, and the symbol of lasting, unbroken circle of love, trust, and commitment means so much more than if your man's wedding ring matches your own or not.
Tags:
bespoke jewellery
,
diamond ring
,
wedding ring