Chicken Makhani, Butter chicken or Murgh Makhani as it is sometimes referred to, is a South Asian (Indo-Pak origin) delicacy of bone-in chicken in a mild spicy and creamy curry sauce. Enjoyed widely around the world, this entrée has its roots in Punjabi cuisine and is believed to have been made popular by the Moti Mahal restaurant in Daryaganj, Delhi, India.
During Binoy Nazareth's tour to India in 2013 which included a 10 day Delhi trip that culminated at the Taj Mahal in Agra, he relished this delicacy many times at several different authentic North Indian restaurants. Chefs have unique ways of making their recipes authentic by mixing up the ingredients or improvising the process. The chef in Binoy made sure he comprehends the uniqueness of the recipes of this dish from many restaurants he visited in Delhi. This resulted in identifying the recipe for a incredibly delicious and lusciously lip-smacking Chicken Makhani, Binoy Nazareth style. Most of these ingredients are easily available at major super-markets like Wegmans or an authentic Indian store.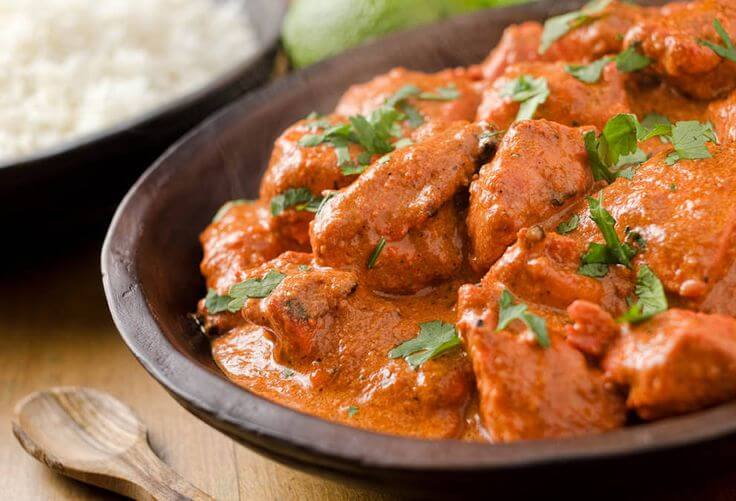 Ingredients:
Chicken skinned and cut into pieces – 800 grams
Kashmiri red chilli – 1 teaspoon
Lemon juice – 1 tablespoon
Salt to taste
Butter – 2 tablespoons
For Marinating:
Yogurt – 1 cup
Kashmiri red chilli powder – 1 teaspoon
Salt to taste
Ginger paste – 2 teaspoons
Garlic paste – 2 teaspoons
Lemon juice – 2 tablespoons
Garam masala powder – 1/2 teaspoon
Mustard oil – 2 tablespoons
For Makhani Gravy:
Butter – 3 tablespoons
Green cardamoms 2-3
Cloves 4-5
Black peppercorns 7-8
Cinnamon – 1 inch stick
Ginger paste – 1 tablespoon
Garlic paste – 1 tablespoon
Green chillies chopped 2
Tomato puree – 400 grams
Red chilli powder – 1 tablespoon
Garam masala powder – 1/2 teaspoon
Salt to taste
Sugar/honey – 2 tablespoons
Dried fenugreek leaves (kasooriMethi) – 1/2 teaspoon
Fresh cream – 1 cup
Procedure:
For Marinating:
Make deep cuts or incisions across the chicken pieces. According to Binoy, this will help the flavor of different ingredients to soak into the meat. Then add lemon juice, red chilly powder, salt and mix well.
Hang the yogurt in a muslin cloth to remove extra water for 15 to 20 minutes. Then in a bowl, add ginger and garlic paste along with hung yogurt and mix well, add the chicken pieces. Add a tablespoon of mustard oil and mix again.
Keep the marinated chicken in the refrigerator for at least 2-3 hours to absorb the flavor.
Preparation of chicken:
After marinating, set your microwave or oven to preheat at 200 degrees. Then with the help of skewer make a string of the marinated chicken pieces. Cook the chicken pieces in microwave or oven till it's almost done and you can see oil on the tray below.
For Makhani Gravy:
Heat a pan and add butter to melt. Then add green cardamom, cloves, black peppercorns and an inch of cinnamon stick and sauté them well till they start popping. Then add the rest of the ginger garlic paste and green chillies, sauté them again for two minutes.
Now add tomato puree, garam masala, red chilly powder, salt and a cup of water. Mix them well and boil, then reduce the heat to simmer for another ten minutes.
Add the chicken pieces to the Makhani Gravy. Bring it to a boil until the chicken pieces are cooked well and have absorbed the flavor of the Makhani gravy.
An authentic Chicken Makhani, Binoy Nazareth's style is ready to serve. Binoy recommends serving it with Indian roti, naan, paratha or any type of flat-bread. Is your mouth watering? Don't blame yourself.