Why Indians are under-insured even when they Buy Life Insurance
Why does one buy a life insurance policy? Life insurance acts as an insulation against unexpected financial crisis and shocks as the death of a family member is a blow to the dependents and family. If there is a loss of income and nothing to substitute that income, it might leave the dependents highly vulnerable to financial instability and lack. It gets more severe if we talk about informal workers in the unorganized sector. They are exposed to additional risks of income volatility, unsafe working conditions, lack of perks and benefits.
All these risks can be cushioned against, through life insurance that provides insurance and depending on what you choose, also carries an investment component.
Life insurance in India, as a sector, has been on a growth trajectory. It is expected that the insurance industry in India will reach US$ 280 billion by 2020. Specifically, the life insurance industry is expected to grow by 12-15% annually for the next three to five years. By 2020, it is expected to account for 35% of India's total savings. But if industry reports and government data are to be referred, it is found that India's life insurance sector is largely untapped. The takeaways from industry reports have been calls to action to find new ways of educating consumers and to innovate products and distribution channels.
The sector has made commendable strides: insurance is now highly customised, interactions are phygital (a mix of physical and digital) and set to be more and more digital, insurers partner with service providers to offer the best coverage and convenience. In fact, policy support has always been strong and encouraging for the insurance sector. Tax incentives on insurance products have always been a feature, and the Insurance Bill gives the Insurance Regulatory and Development Authority (IRDAI) full flexibility to frame regulations for the sector. The industry has also witnessed repeated attempts to make the sector more lucrative for foreign insurers.
But despite all this, Indians remain heavily under-insured. Let's crunch some numbers over this to see if the life insurance coverage in terms of population outreach abysmal.
Gross premiums written in India reached Rs 5.53 trillion in the financial year 2018, with Rs 4.58 trillion from life insurance. Insurance reach is still low in India. Other parameters include the insurance penetration and insurance density. Insurance penetration is calculated as the percentage of insurance premium to GDP and insurance density is calculated as the ratio of premium to population (per capita premium) sector in a country.
Overall insurance penetration in India was 3.69 percent in 2017, providing a huge underserved market. India was ranked 41st in 2017 in terms of insurance penetration with life insurance penetration 2.76 percent and non-life insurance penetration at 0.93 percent.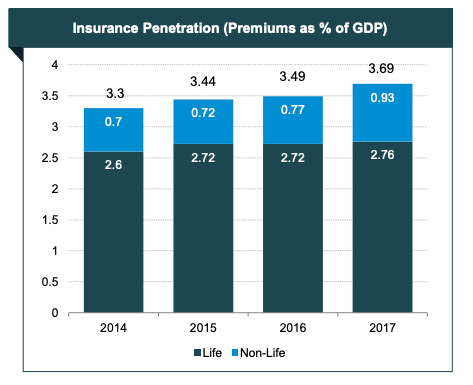 In terms of insurance density, India was ranked 73rd in 2017 with an overall density at US$ 73 .
In an attempt to make sense of what this means in the context of the market and consumer outlook towards insurance products.
The High Net Worth Individuals (HNWI) and the mass market is the underserved section . Why? For the mass market, the conjecture is that affordability is the barrier. But some of Swiss Re's recent research reveals that price is not the most important driver of consumers' buying decision. Most prospective buyers who choose to drop out did so before receiving quotations. During the stages of conducting initial research or making their first enquiry. Only a third dropped out after receiving specific pricing and product details.
Stages at which non-buyers drop out of insurance purchase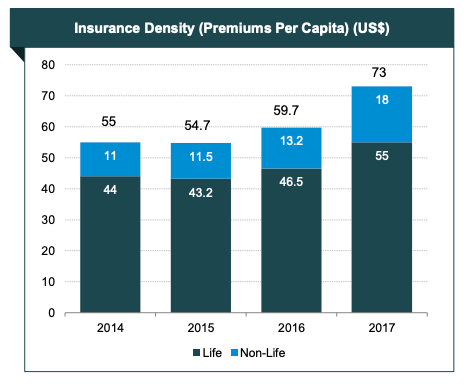 So why is India then still under-insured?
The reason lies in the types of life insurance in India. The majority are not pure protection products like term insurance like the Future Generali Express Term Life Plan, but are endowment plans that offer protection and investment features. In fact, endowments lead the life insurance product mix, accounting for about 40% of the total life insurance market. The share of term life in the total life insurance industry has been fairly constant at around 7%, and these are global figures
The insurance cover offered by endowment insurance products, logically, tends to be much lower than that offered by pure protection products.
The headroom for growth for life insurance in India has always been there, as can be seen in the life insurance penetration and density statistics. Lack of awareness among customers and restricted coverage of distribution infrastructure were impediments. Now the ecosystem is more conducive to growth with digital distribution channels. The insurance coverage can also be fuelled by the growing interest in insurance among people, innovative products that don't just sell because of their partial investment personalities but because insurance is purely a pivotal service.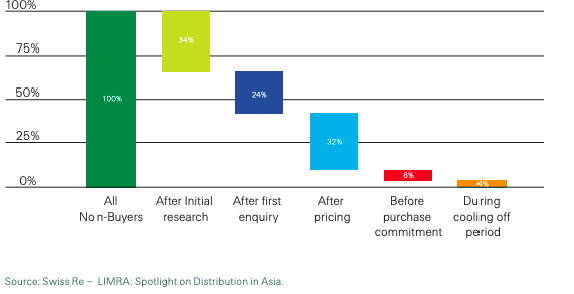 Thus, a pure life insurance plan like the Future Generali Flexi Online Term Plan is more effective at the financial protection function of life insurance.
While combination products with an investment component like the endowment plans or ULIPs make sense, they reduce the life insurance coverage by that much magnitude, and the result is that Indians, despite buying life insurance are living dangerously.
Tags:
Buy Life Insurance
,
Indians
,
Life Insurance