The Royal Challengers Bangalore (RCB) defended a modest total of 126 for 9 against the Lucknow Super Giants (LSG) in a low-scoring thriller on Monday night. The match was played on a black-soil pitch at LSG's home ground, which offered assistance to the spinners, making it difficult for the batters to score runs freely.
Despite the slow start by RCB, the bowlers kept their nerves and picked up wickets at regular intervals, restricting LSG to 108 for 9 in their allotted 20 overs.
Kohli and du Plessis Set the platform, but RCB Struggles to Accelerate
RCB's openers, Faf du Plessis and Virat Kohli, started the innings steadily, adding 62 runs in the first nine overs. Krunal Pandya, Ravi Bishnoi, Amit Mishra, and K Gowtham all bowled tight lines and took wickets at key points in the innings, preventing it from ever getting going. Naveen-ul-Haq contributed three late-game wickets, helping to limit RCB to a low score of 126 for 9 off of their 20 overs.
A win like last night was bound to send social media buzzing! 😵‍💫📲

Here's a look at how our boys celebrated defending the lowest score in #IPL2023! 🔥#PlayBold #ನಮ್ಮRCB #LSGvRCB pic.twitter.com/tu59PB7J9X

— Royal Challengers Bangalore (@RCBTweets) May 2, 2023
RCB's Slow Start and Middle-Order Collapse
RCB's slow start and middle-order collapse were also major talking points of the game. After a solid start from du Plessis and Kohli, the middle order failed to accelerate and lost wickets at regular intervals. Dinesh Karthik played a cameo towards the end but was run out after a direct hit from Yash Thakur.
Rahul and Unadkat were Injured, and LSG was in Trouble from the Start
LSG's run chase got off to a disastrous start as they lost five wickets for 38 runs in the first seven overs. Adding to their woes, KL Rahul injured his right leg in the second over of the game and hobbled off the field. Although he came out to bat at number 11, he was clearly struggling and played three dot balls before Mishra failed to score the required 23 runs off the final over. Adding to their injury woes, Jaydev Unadkat was also forced to retire with a hamstring injury.
RCB bowlers Dominate with a Disciplined Performance
RCB's bowlers were on fire from the start, with Mohammed Siraj striking early to remove Kyle Mayers with the second ball of the innings. Krunal Pandya tried to take the attack to the RCB bowlers but was eventually dismissed by Glenn Maxwell.
Josh Hazlewood picked up the wicket of Ayush Badoni, while Wanindu Hasaranga had Deepak Hooda stumped off his first ball. Nicholas Pooran hit a six off Karn Sharma but was caught in the deep trying to clear the boundary. RCB's bowlers kept picking up wickets at crucial junctures, not allowing LSG to build any momentum.
LSG's Fightback Falls Short as RCB Wins by 18 Runs
Despite being reduced to 77 for 8, LSG still had hope as Gowtham and Mishra started to attack the RCB bowlers. Gowtham hit two sixes and a four off Karn Sharma, reducing the equation to 64 runs from the last ten overs.
But Stoinis dismissed him with a well-placed catch at long-off, and Mishra failed to score the required runs off the final over. RCB's bowlers were disciplined and stuck to their plans, ensuring they defended a modest total and won the match by 18 runs.
Impressive Bowling Performance by RCB
One of the main reasons for RCB's victory was their impressive bowling performance, particularly their spinners. Krunal Pandya and Ravi Bishnoi picked up two wickets each and were instrumental in slowing down the RCB innings during the middle overs. Amit Mishra and K Gowtham also bowled well, picking up a wicket each.
But among LSG's bowlers, Naveen-ul-Haq stood out as the best option. In his four overs, he was able to collect three wickets while allowing only 18 runs. His ability to vary his pace and bowl cutters into the pitch proved to be extremely effective on the slow surface.
LSG's Batting Collapse
LSG's batting collapse was the main reason for their defeat. They lost five wickets in the first seven overs and were reduced to 38 for 5. The middle order failed to provide any resistance, and LSG eventually folded for 116 in 19.5 overs. KL Rahul, who had injured his right leg earlier in the game, came out to bat at No. 11 but was unable to score any runs due to his injury.
Tonight should have been something else. 💔 pic.twitter.com/w0GBQhpJ6F

— Lucknow Super Giants (@LucknowIPL) May 1, 2023
Player of the Match- Faf du Plessis
Faf du Plessis, the Royal Challengers Bangalore captain, was named the Player of the Match in the TATA Indian Premier League (IPL) 2023 game against the Lucknow Super Giants.
Shining together with the bat and at the presentation ceremony too! 🤝

Faf & Kohli are our award winners for the night! 🙌#PlayBold #ನಮ್ಮRCB #IPL2023 #LSGvRCB pic.twitter.com/5nmiuFu413

— Royal Challengers Bangalore (@RCBTweets) May 1, 2023
Kohli and Gambhir in a Heated Altercation After the Match
Following the end of the match, Kohli and Gambhir appeared to have made amends as they shook hands, but things took a heated turn afterward. LSG opener Kyle Mayers approached Kohli and engaged in a conversation that appeared to have irked Gambhir. Gambhir then intervened and took Mayers away, but the situation escalated quickly.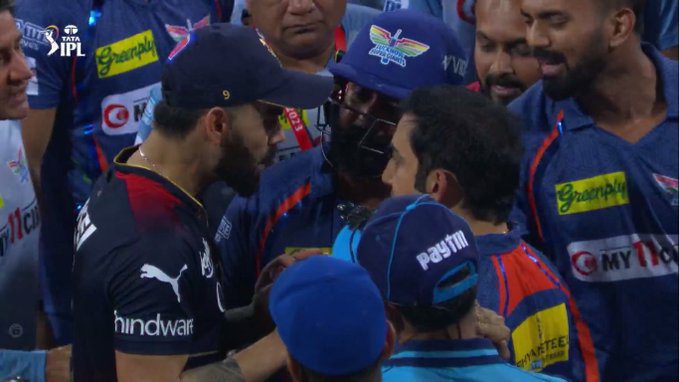 Video footage from the match captured Gambhir and Kohli engaged in an intense exchange of words while a few other players, including Lucknow captain KL Rahul, attempted to intervene and separate them. Eventually, Kohli and Rahul had a conversation as well.
IPL Fines 3 Players for Code of Conduct Breaches in a Match
Three players from both the Royal Challengers Bangalore (RCB) and the Lucknow Super Giants (LSG) were issued fines for violations of the IPL Code of Conduct during their team's match in the TATA Indian Premier League (IPL) 2023. For a Level 2 infraction under Article 2.21 of the Code of Conduct, LSG coach Gautam Gambhir and RCB captain Virat Kohli were penalized 100% of their match money.
In addition, LSG bowler Naveen-ul-Haq was fined 50% of his match money for acting inappropriately during an IPL match. After the match ended, tempers flared up between the players, with Gambhir and Kohli engaging in an animated discussion. Kohli was fined for his role in the incident, as was Gambhir.
The IPL Code of Conduct outlines the rules and regulations that players and officials must adhere to during IPL matches. The fines serve as a reminder to all players that unsportsmanlike conduct will not be tolerated in the IPL.
Conclusion
In conclusion, RCB's victory over LSG was a result of their bowlers' impressive performance and LSG's batting collapse. Despite a slow start and middle-order collapse, RCB was able to post a competitive total and defend it successfully. The post-match altercation between Kohli and Gambhir added some drama to the game, and it remains to be seen if any action will be taken against Gambhir.