Garage doors services can be of two types based on the doors i.e. rolling or swing out. Nowadays, doors are generally electronic operated, which ensure safety, security, and convenience. It is the heaviest part to move. Small garage doors are made up of the single panel while the larger door has many joint panels consisting to form one. Maintaining garage door is a difficult job, as it is not done on regular basis and needs more time. Doing door service from time to time helps to maintain the longevity of door otherwise it may get destroy due to the rust. Spring, hardware, and cables form a major part of garage door services. The weight of door may differ, but the standard weight is around 400 lb or more. Garage doors can even cause injury and damage sometimes. The main cause behind this is when the opener force is not properly adjusted to the door and if you try to repair it without using proper tools. If the springs used indoors are broken, then it might lead door to fall because of the increase in effective mass. Install the handles of manually operated doors vertically.
If you are keeping a watch on problems, then you can notice that the listed points are creating an issue and the door needs servicing.
The door doesn't open and close properly

There is some kind of noise while operating the door

There is some kind of electric current or wire shot
A preventive measure to take for garage door services when you notice the above problem:
If you feel such noise, then try to detect and fix up the hardware problem if possible. Due to its regular use and movement the parts might get loosen.

If in case, the door is not properly balanced then it might not last long.

The rollers can be of two types either steel or nylon, which needs to be inspected twice in a year. The replacement can be done in about every 7 years. If the rollers are torn or cracked, then replace it as soon as possible. In the meantime, reinstall it again.

There is a rubber seal strip for weather resistance at the bottom of the door it should also be replaced if needed. You can get it at any hardware store.

If the garage doors are properly lubricated, then it may give you a good result and can be in a good working condition for a longer period of time.

A cable also plays an important role. Nowadays, every garage has shifted their preference from mechanical doors to an electronic one.

Steel doors may be rusted easily so that it needs to be painted.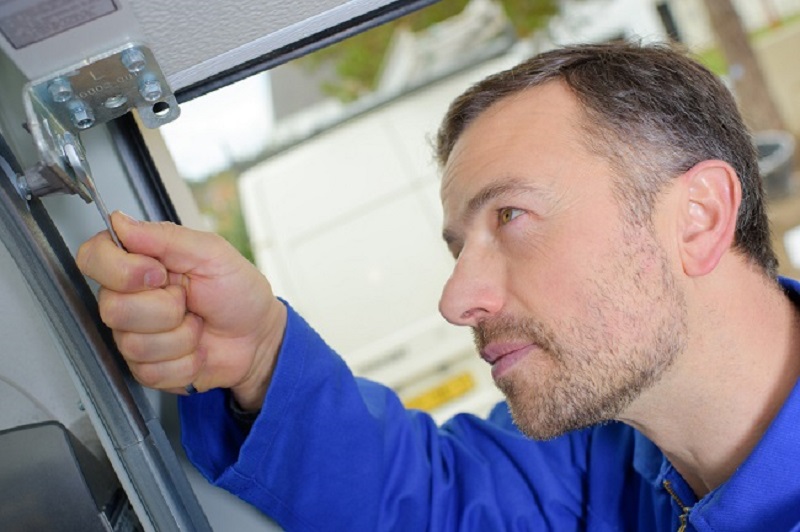 Now here are some points related to lubrication in garage door services:
First of all, you need to start with tracks cleaning it don't need lubrication.

Secondly, you should put lubricant in spring so that the movement gets better.

Thirdly, take care of the hinges and do the lubrication.

Fourthly, it comes the turn for rollers and locks lubrication for smooth movement.
You should keep in mind some points for garage door service to keep the doors clean and in working condition.
You can choose a soft sponge and a soap base liquid for cleaning the door.

You should pat it dry after cleaning.

You may apply oil or lubricant for its smooth functioning.

If there is any defect, rectify by consulting a proper specialist.

If doors paint has gone away, you can repaint it.
To sum up, servicing is all about maintaining and lubricating parts from time to time.