Engagement Catering Secrets you never Knew
Engagement catering relieves the primary stress of arranging food for huge crowds and changing guest preferences. The pressure is just taken care of by engagement caterers who arrange food and ambiance to enjoy the special occasion with loved ones. No matter if the customer doesn't have much idea of new foods and the guests demand different cuisines. Engagement caterers are always there to present a twist to traditional dishes, and they even try with a unique fusion of recipes belonging to different countries.
The highest quality food is made, and the needs and wants of every person included in the guest list are taken care of, especially for kids' low spicy food is kept for them to relish the dishes.
Benefits of hiring Engagement caterers
Organizing an engagement party is a hectic task, and it's commemorated in style with elegance with lots of guests, and this makes it challenging to cater to each and everyone's needs. This is the main reason Engagement catering is considered to be the best option.
Budget-friendly: While no stones are left unturned on your special day, spending thousands on catering alone is not a sensible option. But in order to know how to calculate the budget, you can always turn to engagement catering services who calculates the cost associated with food and other services and set the menu according to the budget of the customer's pocket
Organic food: Caterers have come up with new terminology- organic and hygienic food wherein the ingredients are handpicked, and these ingredients do not contain any trace of chemical pesticides. While they might be a bit high on the price side, these organic dishes assure you of a healthy meal
Extra care: Caterers take care not only to prepare food but also to add unique ingredients that enhance the flavor of the dish and make it look more presentable. Different meals are also included in the menu to improve the event's food list.
There are many types of engagement catering which are stated below:
Take away catering
This service is usually for cost-conscious people who don't want to spend a lot of money on services. Caterers give the option of taking away the food items and serving at their own cost and place.
Buffet caterers
Buffet catering is the most used catering service wherein many types of dishes are prepared and kept in vast quantities, and people can come and fill their dishes with mouth-watering food. Caterers arrange a few staff members to serve the enormous crowd.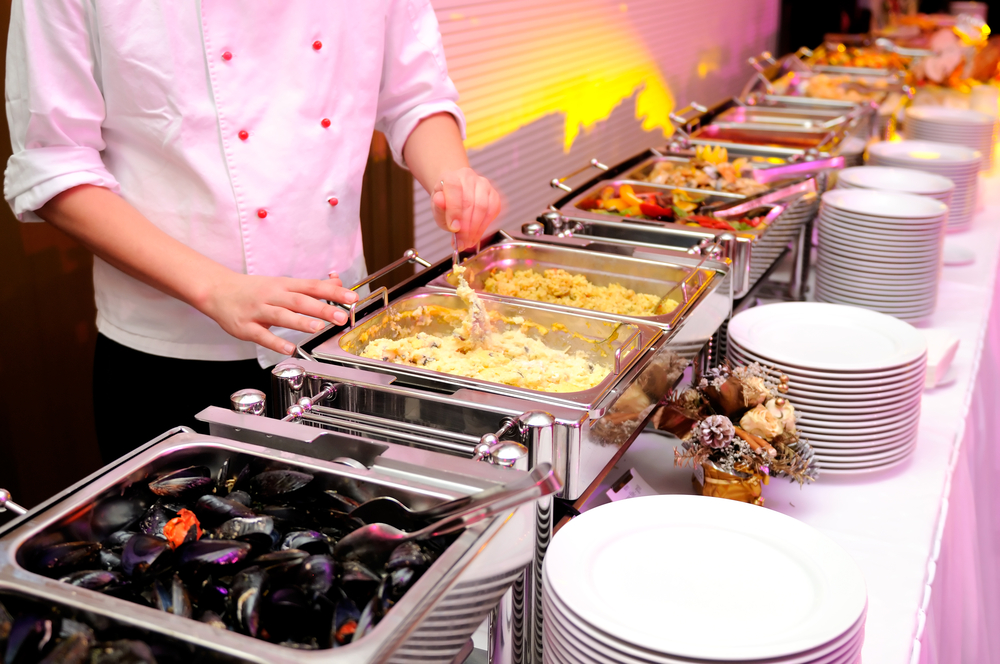 Sit down caterers
The most common type of catering in engagement catering is to sit down catering. Here caterers present the food and serve them, and the guests have their food while sitting on a table and chairs. A round table is arranged by caterers where family and friends can enjoy the food at their convenience.
Food trucks
This may sound a bit weird, but there are new engagement parties where the food is bought in a food truck by caterers, and it's a fun way to have food on a plate. Caters find it easy to serve food in food trucks.
Extra services are done by caterers Venue
Selection
Sometimes Engagement catering even plans the right venue based on a theme and guest list and ensures that the wishes of both brides and groom's family are fulfilled. Destination engagement planning is done, and food is prepared based on the fusion of both interests and which is suitable to the venue too.
Multi-cuisine food
Caterers on demand present multi-cuisine food, which is a combination of pasta, noodles, macaroni, pizza, rice, curries, and various sweet dishes to relish on. Upon its different types of ice creams are rendered.
Conclusion:
To conclude, Engagement catering has a lot of backend operations planning to do to make the great big day rock and to satisfy every guest present at the event.
Tags:
Catering
,
engagement catering
,
Engagement Catering Melbourne
,
Wedding Catering Melbourne