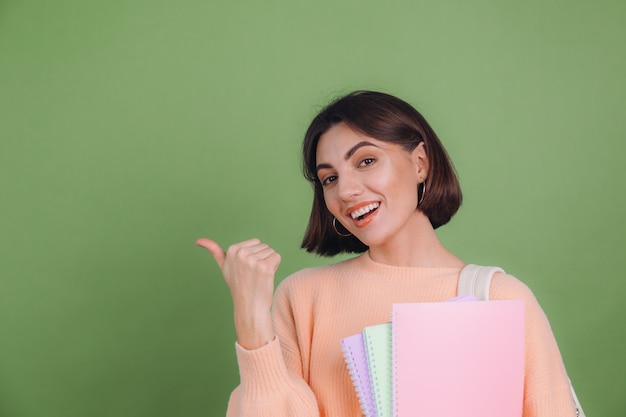 Source: Free Photo | Young woman in casual peach sweater isolated on green olive color wall
It can be quite tricky to find the right way to spend your study breaks. If you choose an activity that is too entertaining, you might end up spending the rest of the day caught up in it. 
On the other hand, if you choose a boring activity – you might end up losing all your interest to return to studying. 
That said, what might be appealing to one student might not be so welcoming for another. Therefore, we have compiled a list of various websites that might come in handy during study breaks. 
Learn Something New
1. Studyfy
One of the smart ways to study is to shift your focus to another subject. That said, of course, you might not want to use the break to simply pick up another book. So why not read some interesting essays that might be relevant to you. Academic platform Study offers dozens of sample essays on virtually any subject you can think of. These include topics such as:
Environment

Law

History

Famous Personalities

Social Issues

Politics 

Literature
You might even be able to find essays and EssayPro reviews that are applicable to the subject you are studying. 
2. StoryCorps
In simple words, this website is a compilation of stories. However, these are life lessons from actual people. StoryCorps includes interviews, podcasts, and animated films of hundreds of individuals. You can sort through the library based on location, type of story, or the year published. Inspirational stories could instantly motivate you to get back to studying and work towards your goal. 
3. TED
There is no question that a TED talk can encourage you to pursue your dreams or offer you some valuable insight. It is also one of the best to creatively use your time. Why not browse through the videos and find out which one might be more suitable for your specific mood. 
4. Difference Between 
Ever wondered what the difference is between cookies and biscuits or complement and supplement. Whatever your curiosity is, Difference Between will have an answer to it. This is an intriguing site that helps distinguish between different terms that are often confused with each other. 
For Stress Relief 
5. Make Everything OK
Everybody needs a little bit of pick me up during study sessions, especially if it is during exam time. This website does exactly that. It is only a virtual button, but it can give you a small reassurance that everything is going to be ok. 
6. LolMyThesis 
A little bit of creative writing might be the best way to calm your nerves. LolMyThesis is a website where students come up with funny summaries of their thesis. You can enter any subject into the search field, and the site will offer you quirky takes on how students viewed their own thesis. 
7. Novni 
There is a reason why journals work for many. Sometimes writing whatever you feel like is a way of releasing your tension – at least to an extent. With Novni, you can choose to write anonymously, or if you are feeling relaxed, you can offer support to someone else. There are also different writing prompts, such as to write continuously for 5 minutes or write a letter that will never be sent. When you complete the task, you might feel more at ease to attempt studying again.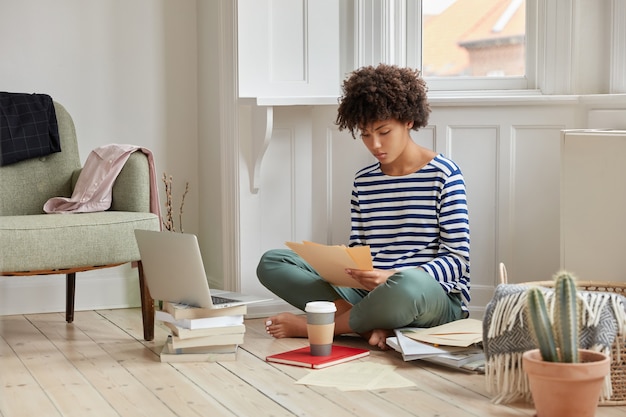 Source: Free Photo | Horizontal shot of administrative manger sits in lotus pose on floor, studies contract
Quick Games
8. Google Feud 
It is indeed fun to predict how Google is going to autocomplete your search query. In fact, Google Feud does just that. It will give you a phrase, and you have to guess the different ways Google fills the rest. The game will not engulf you, so after a few attempts, you will have no difficulty leaving to continue studying. 
9. Akinator 
Get ready for this site to blow your mind. Think of any character, objects, or animals, and Akinator will correctly guess the answer. You will simply have to answer a few questions, and based on your responses, and the website will narrow the choices.
10. City Walks
Dreaming of traveling to a distant land? Why not take a virtual tour with City Walks? It is like a street view, but you will also be able to the sound of nearby shops, other pedestrians, vehicles passing by, and more. There are a plethora of cities listed on the platform – which includes Athens, Barcelona, Osaka, New York, Toronto, and more. You can also sign up for live city walks based on their schedule. 
11. Notpron Riddle 
It is a game where you have to solve different riddles to reach the next. The twist is there is absolutely no idea how to beat each level. You have to look for clues on the screen and figure out how to open a door or which key to press. As the level passes, it also increases in difficulty.
Creativity 
12. Weave Silk 
Weave Silk mirrors whatever you draw on the screen to produce stunning drawings. The brush moves like silk, and hence the name. The tool is effortless, captivating, and can surely be a way to spend your break time. When done, if you like your drawing – you also have the option to download it. 
13. ThisIsSand
If silk is not much to your taste, try this website that allows you to create beautiful images with sand. The patterns appear as if you are dropping sand onto the screen. You can choose different colors, make a masterpiece, and save it for others to download as well. 
14. Mix
Finally, if you are not sure what to do with your free time, let this Mix extension decide it for you. It will generate websites for you based on your interests and offer personalized recommendations. This way, you will not have to waste time surfing for what you might like. 
There you go!. You have plenty of websites for every mood and interest. Next time when you are taking a break, choose any one that strikes most interesting to you.