Gitscrum vs Trello: Which is better Project Management Software?
Project management software is a professional tool that helps to plan and handle business. It reminds you of your deadlines, tracks your project based on profitability and status, renders seamless workflow and lets your employee share documents with ease. It is a complete solution to freelancers as well as professionals, hence, it is essential to have a suitable project management software which would help to keep things organized while planning and running projects.
The benefits provided by the project management software is boundless. To get things easier, here is a list of features and advantages of the two popular project management software – Gitscrum vs Trello.
Gitscrum Features
Gitscrum is one of the best project management software available around. It uses the Scrum framework to support task management and boosting up your business productivity. It lets you achieve fluency and virility with its simple methodical approach geared towards product and service enhancement. Gitscrum works seamlessly with popular integrations such as GitHub, GitLab, Asana, Slack etc.
Features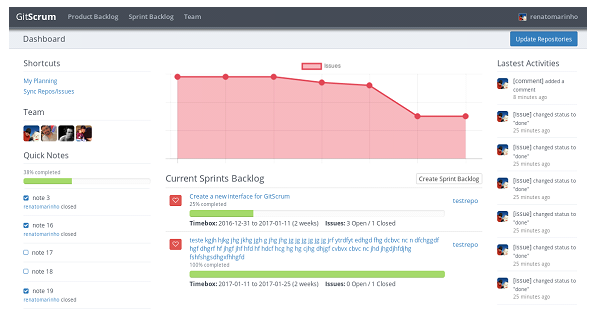 Gamification
The gamification aspect of Gitscrub renders the ability to motivate and reward team members for their task completion. It is essential to get everyone in the project accountable and reward the super performers.
Sprint Backlog
Gitscrum provides this feature which allows certain goals to be achieved while keeping the entire objective constant. It is considered as the property of the development team and their included estimates.
Some Sprint features are:
⦁ Kanban board – It increases productivity enabling you to optimize the workflow.
⦁ Burndown chart – Displays the completed part of the work.
⦁ Sprint goal – Achieve your objective through product backlog implementation.
User Stories
It provides an overview context to the development team and put actual end user at the centre of the conversation. It comes with acceptance criteria, prioritizing using MoSCow methods and Timebox features.
Tasks
It lets you categorize your tasks with color-code labels, bug your report needs to pass a review, draft your tasks, custom fields, provides email notification, upvotes, assign sprint and many more.
Collaboration
With this feature, you can share your board planning with anyone at any time. You can even generate a link and share with ease.
Time tracking
With Gitscrum, you can track the timings of your project down to your level of subtasks and manage your project easily.
User Experience
Gitscrum maintains a relevant list of your skills, shows profile experience and last login activity.
Team performance
An effective team helps to achieve better results. It keeps a track on your performance through scrum metrics such as work in progress, defects detected, charts and others.
Weaknesses
⦁ No marketplace for third-party apps
⦁ No IDE issue tracking
⦁ No other view except for Kanban board.
Thus for better performance, planning board and powerful result Gitscrum is recommended.
Trello Features
Trello is a project management software that comes with all the tools necessary for enhancing business. Its integration with apps and powerups turn Trello boards into a living application to meet the unique business needs. Trello syncs with all your devices and simplifies the organising and tracking team's work, files in one place. It renders everything with search, filtering and labels.
Features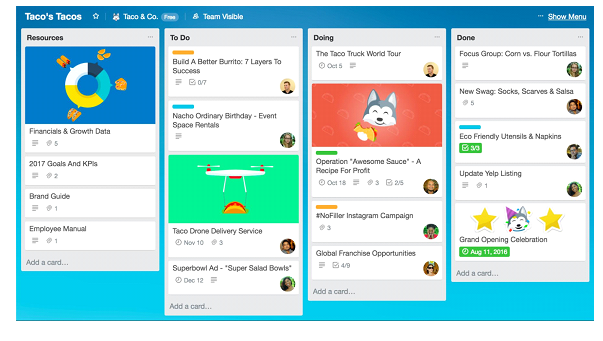 Power-ups
Trello is flexible and powerful with powerup- enabling feature. It adds features to your board, from a calendar view and allows integration with third-party apps and automation. It lets you get all the information in a collaborative place. Integration with emails allows users to use emails for creating cards and comments.
Project tracking and Task management
The project managers can invite teams within a share board to assign tasks and can move cards to other lists. Teams can post or comment, attach files, documents for real-time communication. Notification alert system reminds the users of updates, due dates and remain sync across devices.
User-friendly, Visual organising tool
Trello provides an online visual in the cloud enabling users to keep a track and a shared perspective of business including its goals, workflow, and progress at a glance. Users can create a list, categories or groups inside the board. The cards show the checklist, due dates, attachments.
Multilingual
Trello supports a plethora of languages like English, Spanish, German, Finnish, Norwegian, Swedish, Russian etc.
Social Integration
Trello's integration with social platforms like Facebook, Google, Pinterest and Twitter enhances the ease of collaboration.
Team Management
Large organisations opt for better plans to organise team. Trello provides individual workspace for all members and settings, providing each member their own control.
Others
It includes drag and drop feature, a quick review of back and front cards and mobile functionality allowing users to access boards on the go. Trello provides real-time collaboration by aspiring users and keeps them update of latest changes. Its simple, easy to use interface allows in-line editing.
Trello is thus an effective project management tool that provides a built-in communication tool, enhances data management. Its inherent visuality, transparency, customisability makes it suitable for all field applications.
Tags:
Gitscrum vs Trello
,
project management software