Every minute, hundreds of hours of videos are uploaded to YouTube and it's users watch 1 billion hours of per day. This makes every human spend almost 8.4 minutes on YouTube. 
Larby Amirouche agrees that video marketing is at its peak the past few years. And the number of video creators continues to grow, therefore, more competition for everybody. 
YouTube is often referred as the "second largest search engine". Nowadays, people are getting more visual making it easier for people to comprehend, moreover, YouTube content is more relatable because most of the videos are with real people. Larby Amirouche thinks that YouTube can still offer more opportunities to its users, so it is just right to maximize it as early as now. 
However, the platform requires a channel/account to increase or hit a specific number of subscribers, so the user can monetize and get revenue from video creation.
If you want to utilize YouTube more than just a marketing channel, your channel must have at least 1,000 subscribers to become an official YouTube Partner and start earning from ad revenue. In addition, the more subscribers you have, the more benefits you can enjoy. 
However, because of the long list of channels, achieving more than a thousand subscribers can be a lot of work so other users buy bot subscribers.
Why You Shouldn't Buy YouTube Subscribers?
Similar to other social media platforms, tech savvy users learned how to hack the system. And same with other hacking efforts, it will just cause you disadvantages. 
Buying bot subscribers started on Instagram and it was successful until organic followers knew it. Aside from that, you can't get anything from these bots because they do not engage with you.
Moreover, this will also post a risk of running afoul of YouTube's fake engagement policy and it will cause you brands that are eyeing for a collaboration.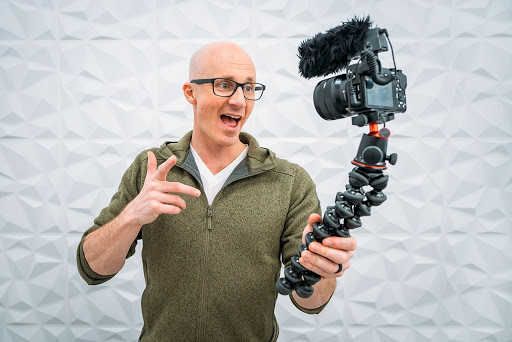 Larby Amirouche Enumerates 5 Ways To Grow Your YouTube Subscribers
1. Create High Quality and Watchable Content
You need to know that YouTube houses almost every type of content you can think of and most of it is just clutter. It will be best for you, if you think of content that is relevant, engaging and most especially high quality. 
Look for a competitor who is using the same platform and check out their videos. Take note of their content and how they create it. Also, scroll down and take a peek on the number of viewers and people who engage in their videos. 
The information you gain from your research can be beneficial to your brainstorming session for new content. 
In addition, create a central theme for your channel. This will make it easier for you to forward ideas. You also need to make sure that it hits your keywords. Remember, that this effort can be considered as an addition to your overall SEO campaign. 
Another thing you need to do to produce a quality content is to plan. Prepare a script, visualize your final output, and think as if you are watching your videos. 
Lastly, however, this is optional, purchase proper equipment for content creation. You may consider buying a proper microphone, camera, even light so the visuals look better when rendered. 
2. Show Up in Your Channel
After you researched and brainstormed your content, it is recommended that you or any team member present it. 
When you put a face to a brand, your audience can easily relate and trust you because they know an actual person runs the channel. 
This effort is best for bloggers, who want to connect with their followers in a new platform; fitness, life, or business coaches; and solopreneurs, who want to bring their businesses closer to their target audience.
Every video you make doesn't need to include your face, however, you justifybe present from time to time. Additionally, if you are this type of YouTuber, use a photo of yourself on your channel. 
Also included in "being present" in your channel, is engaging with your audience. 
You can interact with them within the platform through the comments section. This will make your subscribers/viewers valued. An additional effort to grow your subscribers.
3. Maximize the Call To Action Features of YouTube
Every marketing effort needs a Call To Action and no need to doubt your technical capabilities because it's not hard at all. 
YouTube already has made this feature easy to navigate by allowing marketers to add end screens and cards into their videos. 
End screens appear at the end of your video, obviously, containing the call to action options. You can encourage viewers to subscribe, point them to the next video, or even promote your website, you can do all of these things with end screens. 
Cards are more interactive and they are scattered across the whole video. It can contain a specific URL showing a video or playlist, promoting your channel, or even polling your audience.
4. Post Often and Be Consistent
YouTube is fast paced so if you let your channel sleep for days or weeks, other channels might push you at the bottom of the food chain. 
It may sound intimidating but you have to grind so you can achieve your goal – more subscribers. 
Moreover, consistency is key, because subscribers are not going to stay subscribed if you never update your channel or if you just vanished like a bubble.
A great solution for this is to have a timeline for every content you will produce. Here, you will have a glimpse of how many days it will take you or your team to create and publish a high-quality content. 
As you get used to it, you will not notice that you are already producing more content since your first upload. 
5. Share Your Content To Other Platforms
Your audience is not always on YouTube. They are also present in other social media platforms so you have to let them know about your new video through these channels. 
You have the option to post a teaser for the full-length video on YouTube so you can maximize the engagements on all channels. Plus, don't forget about your blog; you can embed your video to your site. 
Final Thoughts
Larby Amirouche says that YouTube has various types of audiences. He knows that you can find your target audience there. 
Therefore, for Larby Amirouche, it is a great idea to create a YouTube channel so you can be present on the channels where they spend time. 
Just always make sure you are doing it right.