How Hand Woven Sarees are Redefining Current Indian Ethnic Wear Style
If you are an Indian woman who loves ethnic wear then you might know that handwoven sarees are not only famous in India but also all around the globe. There are several reasons for this immense popularity of hand-woven sarees which are discussed in this article.
As suggested by its name, handwoven sarees are produced entirely on manual labor. This means that the laborers in the handloom industry of India weave these sarees with their own hands without the involvement of any machinery. Unique, right? Even in this industrialized and modern era, they have stuck to their traditional methods of weaving which make these sarees worthy of wearing.
It takes a couple of months for a typical hand-woven saree to be made. This shows the amount of effort those laborers put into it. Every saree has a design and embroidery that is unique in itself. Since sarees are the most traditional dress of India, handwoven sarees are very precious for Indian women and they tend to pass them on to the next generations.
Handwoven sarees can also be worn in different styles and can be combined with different types of jewelry and blouses to create a different look each time you wear the saree. For example, if the saree is plain you can wear it with a printed blouse to create a vibrant look or vice versa. You can wear beaded jewelry if you want to add a contemporary touch to your overall look and if you are looking for a comfortable and casual option that looks equally stylish, you can pair up the saree with a cotton blouse. This is another of the many reasons that contribute to the continued popularity of hand-woven sarees.
With that being said, you can now easily buy hand woven sarees online from various websites or Facebook and Instagram pages. Many people have shifted their saree business online as well because it is easier for women to shop online than to go to market as it saves you the hassle of going from one shop to another and wasting an entire day on shopping only.
Handwoven sarees come in various types of fabrics depending on the occasion you want to wear them on which is a reason why they never go out of fashion. You can find hand-woven sarees in silk, banarasi, cotton, chiffon, and georgette. The variety in the fabric material of this saree makes it wearable in all types of weather.
India is a country with a fairly hotter climate, handwoven cotton sarees are a great option for Indian women as cotton stuff is light and does not absorb heat, making it bearable in the hot months of May and June. Handwoven linen sarees are yet another option that can be worn in summers because linen is a breathable fabric that will not suffocate you in hot weather.
Moreover, both hands weaved cotton and linen sarees can be worn casually at home or to the workplace as well which is a great plus point for many working women because it means they will not have to buy clothes for work separately.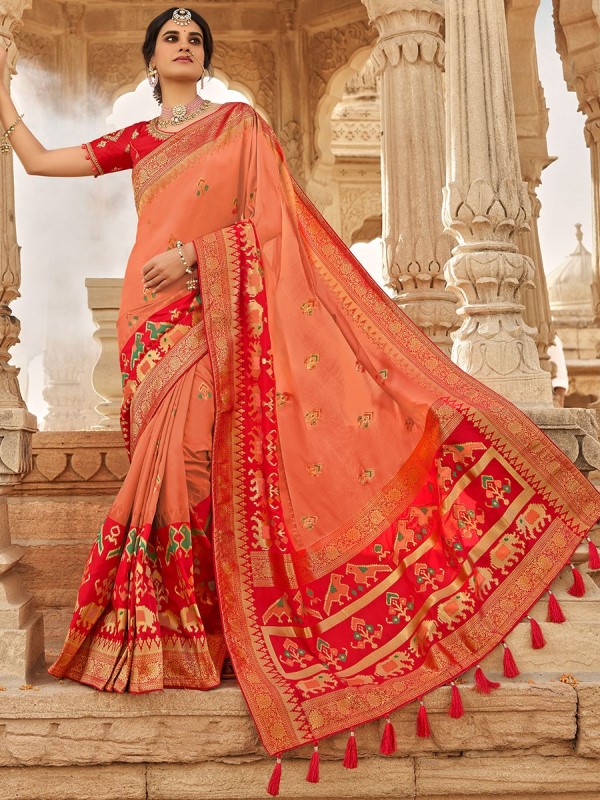 However, if you are looking for something fancy to wear on a formal occasion like a festival or a wedding, even then handwoven sarees are available at your rescue. Certain types of hand-woven sarees are reserved to be worn on fancy occasions only because of the heavy work and embroidery done on them. For example, a hand-woven kanjivaram saree is exclusively reserved for weddings as it is made up of silk fabric and has floral embellishment along with a golden border. Kota sarees are another example of formally worn hand-woven sarees as they are also intricately woven and have a dash of gold and silver threads in them.
Must Read: Style Yourself with these Latest Fashion Trends
The maintenance of the hand-woven sarees is a tricky task because of the delicacy of its work. It cannot be washed just like normal clothes and needs a lot of care if you want to keep it as good as new. According to a few tips given by experts, handwoven sarees should be soaked in salt water for a little time before washing them with a detergent. However, it should be noted that soaking the saree for a longer time might lead to discoloration. Mild detergent in small quantities is enough to wash the saree and clean it. Using cold water and avoiding the use of brushes is necessary to ensure the delicate fabric does not tear up. If the hand-woven sarees are taken well care of, they are highly durable.
Wearing a hand-woven saree adds grace to a woman's overall look. If the right fabric is chosen, hand-woven sarees cling to the body in such a manner that gives an elegant and appealing look. Most of the hand-woven sarees are considered to be more expensive than the ones woven through machines but it is simply because handwoven sarees are a product of immense hard work and creativeness whereas machine-made sarees do not have that shine.
Handwoven sarees have been adored and worn by women for a very long time because of their uniqueness and the wide range of options available. You know what they say about variety is the spice of life, it is the same case here. All of the reasons handwoven sarees are redefining the current Indian ethnic wear style mentioned in this article.
Tags:
hand woven saree online
,
hand woven sarees
,
handwoven sarees online
,
woven cotton sarees online
,
woven sarees online india