Business is all about interactions, be it with suppliers, producers, or customers. Every stage in the life cycle of a business involves communication and interaction.
But today, we will talk about customer interactions and how to make it super fantastic for, the company and the customer.
You might wonder, with so much competition all around, everyone is trying to do their best to make their customers loyal. So how can you make a difference and stand out from the crowd?
Well, to make this happen, you need to accept the harsh reality that 90% of people know how to enhance their customer interaction but only 10% of them actually implement this strategy.
The point is not just to stay informed and do nothing about it but to implement what you know to make a difference. So let's understand 7 tips to make customer interaction fantastic and implement it to bring your acquired knowledge to action.
Show gratitude and be empathetic with customers 
Gratitude and empathy are the most essential characteristics every customer looks for while making a purchase or repeat purchase decision. Do make sure you take care of these characteristics and imbibe them as the characteristics of your business to drive loyal customers.
To make this happen, start by following these basic signs of gratitude till the time they become routine. 
Always thank your customers for making a purchase or repeat purchase at your shop.

If they face any issues with your product or service, acknowledge and say sorry for the inconvenience to make them feel that you are genuinely concerned about them.

These gestures of sorry and thank you might look very insignificant but create a deep impact on your customer's mindset and makes them feel important for you and your business.
These characteristics of gratitude and empathy, stay with the customer and create a good image of your business. 
So be empathetic and show gratitude to build a strong and loyal customer base for your business.
Make customer feedback not just a function of the customer service department 
In terms of marketing, the customer is the new king. Well, in times of this stiff competition, every business has realized the importance of customers.
So when these customers play a crucial role and in fact are the driving force for any business, why just limit their feedback as a duty of customer care departments.
This is in fact, the most crucial point where most businesses fail, as they assign the sole responsibility of customer grievances and feedback to one department.
This is the biggest mistake for businesses as customer feedback and grievances redressal is part of after-sales promotions and is equally important as a pre-sales promotion.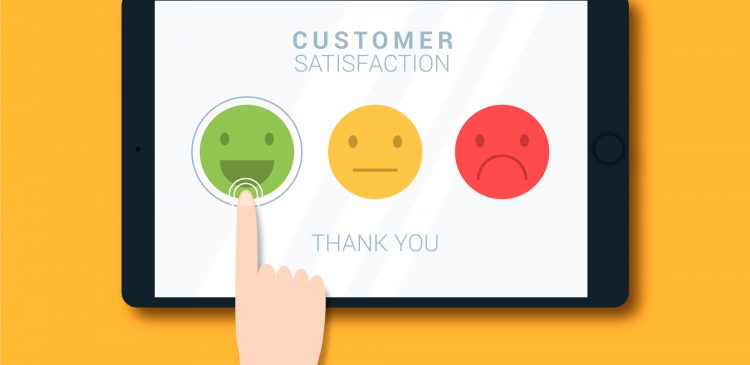 So to accommodate this as an essential characteristic for everyone associated with your business. It can be in any of the following ways:
Try to understand your customers while interacting to make sales.

Ask for their honest feedback and try to understand their point of view for your business.

If any customer reaches out to you for any grievance, make sure you address it seriously and undertake regular follow-ups rather than doing away from your responsibilities by giving the contact details of customer care.

Make sure you regularly follow up with your customer even after their grievance is resolved as it helps to establish a stronger bond between the customer and your business.
So be responsive and take charge of your customers to make their experience happy and satisfied with your business.
Talk like a human to relate with your customers
Interacting with your customers in the same formal tone, using the same standard messages can be the biggest barrier between the customer and your business.
Ever wondered why this happens or what can be its potential solution? If not yet, then think from the standpoint of your customers.
Such formal and standard messages are commonly used by every other business in the market, and they lack personalization.
This is a major reason why you become part of the crowd and fail to distinguish yourself from the clutter. 
To make this happen and make your customer interaction a fulfilling one, personalize your messages while interacting with your customers and especially when you interact with them on social media platforms like Facebook or Instagram.
Just like any other known person or even a friend, a personalized and informal way of messaging at times satisfies and enhances the overall image of your business in the minds of your customers and acts as a positive driver to attract loyal customers. 
Stay in connect and keep them happy and satisfied 
To make your dream come true, send regular emails on occasions, offers, and even thank you messages to your customers to make them feel valued.
Staying in touch can also be a good way to turn interested customers into long-term ones. By sending out newsletters, offers, and coupons to your potential customers with the help of top lead generation companies in the Philippines, your potential customers will feel valued and will increase the chances of a purchase.
This is a great way to establish good customer relationships and ultimately build strong and positive goodwill in the industry.
Become reliable for your customers 
Every customer is important, no matter how small or big a purchase he/she makes with your business. We must develop trust and loyalty with them so that they become our customers forever.
To make this happen, make sure you follow up with every customer at regular intervals of time through any medium and ensure that every feedback shared by them is implemented. 
Also, ensure that every grievance or query by the customer never goes unanswered as customers are the pillars of any thriving business.
So treat them as your strongest asset and ensure that they are satisfied and comfortable with your services and business.
Establish transparent and clear communication 
Always remember a golden rule of life, "What you sow is what you reap". This saying holds true in every walk of life and especially in business.
So every individual who is reading this article should ensure fair and transparent communication with their customers. This practice is a great way to run a hassle-free and successful business where everything is transparent with the customer and gives them a sense of security and satisfaction while interacting with your business. 
Create your presence where your customers are
It is important to connect with your customers, no matter what the platform is. With the explosion of internet users over the last decade, businesses must track the presence of their target audience and create a business profile on the same platforms. 
This is a great practice to know your customers and their preferences better. As well as providing them with the ease to connect with you and your business at their own convenient platform.
Such convenience offered to the customers helps them prefer your business over others and helps them enjoy a hassle-free and easy shopping experience. 
Now, with so much information about customer interaction, take your first actionable step and work towards being a part of that 10% community that makes an effort towards providing a satisfactory customer journey!