Nia Guzman has become a familiar name in the entertainment industry, but her journey goes beyond her association with fame. As the mother of Chris Brown's daughter, Royalty, Nia has navigated the challenges of motherhood while also pursuing personal growth and her own aspirations. In this article, we delve into Nia's life, exploring her early years, her role as a mother, and her inspiring journey of personal development.
Nia Guzman: From Texas Roots to LA Living
Nia Guzman is a woman of many talents and backgrounds. Born in Corpus Christi, Texas, USA, she has since relocated to Los Angeles, California. Her ancestry is a mix of Mexican and Puerto Rican, indicating her Hispanic ethnicity. Additionally, Nia is fluent in Spanish and instills her children with Latino culture and language.
As of 2023, Nia Guzman is 39 years old, having been born on July 22nd, 1983. She pursued higher education at the university level, studying nursing.  It is worth noting that she is an American citizen, though her roots reflect the richness of diverse cultures that influence her daily life. Nia's modeling career has been a significant aspect of her life, as well as her entrepreneurial pursuits.
Nia Guzman: The Model and Entrepreneur
Nia Guzman is a well-known figure in the world of modeling and entrepreneurship. Her work with numerous famous brands, including magazine features, ads, and commercials, has contributed to her fame. However, her entrepreneurial spirit also deserves recognition; she owns a clothing line named after her daughter, Royalty Brown, which sells a variety of products.
The brand sells unisex clothing, cosmetics, vitamin C gummies for children, and accessories, among others. Nia Guzman's clothing line reflects her passion for fashion, and she's built a loyal customer base thanks to her unique offerings.  However, her claim to fame came after her romance with singer Chris Brown began. Prior to her relationship with Brown, Guzman was married to Terry Amey for 12 years. The couple tied the knot in 2003 in their hometown, Corpus Christi, Texas, USA.
The Story of How Chris Brown and Nia Guzman Met
Chris Brown and Nia Guzman's story began when they were introduced through mutual friends. They started as just friends, but over time, the two grew closer and eventually began dating. However, when they found out they were expecting a child together, they kept the news under wraps. Things took a turn for the worse when the two went through a tumultuous breakup and a heated custody battle over their child.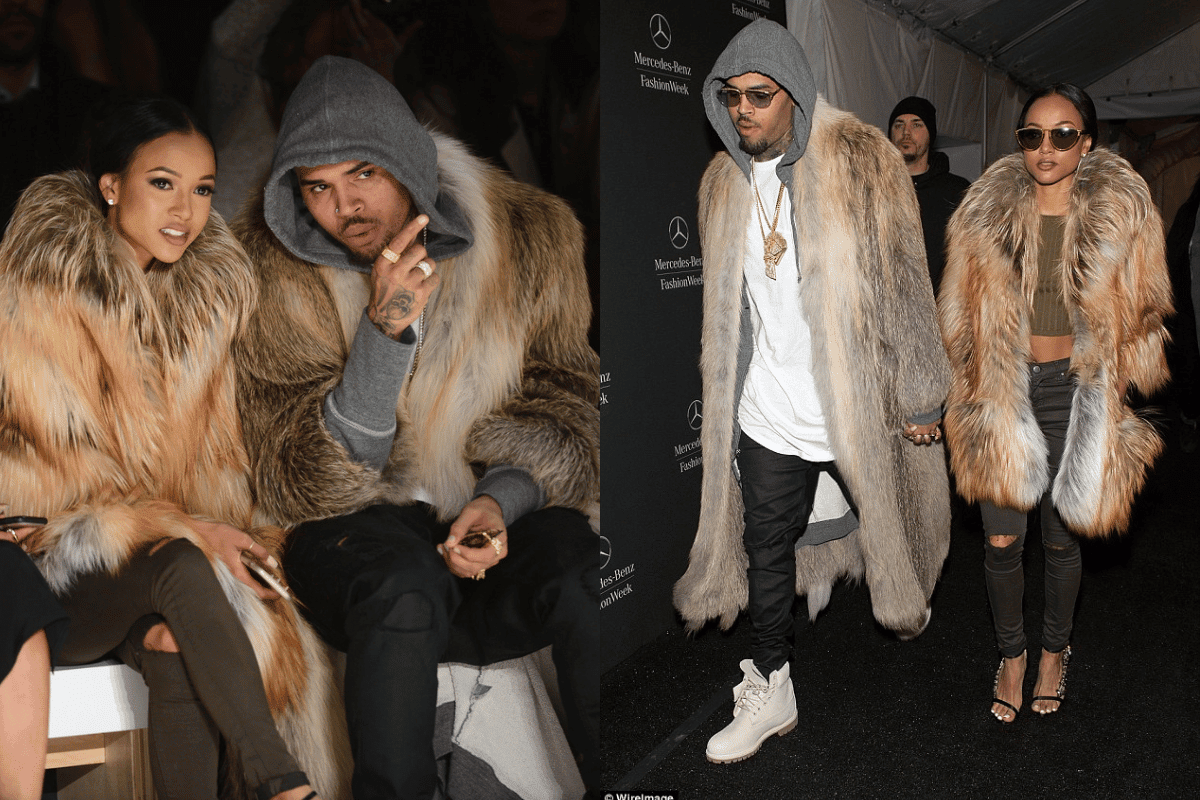 The back-and-forth drama eventually came to an end, but it left an ugly impact on both parties – and possibly their child as well.  It's worth noting that Nia Guzman was previously married to Terry Amey, but her relationship with Chris Brown contributed to the end of that marriage. On October 15th, 2014, their divorce was finalized, and she moved on to focus on her new family dynamic with Chris Brown and their child, Royalty.  Another aspect of Chris Brown and Nia Guzman's relationship was the involvement of Karrueche Tran, who the singer was dating at the time.
When Tran discovered Nia's pregnancy, it spelled the end of their relationship and brought about a complicated love triangle.  Interestingly, it came to light that Tran and Nia already knew each other before the situation unfolded. With the pregnancy news under wraps, the truth was hidden until it became obvious that Brown would become a father.
The revelation likely added to the complexity of the situation.  After the breakup, Nia Guzman went on to date King Ba, but their relationship didn't last, and the model has since remained single. As for Brown, his personal life has continued to be in the public eye, and he's remained active in music, fashion, and other ventures.
Nia Guzman's Beautiful Family: The Journey of Motherhood
Nia Guzman is a proud mother of three daughters, the center of her life and primary focus. Her journey into motherhood began with the birth of her first daughter, Zillah Jade Amey, on July 18th, 2001, in Corpus Christi, Texas. Her daughter just turned 20 years old and continues to remain a source of immense pride for Nia.
Nia's second daughter, Royalty Brown, was born on May 27th, 2014, during her turbulent relationship with singer Chris Brown. Their relationship eventually ended in an ugly custody battle over Royalty. However, after much public back and forth, the two settled on shared custody.  In June 2019, Nia gave birth to her third daughter, Sinatra L.A., bringing new joy to her family. However, she has chosen to keep the identity of the father private, allowing her to raise her daughter without public scrutiny. Nia Guzman's Private Life:Current Status
Following her separation from King Ba, Nia Guzman has become increasingly private, keeping her personal life out of the public eye. As a result, there is no information available about her current romantic interests or any potential boyfriends. Nia had been in a relationship with King Ba before and she was seen with Chris Brown too, but now she knows how important it is to be private. So, she's keeping her personal life separate from what people see of her in public. She is well known for her modeling and business, but she chooses to keep her private life away from the public.
Social Media
Nia Guzman has a massive following of 585 K followers on Instagram. Her daughter, Royalty Brown also has 1.2 M followers on Instagram.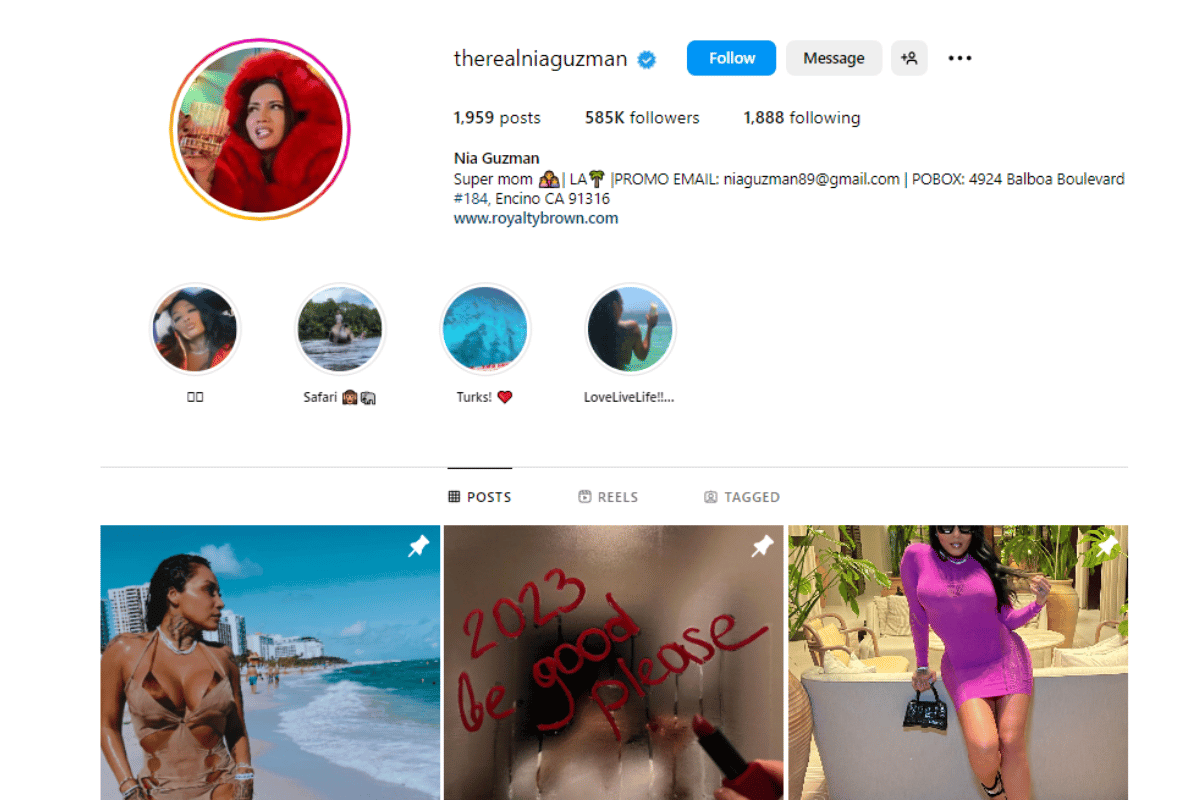 Chris Brown's Daughter, Royalty, Learns The Moves of a Legend
Chris Brown's 33rd birthday celebration on May 5, 2023, was not just about him, as his 8-year-old daughter, Royalty Brown, was also in the spotlight. In a heartwarming Instagram video, Royalty incorporated footage of her dance lesson with her dad, where they both had a blast. Chris was seen dedicating his time and energy to teaching Royalty the essential steps of mastering his signature moves, and the proud father couldn't help but smile at her adorable attempts.
It was not all about dancing though, as Chris playfully engaged his daughter as she attempted sit-ups and they even did some abdominal workouts together. By the end of the video, Chris had Royalty perched on his shoulders, and they both walked out of the studio, happy and satisfied with their time together.
Royalty is Chris Brown's firstborn, whom he shares with his former girlfriend, Nia Guzman. However, Brown welcomed his son Aeko into the world in 2019 with Ammika Harris. Recently, the multitalented musician announced that he is the father of Diamond Brown's baby girl, Lovely, which confirmed his status as a doting father twice over.
Bottom Line
Nia Guzman's journey has been filled with ups and downs, from her career in modeling and entrepreneurship to her relationships with Chris Brown and King Ba. However, her primary focus has always been her three daughters, and she continues to prioritize their well-being.
Despite her public persona, she remains private about her personal life and has learned the importance of balancing the two. As for Chris Brown's daughter, Royalty, she continues to grow and thrive, learning the moves of a legend from her famous father.