Augmented Reality (AR) and Virtual Reality (VR) are the two streaking application development technologies preferred by various business verticals such as startups, SMEs, and large enterprises.
Now you might be pondering why enterprises prefer integrating AR and VR technologies within mobile applications?
Both of these technologies in various aspects benefit businesses by offering a seamless experience to the customer, and somewhere it leads to improving the enterprises' growth curve.
These two technologies are totally different; if you don't know how AR and VR are different from each other, then read further and if you know it, then simply skip reading two para.
 Augmented Reality is an artificial technology that takes recipients from the external world and adorns your virtual experience managing it. In business, AR apps are mainly used for branding, marketing, and promotional prospects.
 Virtual Reality is the hidden layer of technology that delivers artificial three-dimensional ecosystems adopting electronic devices such as special goggles.
Collectively, the worldwide market share of AR/VR app development services was $11.35 billion in 2017, and it is predicted to attain $571.42 billion by 2025, which means CAGR growth of 63.3% from 2018 to 2025. Thus, if you are aiming to develop a futuristic business app, you have to streamline AR/VR technology in your development process.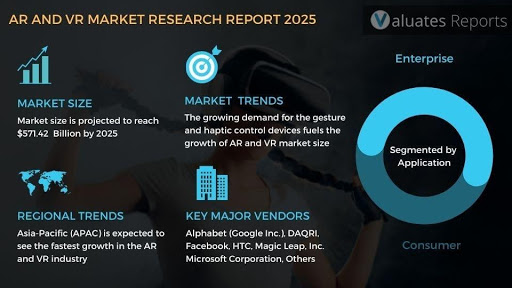 (Image Source: reports.valuates)
Let's move further to know how AR and VR technologies in mobile app development can help businesses in growing…
AR/VR App Development To Boost The Business Growth In Upcoming Years
Here I have mentioned a few pointers which will help you know how AR and VR technologies can profit businesses. Well, if your businesses are facing difficulty in integrating AR/VR in apps, then I will suggest you get connected with the AR and VR developers working in the best Virtual and Augmented Reality Development Company.
Increasing Customer Retention Rate 
If the AR/VR mobile apps are developed using amazing ideas, then the app will surely attract customers with its appealing look, feature, and functionalities. Along with this, it also helps businesses increase client retention rates.
Enhancing Customer Experience With 3D Elements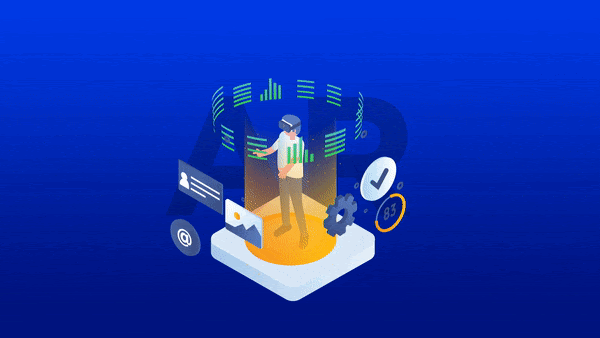 (GIF source: Igniting Thought)
The core AR/VR app development component is the presence of 3D objects that collect and manifest the data for users' eyes. It is the responsibility of 3D components to produce images and arouse users' brains, which ultimately enhances the customer experience. Thus, the adoption of the perfect 3D technology is essential to involve a flawless user experience.
3D content can boost growth by up to 27.96% on retailer and eCommerce websites. (Mobile Market)
Using AR/VR in mobile app development offers unique and creative functionalities, seeing this customer prefer making use of the application and this ultimately help business raising customer experience rate.
Immersive Design Components Attracting More Customers
What do you think – which things make AR/VR mobile apps appealing? It's just a realistic design. This is the main reason why businesses should mainly focus on the designing part of the mobile application. In order to create an appealing look to the application, you should also focus on offering the prototype experience.  
2/3rd of shoppers believe that AR would support them make better purchasing decisions.
With these two Reality technologies, enterprises get connected with their customers and nurture their faith. AR/VR app designs help businesses attract customers, which ultimately engage more and more customers. 
Excellent Product Development
Using AR/VR technology in the mobile app, you can priorly view the final product structure and other things like its matching your demand or not, etc. This helps businesses offer real product experience to users before purchasing the product, resulting in saving time and money.
48% of Customers are already employing or willing to apply AR to assess new services and products. (Nielsen)
Moreover, this quality also helps enterprises build customer faith and enhance customer satisfaction rates. If the percentage of customer satisfaction rate will gradually increase, then the business will itself get recognition in the market which will support boosting the business growth and productivity.
Top Business Applications of Virtual Reality and Augmented Reality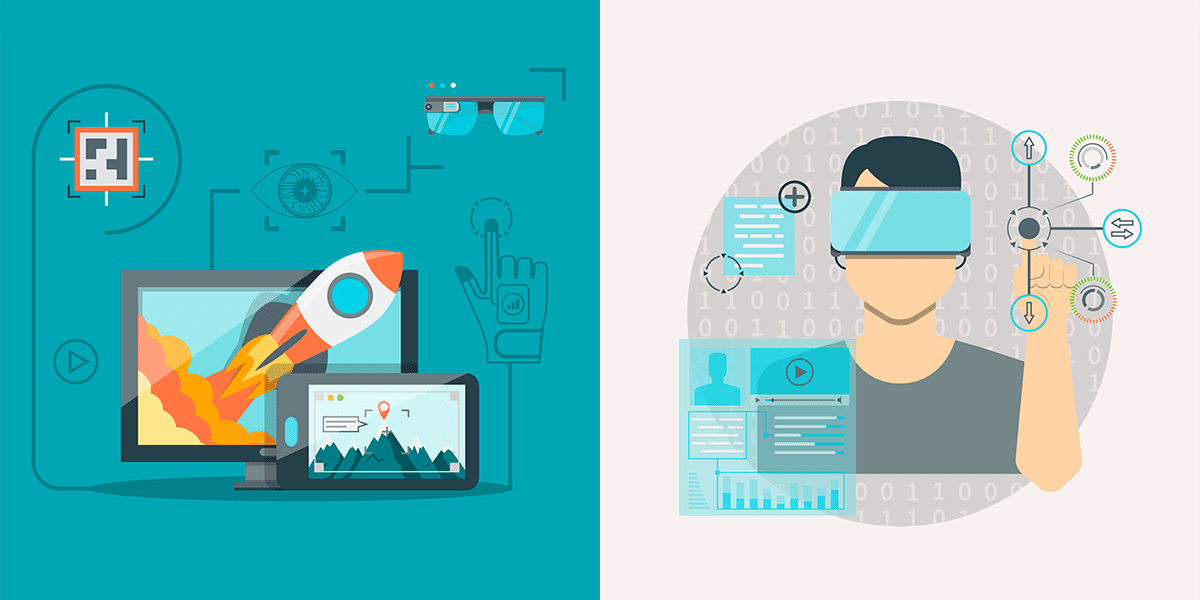 (Image Source: Zco Corporation)
Here I have mentioned the top business applications of VR and AR; this will help you know how these two amazing technologies supporting various industry verticals are growing. 
eCommerce and Retail
AR and VR app development will totally reshape online and offline shopping. As with AR apps, you can view how your customized product will look like and with VR retailers can offer virtual look to the offline store and doing this help you save money as a business don't need to pay the rent of large space.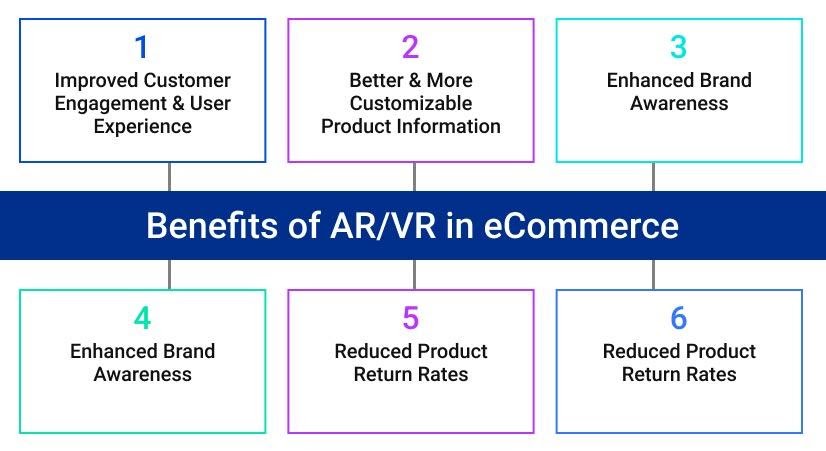 (Image Source: object edge)
32% of consumers use AR while shopping.        
There are many famous eCommerce stores using AR/VR technology; some of them are Gucci, Myntra, IKEA, and Nykaa.
If you also want to create a leading app integrated with AR and VR, then hire VR/AR developers working with one of the excellent and reliable Virtual Reality Companies. 
Healthcare
In the healthcare sector, AR and VR help in a variety of tasks, such as training patients for surgery, improving patient experience, identifying disease symptoms, risk assessment, surgery, and more.
According to Grand View Research Report, worldwide augmented Reality (AR) and Virtual Reality (VR) in the healthcare market is anticipated to reach $5.1 billion by 2025.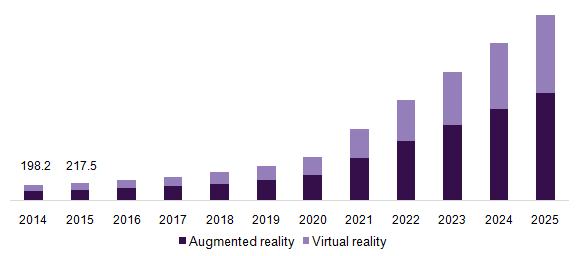 (Image Source: Grand View Research Report)
EchoPixel, Vipaar, Proximie, Medical Realities, BioFlightVR are the few famous healthcare companies using Augmented and Virtual Reality technologies.
Education and Training 
AR and VR can deliver real based experiences through immersive real-life simulations in a secure ecosystem. The technologies offer limitless opportunities for teaching and learning processes.             
AR makes education more interactive, pleasant, and efficient. For example, using AR applications, students can see a 3D galaxy on their devices phone or tablets which help them understand topics in a better way. VR can help students observe scientific discoveries from the scientists' prospect or even help them make the discoveries in a virtual lab themselves.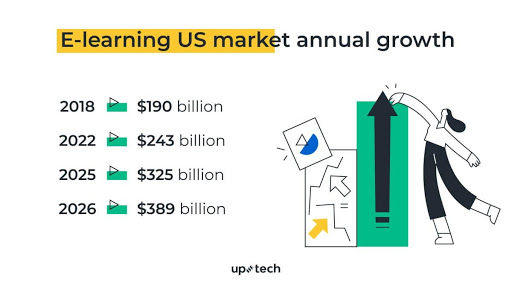 (Image Source: Uptech)
Quiver, Blippar, Arloon Plants, Aurasma, Math alive are the few popular education and learning applications using AR/VR. 
Advertising & Marketing
Increasing the competence to purchase the creative use of AR can grow customer relationships. Engaging content urges clients to utilize a brand's mobile application frequently. Unique and fresh AR experiences can surprise customers and attract them availing your offerings. 
Whereas with VR, you can offer a virtual experience, and this almost grasps 100% attention of the users, which means merchants can pitch their message accurately.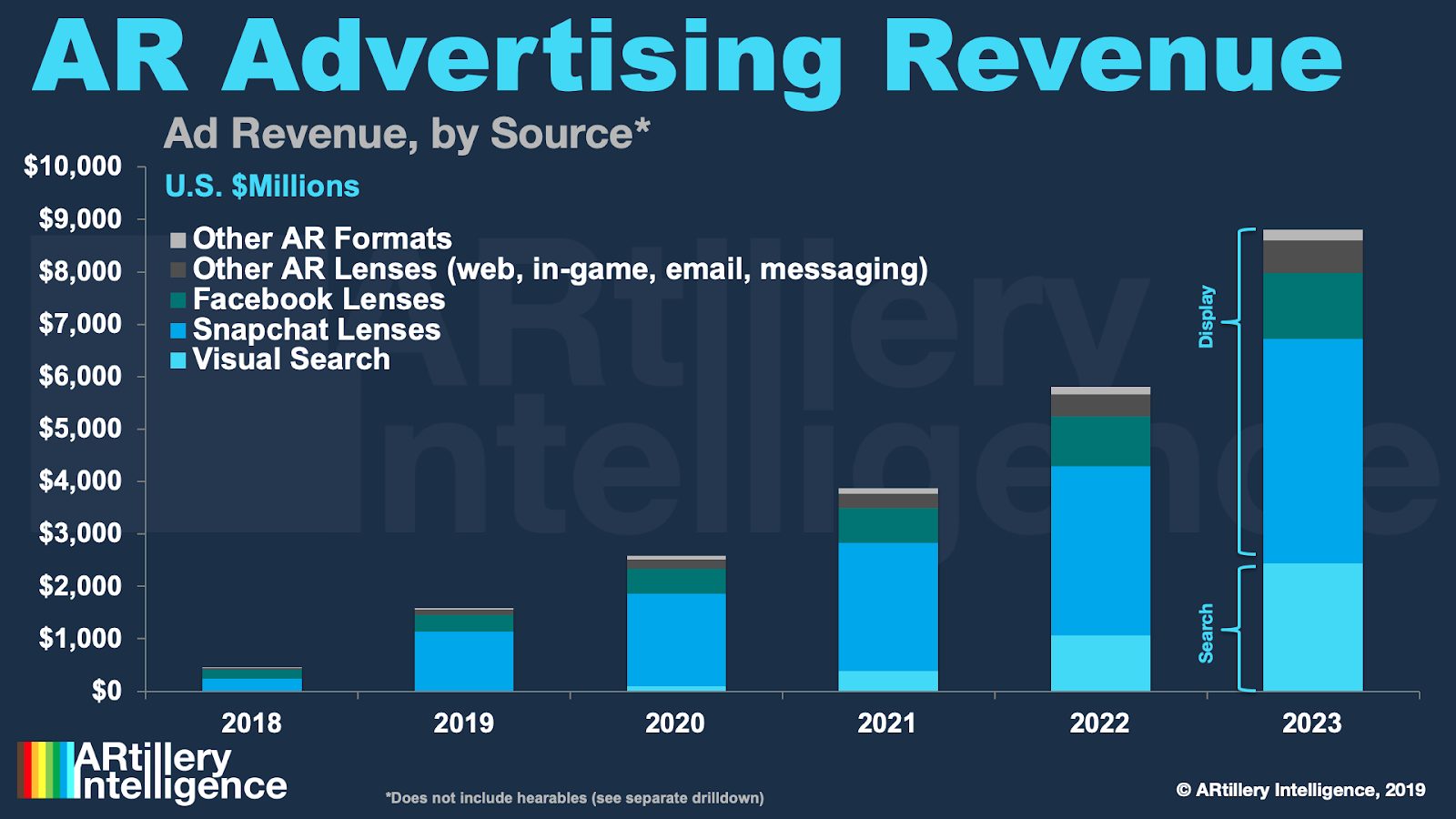 (Image Source: Withdipp)
Oreo, Vespa, Dutch Lady, Netflix, Coca-Cola are few famous brands using AR and VR for advertising and marketing.
Wrapping Up
Augmented Reality and Virtual Reality is also one of the top mobile app development trends integrated into mobile applications to offer a seamless user experience. AR/VR mobile apps help startups, SMEs, and large enterprises increase business productivity and growth level.
Moreover, if you are also looking forward to adopting AR/VR for your mobile apps, I will recommend taking support from AR/VR experts working with one of the top-rated Augmented Reality Companies and Virtual Reality Companies. This will help your business make adequate and effective use of AR and VR in the applications.