Be it a friend's meet up or be it you feeling secluded at your home; what is the first activity that comes in your mind to pass the time in both the cases?
Let's play games
Gaming is a great way to enjoy some fun time with your friends. It was also an escape from boredom when you got nothing else to do. Games aren't just for kids anymore. People of every age are enjoying them!
While children are attracted to games, according to the Entertainment Software Association (ESA), the average age of a gamer in the US is 34 years. When you add the fact that there are over 2.5 billion gamers over the world, just imagine how many adults are currently playing games.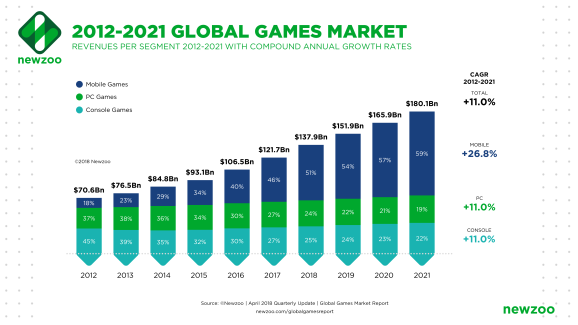 The popularity of games, across ages, might explain why the industry is booming. As per the prediction of Newzoo, the cumulative revenue of the gaming industry is predicted to reach $180.1 billion by 2021.
Now that we have established the fact that both fathers and sons are hooked to gaming let's find out what games are creating the most buzz this year. Here are some of the best online adventure games that are going to keep you glued to your gaming chairs.
Dungeon Sweep
The best adventure games are the ones that come with no-frill. What good is an adventure game if it can't get your adrenaline rushing? Dungeon Sweep manages to do just that.
Dungeon Sweep is an online game, available on Unlimited Gamez Mo It is an online platform that delivers a wide variety of games to play on your mobile phone for a small subscription fee. You can find games of the various genre on the site. It includes strategy, brain games, action, adventure, etc.
In this game, you have to assume the role of a hero as you explore catacombs of a dungeon. You will fight various monsters along the way. Ultimately, you will have to battle it out with Master Wizard to emerge victorious in the game.
The gameplay is as simple as it can get. Yet, the difficulty level is ideal for keeping players hooked.
Nioh 2
Nioh 2 is an action role-playing game available on PS4. It was released on 12 March 2020. It is developed by Team Ninja and is a sequel to the highly popular game, Nioh. The game allows you to explore and battle it out against enemies at a violent feudal land in Japan during the Sengoku era.
The land is full of demons and monsters. You have to trounce them all by using your deadly weapons and paranormal powers. The final showdown between the gamer and Yokai makes the game both challenging and thrilling.
Nioh 2, although released recently, has already got the best PS4 reviews. The gamers have lauded the game for its pace, graphics, and storyline. If you're an adventure fanatic, this game is a must for you.
Nioh 2 can be played online with friends and family to increase the stakes of the game further. The thrill is unlimited when it comes to this game.
Pandemic II
No, we are not talking about the pandemic in the context that you are now used to hearing. Instead, we are talking about Pandemic II, a game extraordinaire. The game isn't heavy on looks and graphics, but don't judge it just now. It does promise loads of fun and adventure.
Pandemic II is quite a fun and mind-boggling adventure and strategy game. (Any similarity with the prevailing situation is unintentional).
Beyond the overly simple interface and visuals of the game, you will find an unusual game in which your mission is to wipe out humankind as effectively as you can. To do so, you will be using bioweapons.
You will have deadly viruses and pathogens at your disposal. You will have to decide what strategy you will use to spread the virus globally. For instance, you can choose to spread it via an animal or can contaminate the crops.
You will also be responsible for selecting what symptoms your targets will show. You have to be very discreet so that the disease is not detected and hence treated easily. Yes, it is highly morbid, especially in today's time. But, it surely is addictive.
Beneath a Steel Sky
If you were playing games back in the early 90s, the chances are that the name rings a bell to you. Beneath a Steel Sky was considered a classic game long ago. It was released in 1994 as a point-and-click adventure game featuring a cyber world.
While the game was available on PCs only during its initial days, it can now be found online. In this game, you assume the role of the titular character who is now a prisoner with his town destroyed by enemies. However, at the last moment, you are set free when the helicopter, carrying you, crashes.
Now, you must avenge the death of your people while also reclaiming your land. Considering how old the game is, the graphics are satisfactory. If you wish to go back to simpler times or relive old nostalgia, this is the ideal online adventure game for you.
A Tale of Two Kingdoms
This game was released in 2007.  If you have played LucasArt games or Sierra, you are likely to find the experience similar to it. Developed by Crystal Shard, A Tale of Two Kingdoms is an excellent adventure game for those who wish for their actions to have unique consequences.
Why? Well, because this game has five endings, each of which pans out depending on the choices you make in the game.
Overall, the world crafted in the game is huge, the characters have proper storylines for you to explore, and the pace is great.
Pick and Play!
Whether you fight your way through monsters in Dungeon Sweep or plan the best pandemic, each of these games has the potential to keep you entertained. Play away and let us know about your experience.