Google is the most widely used search engine popular worldwide. The main goal of the Google search engine is to offer a seamless user experience by providing users with the best and most relevant answers to their queries. Introduced in the year 2018, PASF short for People Also Search For is one of the most interesting and important Google search features which is displayed to the user once they have clicked on a search result and then come back to the Google search page instantly.
In other words, PASF is an essential Google Search feature that seeks to help users find the most relevant and best content they're searching for.
No idea about this feature? No problem.
In this all-inclusive article, we have discussed an overview, importance, and other things about the People Also Search For feature. Without wasting much time, let's dive in.
An Overview Of People Also Search For Feature
"People Also Search For (PASF)" is one of the most underrated yet powerful features in Google's search results.
You must have seen a box titled "People also search for" on Google's search page. It includes keywords searched by users who've also searched for the main keyword. It helps users know about queries and questions related to their main topic that they are not aware of.
How Do People Also Search For Feature Works?
Whenever you search for any query or keyword, Google provides you with the most relevant and high-quality results related to that topic. In case you click on any of the search results but return to the search page in a few seconds due to any reason, Google believes that you are not satisfied with its search results.
This is when Google shows a box titled "People also search for" that contains relevant and frequently searched keywords associated with your main query. 
Essentially, the PASF box is displayed when Google assumes that the user is unsatisfied with the search result and did not find any relevant information they were looking for.
Let's understand this concept by example. 
For instance, you want to know the "types of email marketing" and you only search for "email marketing". Google will show you results related to "what is email marketing," and you may not find the results you are actually looking for. In that case, the "People Also Search For" feature will show other keywords like email marketing examples, types of email marketing, and much more related to your topic.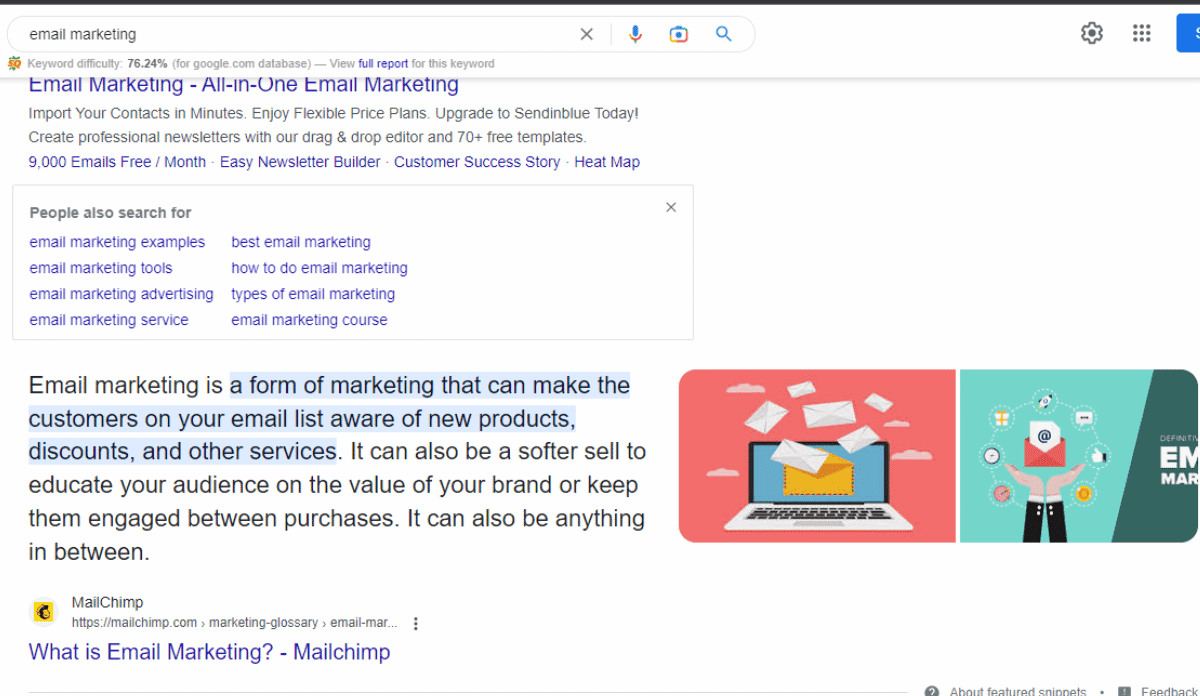 The PASF feature allows Google to improve its search results and help people find exactly what they're searching for, thereby improving user experience.
SEO Importance Of People Also Search For Feature
If appropriately leveraged, features like "People Also Search For" can open unlimited possibilities for SEO. PASF includes keywords that come directly from Google's database. It includes the most relevant and widely searched keywords that your target audience uses to get more information about a particular topic. So, it makes sense to use these keywords to understand the preferences and interests of your target customers.
It is very easy to find PASF keywords all by yourself. All you have to do is
Search for a particular keyword 

Click on any one of the results

Return back to the search page

Now you can see a box titled: People also search for
Why Use People Also Search For Feature
Now you know what are PASF keywords and why they're important, let's know how it helps with your SEO rankings.
As already mentioned above, People Also Search For is a goldmine for keyword research. This data directly comes from Google's database which means it includes highly relevant and appropriate information related to your searched query. Using these keywords in your SEO strategy will help you boost web traffic and authority. 
The best you can do is to search the volume and keyword difficulty of these keywords in Semrush or any other keyword research tool to determine if they're worth targeting. 
PASF keywords are the best way to explore unlimited content ideas. All you can do is search for a particular keyword and find its PASF keywords. Then search for each PASF keyword and determine the top-ranking websites to find new and unique content ideas.
PASF keywords offer excellent ways to boost your on-page SEO. You can use these keywords in your running content, and H2 and H3 tags wherever it makes sense.
Closing Words
Above all, the main goal behind the People Also Search For snippet is to help users searching for particular keywords to know other related searches that may prove to be beneficial for them. 
You may find People Also Search For a simple Google search feature. However, it offers a whole host of benefits ranging from better on-page SEO to finding new content ideas, wide keyword research, and other SEO goals.