Things required for preparing a Project Report
The project is an idea or task which is carried out to reach a goal or, a specific outcome.
What does a project in business mean?  The actual commencement of the business is known as a project, that is, research or design planned to achieve a particular target. The report is a documented presentation of information that is in written form.
In particular, the project report is a written document which displays the overall details of your business and their operations the project report is also known as a profile or business profile
How do we prepare a Project Report?
We can take the manufacturing industry as an example to prepare a project report. The project report contains the details of your business plan, viability, estimation, and execution of the profile project report gives a detailed picture of your business that is, the clients, financiers, and employees.
Also Read: Impact of CIBIL Score on your Credit Report and how to improve it?
List of things needed to prepare a Profile Project Report
The following are the contents of the manufacturing business project report.
1.  Introduction
2. Market potential
3. Quality control and standards
4. Basis and presumption
5. Location
6. Production aspects and process
7. Financial aspects
8. List of suppliers of raw materials and machinery
9. Conclusion
Let's discuss these in detail
1. Introduction
The organizing structure, this includes basic information of the venture that is the business name, owner, industry, place of commencement of business, product information, and services.
2. Market potential
The estimated demand for your product and services
3. Quality control and standards
Government and industrial standards should be specified as well as pollution control and energy conservation norms (social responsibilities).
4. Basis and presumptions
This includes the estimated need for raw materials, employees, and their salaries, space, machines, and profitability.
5. Location
This portion shows the required area, cost inquired in the acquisition, and geographical consideration that is the geographical advantages and disadvantages.
6. Production aspects and process
This part includes a manufacturing process, planning, operation, and operation capacity.
7. Financial Aspect
This displays the investment for the venture (capital), infrastructure cost, plant and machinery, project cost, turnover, expenditure, and profit.
8. Conclusion
Summarizing the whole project significantly as it would be needed for future research.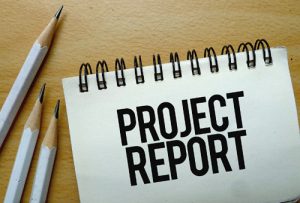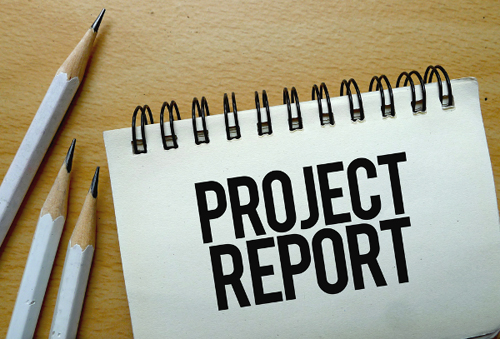 The project provides details of the industry that is about the present conditions, problems, and future expectations. For the manufacturing industry, the power and water supply are also determined in the project report.
People tend to mix feasibility study with project reports they think both are the same, but they are not.  The feasibility study is a process of identifying problems and opportunities, then determining those opportunities and describing situations to give a successful outcome. For entrepreneurs, it helps them in enlisting all information required to start an enterprise.
In summary, the project report is an analysis of information based on facts that are, data based on managerial, financial, technical, social and production aspects the project reports are considered as tools for the management as they can track the business status and its movements the project can be useful to put up with the original plan to compare the progress, identify threats or risk early as possible and can take actions against them that is, you can manage risk. A good project report represents the business intends over time.
Tags:
project report