Expert View: The Rug Types, Designs and Colors That'll Rage in 2021
Today, rugs have ceased the floors of every home, playing a significant role in interior designing. But choosing a rug for every room seems challenging as interior design is continuously evolving. Also, nowadays, homeowners are not interested in a product, which is merely aesthetic. A decor that depicts some message or tells a story is also an added criterion.
Furthermore, there's no doubt every year; tastes and needs change, so as the trend.
So, we've interacted with some experts and took their suggestions on 2021 trends for rugs. Hence, make a cup of coffee and take a seat to watch their recommendation on rugs types, patterns, and colors that will trend.
Types of rugs:
Typically, uniquely created handicrafts are the real treat and luxury for homeowners who are in search of an exclusive product. In addition to this, there is a lot of progress in weaving methods that is making handmade rugs more intriguing.
Beautifully woven by master craftsmen, these handmade rugs last much longer than machine-made ones.
With the climate change problem in Australia and the novel virus spreading around, the environment is increasingly becoming a hot topic. And the same is reflected in the designs of rugs of 2021. Natural rugs, made of fibers, are extracted from plants. They are durable, affordable, and neutral.
Natural carpets include jute, yarn, silk, sea-grass, hessian, and sisal. Should you buy wool rug, silk, or undyed ones, it depends upon their pros and cons and your needs. Any ways, they are environmentally-friendly and an ideal choice for your house.
In the last few years, the layered rugs have earned a lot of recognition. If you're not having fun with your carpets alone, then create some drama with textures and styles. Creating a layered look will add character and focus to the room.
A cowhide rug is a bold piece that will look great over other materials like jute or wool. Additionally, it will also cover a large area without overpowering the space.
So, if you've had zero ideas about rugs, then the above types might have given you some information about it. Let's go ahead with some of the intriguing designs.
Designs of rugs:
The days of boring designs are gone! Motivated by maximalism, these geometric pattern rugs will be the hottest trend in 2021. Additionally, experts anticipate that homeowners will love several hexagon patterns rugs. They are efficient and almost works as an art that you can place it in any room.
It will be interesting to watch how mixing designs on one rug is increasingly becoming a popular concept.
Floral rugs? They'll never fade away completely, not at least in 2021. On a serious note, these bold floral designs are back to the pavilion, that too, with a twist! In the market, you can find bright color floral rugs, but nowadays, grey with tricky floral designs is in everyone's mouth.
On one side, the colorful ones will create a vintage look, while on the other, neutral colors will let you do mix and match.
Well, placing animal print rugs doesn't mean they'll ROAR like a cheetah, zebra, or giraffe. It is a trend that melts and flows in popularity, making a statement not only in the kids' room but also in the living room. You can even spice up your home office with this pattern.
Even if you miss vacuuming it for a few days, they'll distract the eyes of your guests. Additionally, go with your instincts while choosing the pattern; you'll never go wrong. Trust us!
Some patterns have made a comeback, a few are still ruling hearts, a lot of them will bid goodbye soon, and the list will go on and on. That's how it goes for rug patterns. But we've got some astonishing news about the trend of its colors. Let's have a sneak peek at it.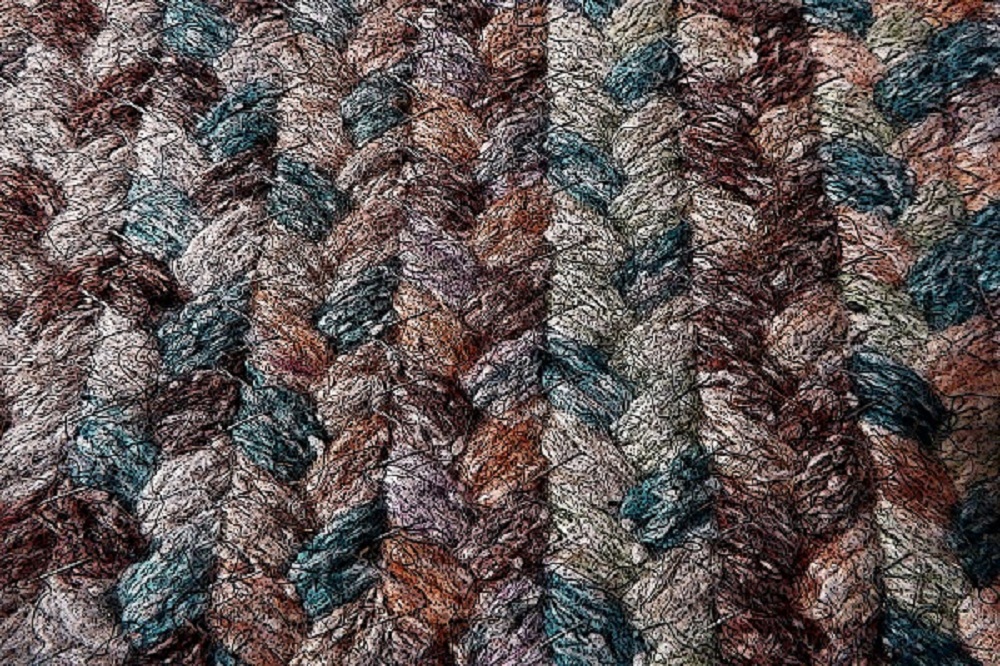 Colors for rugs:
Striking vibrating colors
The concept of placing rugs has changed over time. Some homeowners prefer to keep them in their interior as a decor element rather than a plain background of other items. Therefore, orange, purple, bright blue and emerald colors will be popping out at every home in 2021.
Generally, in area rugs, these colors will flourish. So, you can choose them to declare your home quite loudly in the coming year.
While most people think grey shades are neutral and dull colors, they will still be in trend in the forthcoming year (also in the decades to come). Furthermore, amongst all the neutral colors, grey is adding elegance and a modern look to any room.
No matter it's your cabinets, walls, or rugs, grey still looks hot and trendy. Even dark grey is making a comeback in the rugs. You can play with any bold colored carpets to give a calm and serene tone to your space.
Many homeowners may not prefer going too loud or less flashy. For them, blue with grey shades will be a cross between neutral and bright. Yes, they don't tie with a single concept, but makes a mid-way, for sure.
This new concept will also suit well with beige, brick, grey, mocha, and mustard colors. Well, when we talk only about blue, it will bring in a different flavor to your interior space without too much clutter.
It is one of the coolest things that is going to happen in the next decade. You don't have to sacrifice your favorite color for the rest of your family members; merely switch to multi-color rugs. If you want to make your living room a focal point, then place the one that has an ombre effect.
Whether you're looking for an area rug for your kids' room or taking a maximalist path for home decor, multi-color is the best. It will give your floors an eye-catching statement. And need to know what are the different rug cleaning techniques.
Conclusion:
As you can see, there are plenty of options when purchasing a rug for your home in terms of materials, designs, and colors. All the above are trending and will continue to stick around for years to come. But the crux is, you need to determine your needs to pick the best one for your sweet home.
If you're hunting for something hot (not more than you, of course!) that will last for a longer time, then we would suggest considering a delicate, elegant, and long-lasting one. Even better, a waterproof one!
Tags:
online rug
,
rug design
,
Rug Types