Smart Ideas To Maximize Your Kitchen Storage
With so many things that need to be included in your kitchen, it's understandable why you want this space to be as large as possible. After all, kitchen storage is no joke.
The challenge of maximizing every nook and cranny is real, and the search for the perfect combination of cabinets, shelves, and various functional storage ideas is long and tedious. But the truth is, the answer is already out there; you just need to do some research in order to see what other homeowners have done with their place and learn the kitchen storage solutions they found for their own homes.
Let these smart ideas give you some inspiration on how to maximize your kitchen storage:
Indoor herb garden
Having fresh herbs in your home is definitely a great idea. So how about incorporating an indoor herb garden right at the heart of your kitchen, so you can easily grab a few fresh leaves when you're cooking? Consider a herb garden that looks like this one. It occupies very little space in your storage area, and you can easily add it to your existing layout.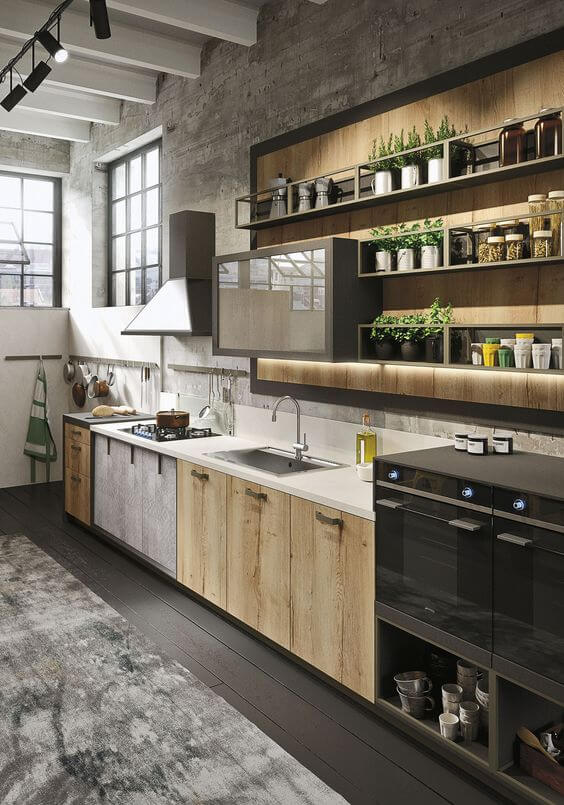 The kitchen island storage
Kitchen islands can offer quite a lot of storage. This is where you can keep the things you usually need when you're preparing for a meal such as your most-used pans, pots, bulky utensils and some dinnerware. Nowadays, a lot of kitchen islands provide a mixture of closed and open storage compartments. You can easily use the shelves to store the things you usually use or utilize them to display items such as your wide collection of cookbooks.
Opt for sliding worktops
This is a really unique and clever way to make your kitchen more functional, as well as to increase the available work surface. A sliding worktop like this one can seamlessly hide the cook-top and other units when you're not using them. Then, simply slide it open to increase the workspace and to obtain an added area for preparing your daily meals. This also transforms into a breakfast bar with a mere slide. Convenient, right?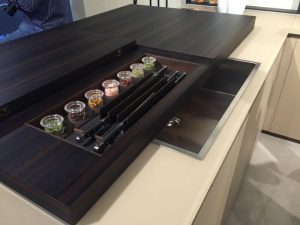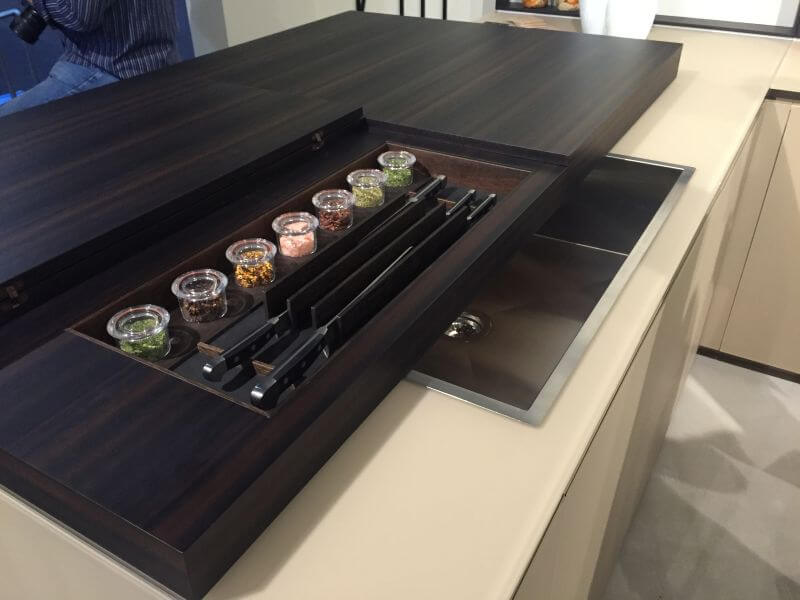 Built-in coolers and wine racks
It's a wise idea to plan ahead time about all the things that you want to incorporate in your kitchen before you purchase any units or decide the overall design of the space. So if you want to integrate a wine cooler, then simply place it on your kitchen island to save space. This technique allows you to free up a lot of counters or cabinet space. In addition, a kitchen island is a great place for a wine cooler.
The pocket doors of kitchen
Pocket doors are very useful especially for the busy kitchens because they take up very little space, yet they can store up a lot of goods, which makes it perfect for storing ingredients and a whole lot more. Use pocket doors to seamlessly conceal things from view. There are certain great advantages to utilizing pocket doors instead of the usual type of cabinetry or pantries, and most of it is directly related to space-efficiency.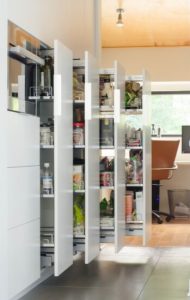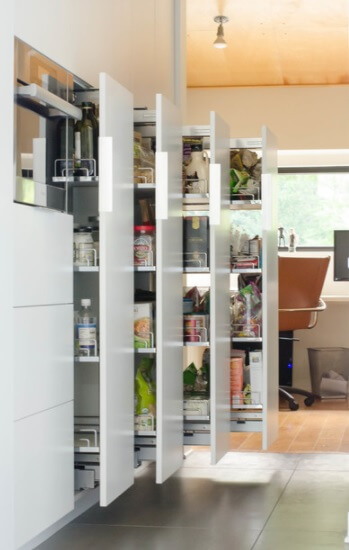 Pocket doors also look very chic and stylish; it goes well with contemporary and modern kitchens themes as it maintains the neat and minimalist look that commonly defines these kitchen settings.
Kitchen islands with bar extensions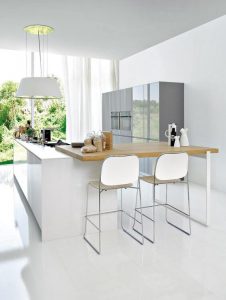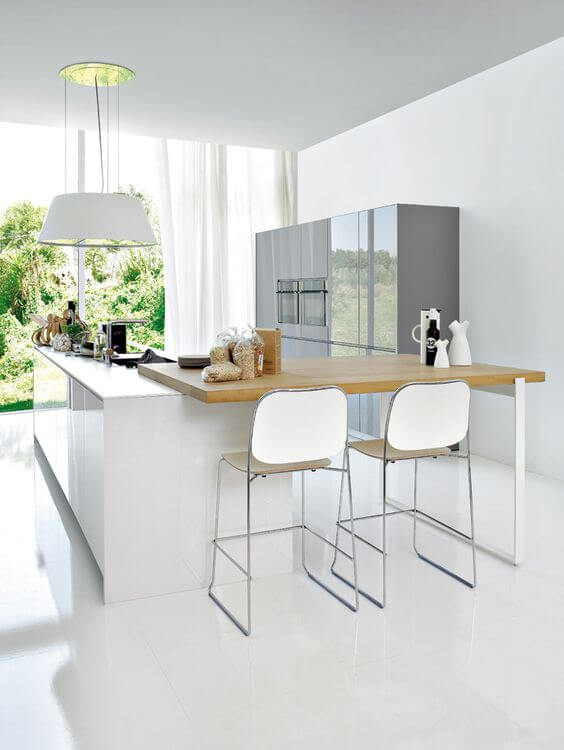 This breakfast bar extension is only one of the many features that make this island stylish and functional. In addition to being able to also utilize it as a breakfast table, you can also make the most of this island by using the bar area as an added work surface. Simply place some tall stools to complete the overall look and function.
Maximize your counter space
It's actually pretty difficult to maintain a clutter-free counter in the kitchen. In reality, things just pile up and gather around the surface without even realizing it. Besides, the counter is normally occupied by things like a storage tray, cutting board, spices, and some dish wares. Not to mention the fact that the sink itself also takes up quite a bit of space.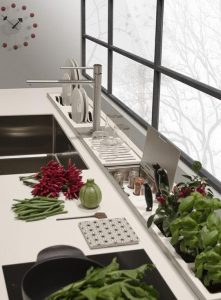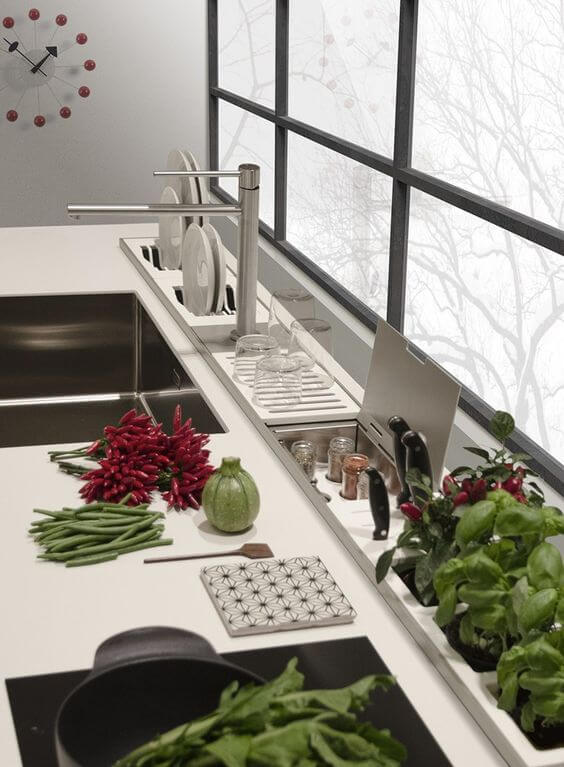 Here's an easy way to make things more organized and flexible. To keep your counter neatly arranged, you have to give each item its own designated spot. It's easier to achieve that idea with the use of a customized counter that has built-in nooks for your spices, knives, utensils, dish wares, and even a place to drain your vegetables and fruits after you wash them in the sink. It gives you more space to work on your meal without having to worry about storage area.
Be creative in maximizing your luxury kitchens storage. Use these smart ideas on your next revamp! Let us know what you think.
Tags:
kitchen designs
,
kitchen storage
,
luxury kitchens