Fashion and modeling industry are competitive as well as lucrative. Today's young generation wants to be a part of the glamour world and recognize in the modeling world. The modeling world is full of rejections as thousands of people come to become a model every day. However, if you become famous for your work, you can be in the industry for a long time. If you want to become a professional model, then there some techniques and rules of modeling industry shared by Kim Hanieph, a leading model, which you need to be followed. Following points will help you to start a career as a professional model.
Know the Basics of Modeling
Fitness is important. Maintain a healthy regime to keep your inner body healthy. A healthy body looks best and attractive. Which is the key ingredient to becoming a professional model?
Your look is the mirror of your talent in the glamour model. Keep yourself healthy and well groomed. Clear skin, shiny and healthy hair will be a reward to look gorgeous.
Set your modeling goals, according to your body size. Modeling is not only for the tall and thin girls and tall guys. Anybody can be a model. The mantra is to present yourself according to the needs of the assignment.
If you are not fit for runway or magazine models, then consider situational modeling like a promotional model, Spokes model, Trade Show Models.
Learn as much as you can about the modeling industry by reading books, blogs, and articles. Educate yourself about the industry. This will help you to learn latest posing& postures and gives you a fair idea how that industry works.
Research for reputable agencies and agents that place models in high profile modeling like fashion shows and magazines.
Be ready for the tough road. The modeling industry is full of pretty faces and your road of struggle will be full of challenges. It's not about looking great. It's about how you carry yourself and prove better that others. Patience and Perseverance will take you to the way of success.
Do not be shy about anything. Photographers generally want variations in the poses and welcome the creative idea of photography. So you have to promote yourself and look for the opportunities.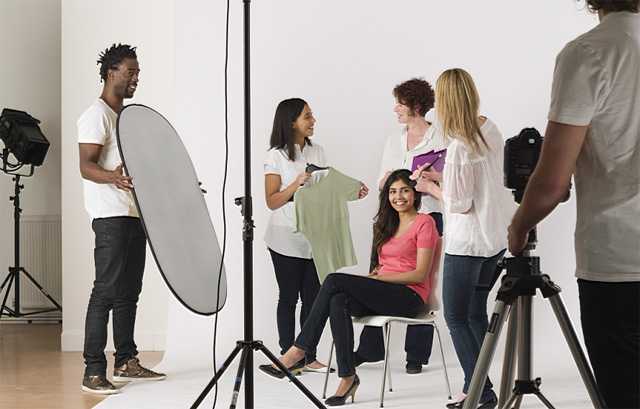 Discover Portfolios and Agencies
Create your portfolio by taking professional looking head shots, body shots and profile shots. Portfolio signifies that are able to present a range of characters and looks.
Make your portfolio of the photos clicked by a professional photographer. It will put bit burden in your pocket however professional photography can lead to crack an interview and impress the agencies to consider you again.
Know yourself. Take a basic measurement of your body like Height, weight, waist, and shoe size. Also, knowing your cloth measurement will be an advantage.
Once you have created your portfolio, start visiting reputed agencies, carry your portfolio with you. Make sure the agency is reliable and maintain the industry standards.
Beware of modeling agencies scam. Do not sign a contract without clearing points on a percentage of commission, contract duration, cancellation terms, exclusiveness and any hidden cost.
As long as your goals are set from the very onset of your modeling career, you should have a clearer picture of what you should know as an aspiring new model. Do not give up. Rejections give you strength and sharpen your skills to stick to your goals. Your determination will help you to become a successful model.