Startup – A Ride with Bumps, Hurdles, and Victory Lanes
On the verge of breaking the market! right? you know, you have a brilliant idea and to transform the same idea into a start-up is the dream of your life. While you embark on this adventure ride of yours, Let us, try and know, how bumpy, obstructive and victorious in the end.
Start-ups world over has been growing in leaps and bound, with more entrepreneurs, choosing to apply their ideas to the markets and be disruptive about it. When one conceives an Idea in the mind, it is that apple on the head moment that can change your life forever. But, these are the things you already know right? so why such hush-hush about it?
1.Bumps:
So the first on our list of hush-hush things are Bumps. Start-ups are like a ride on the road to success and there are several bumps trying to curb your speed and make your standstill. One of the most prominent and high on impact bumps is cash flow. Yes! it is very important to have your cash flow coming after you set yourself for a start-up ride. When you put your feet on the gas and accelerate your seed money is the fuel that provides you initial kick. But, your cash flow is your reserve tank, without which your start-up may suffer a brutal standstill.
To avoid such bumps, it is vital for entrepreneurs to strategize the business model in such a way that, the business has its cash flow coming regularly or you can expect a very terrible outcome for your start-up. So either you plan your speed so that you avoid the bumps or get all bumpy.
2.Hurdles:
These are the most prominent roadblocks to your startup and the ones that you should be able to tackle. Roadblock one is your design, you should be able to convert your idea into a design that can covert the business part of the startup. Roadblock no. 2 is your team. If your team is not in sync with your idea and organizational goal, then you can expect them to barricade the success for your own startup. Roadblock no. 3 is your consumers. yes! they are the ones you want to be persuasive towards them and retain them to help yourself a successful journey. So, for an entrepreneur, you should know your consumer and its behavior that can help your startup grow. 
Next Roadblock is upgrades and updates. if there are no upgrades or updates in your product to continue the customer engagement for a longer time and ensure loyalty. Your loyal customers are your markers to all the hurdles that can block your ride to success.
3. Victory Lane:
Have you ever watched those funny videos? , where a player is so confident of his win and loses his focus only to lose the match by a small margin. This is the difference between Victory lane. Your dream run at the market should not be overshadowed by overconfidence or ignorance towards the same product that brought you to your victory lane. To ensure this, you should have regular audits, performance reviews, and data analytics to know that, you are not complacent at the finishing line.
Hence, the lifecycle of a startup from seed money, through growth and maturity, gives the fruits of success. To understand the lifecycle of a startup, you can refer to the below points.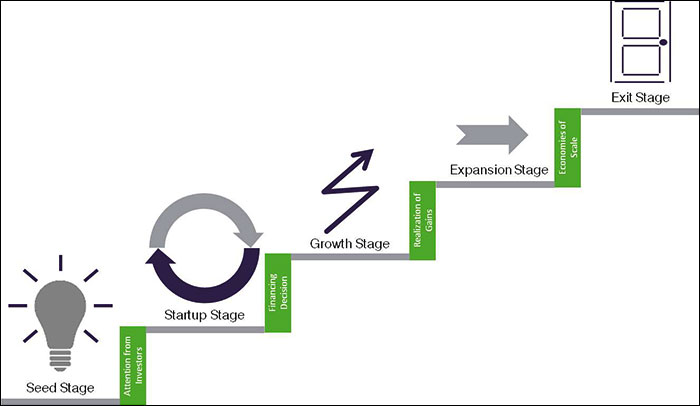 Seed stage: Put your idea at work with a prototype by hiring Indian developers that can apply your ideas to prototype
Startup Stage: Start your journey and let yourself know, where you are at the end of the year?
Growth Stage: Once you know how much revenue a product can make, you increase production.
Expansion Stage: Expand your business to new horizons to garner more profits.
Exit Stage: Assess your business and decide to scale-up or leave.
Yet, it is to be sustained as the champion needs to defend the title. So, if you are on your victory lane and having that moment, don't, ruin that by being complacent and thrive to make your idea as big as you can.
Finishing Line:
Start-ups, all over the world have been making a difference in many aspects of life. Tech start-ups have already made our day-to-day life easier, with innovations and technological advancements. There are start-ups with social causes at its core to make this world a better place. Whatever, maybe your idea, it is the seed to all the success that will grow for you ahead. Just, keep digging till you find your gold and the El-Dorado.
Tags:
entrepreneurs
,
startup