The master bedroom is a haven where you can de-stress and relax after a long day. It's the one place you go to recharge to face the challenges of the world. That's why it's essential to make it as appealing and comfortable as possible. We have a few tips to help you put some finishing touches to your bedroom and make it the perfect space for sleep.
Check Your Bed
The first and most crucial aspect of your Master bedroom is your bed. It's the focal point of the room and your passage to a relaxed sleep. Ensure that the headboard and side tables are stable. If the furniture looks a little weathered, spruce it up with some new varnish or paint.
Check your mattress to make sure it's still sturdy enough to support your back while you sleep. It might not be a decorative finish, but according to the experts at Health.com – best mattresses brands would be those with firm touch. Learn more about health benefits they have.
Natural Elements
When deciding on ways to decorate your bedroom, think outside of the box for inspiration. If you love nature, then adding some life to the room will boost your mood. Plants look fantastic and also remove harmful toxins and allergens from the air. Don't just stick to one lonely pot plant; mix and match a few different ones.
Lilies have a peaceful, relaxing presence, and they're useful in reducing the microbe counts in the air. The lovely white flower will give your room a feeling of tranquility and elegance. For a calming effect, try putting some lavender on the windowsills. This plant can be used to reduce heart rate and blood pressure. If you have a high-stress job, then it's a must-have in your Master bedroom.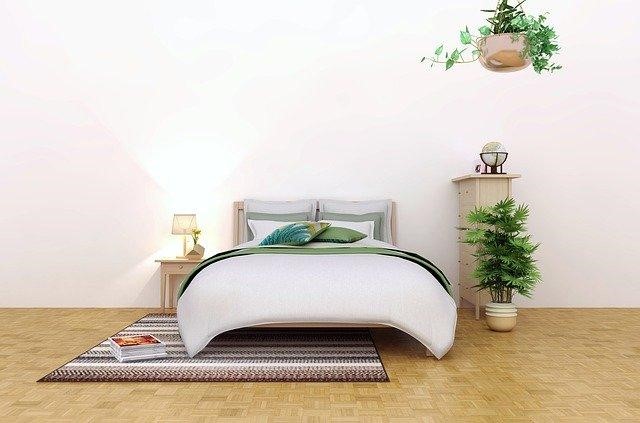 Lighting
There are two types of lighting that you should focus on when putting in the finishing touches to your bedroom. During the day, you should have as much natural light as possible to brighten up the room. Try using white curtains and keep the windows clear of clutter.
A clean and crisp appearance during the day is likely to make you feel calm and refreshed. When it comes to nighttime lights, the opposite is true. Keep them dim, and the drapes closed. You're aiming for a soothing mellow tone that won't keep your brain awake.
If possible, install the lamps with a dimmer switch so you can control the brightness. If you like to read at night, install a small night light next to your bed that's bright enough for reading but with a softer glare.
Carpets and Rugs
A well-placed rug can make your room feel cozy and welcoming. It warms up the room, reduces noise, and protects your floors. You can put more than one medium or small-sized carpet, which will help create the perfect setting for a peaceful sleep. When you're shopping for rugs, consider what size you need.
If you want one that goes under the bed, make sure that it sticks out at least two feet beyond the edge. It'll protect you from stepping on a cold floor when you wake up in the morning. Find one that matches your color or theme decor.
For rooms with dark walls, think of breaking the tone by getting a slightly lighter colored rug. You can make it a focal point or blend it into the surroundings. Make sure to get a few rubber stickers for the carpet's underside if you have a tiled or wooden floor. It will help stop the mat from sliding out from under you and causing injury.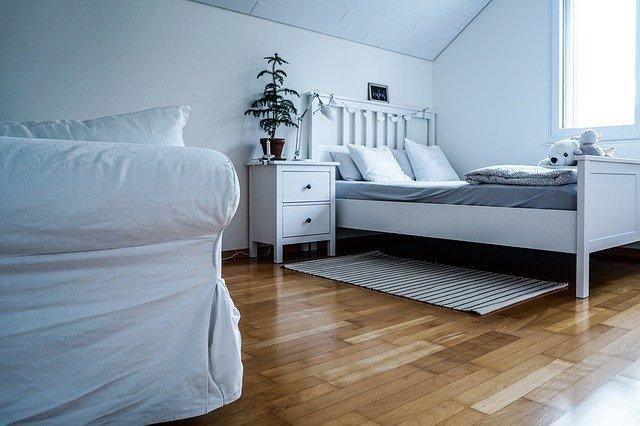 Paintings and Sculptures
Think of your  Master bedroom walls as a blank canvas just waiting to be filled with unique artworks. It doesn't have to be expensive pieces, and even a few beautiful framed posters can do wonders to a bare wall. The simplest choice is to use family photos to liven up the area if you don't want paintings.
You can find some unique frames and make a couple of your favorites the room's focal point. If you have a dresser or a few small tables, use these to showcase some quirky statues or sculptures. Even a handcrafted candle could look arty if placed in a decorative holder. You can also try a candle diffuser to bring an added glow in the evenings.
Don't limit yourself to pictures and figurines; consider mirrors, murals, and even wall hangings to bring color and charisma into the space.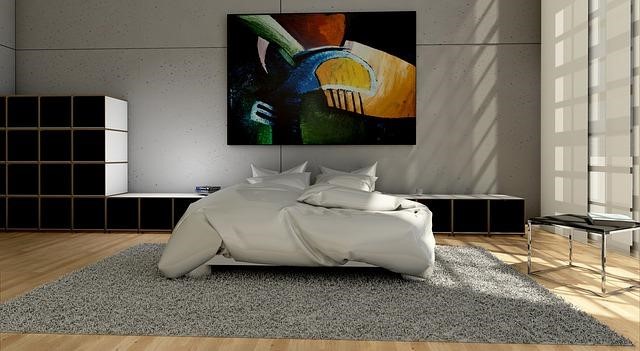 Final Thoughts
It's easy to make the master bedroom a beautiful reflection of your personality. After you've checked your bed and headboard, bring some greenery into the room to create a calming atmosphere. Work with the lighting you have by bringing in as much natural light as possible for the day, and warm, soothing glows at night.
A rug brings an element of coziness to the area, which also keeps your feet warm on cold mornings. For added pizzazz, get some quirky artworks or figurines to brighten up the room.