Regardless of where the couple belongs, weddings remain one of the occasions most full of expression, tradition, culture, and celebration. And one of the main customs is to give gifts as gestures of positive desires, good luck, and faith, among newlyweds, family and friends and even to thank the guests for coming to the celebration and making sure that the guests will be satisfied. Gift-giving is part of the unsaid tradition of Indian weddings, dating back centuries, without distinction of ethnicities or religious backgrounds: Dastoor Paharvani, gift of Kachola or Palla Dastoor of Marwari wedding, Tattva of Bengali wedding, the Punjabi wedding and its traditional Roka / Thaka and Sagan, Puda of the Sakhar ceremony and finally the Tamil wedding and its Sumangali Prarthanai.
At Indians weddings, gifts have a common pattern regardless of the subculture or context. There are few variations depending on the location and tradition of it, being the most common or traditional:
Cash:
in many regions of India, it is known as sagan or shagun. It is one of the most traditional forms of gifting. This can give a better and versatile utility in the future. No more confusion about choosing the best gift options.}
Jewelry:
striking jewelry such as gold chains or diamond appliques is also often the favorite selection for traditional gifts. Additionally, utensils in all kinds of metals such as brass or silver and presentations with precious stones. Also handmade boxes with cosmetics or accessories.


Traditional clothing:
the groom's family gives specific traditional clothing to the bride in many of the Indian cultures. Such garments can be from a traditional sari, a Dupatta, the bridal attire or instead of any red garment.
Sweets, fruits or nuts:
boxes of chocolate or candies, dried or mixed sweets are most common in different areas of Indian celebration. They symbolize the desires of good health.


Despite being an ancestral tradition, finding the perfect wedding return gifts for guests can be a great feat when deciding what would be best for the newly married couple, as well as for their families. Today, the Internet became a perfect and fast assistant when it came to finding countless gift ideas. Although the modern gene is moving through many traditions, these rituals and traditions keep the culture alive, making small trendy adaptations to traditional gifts or the way we wrap them.
Check out- Gift Ideas For Friends
One of these current options to give that special touch to our (keyword) is the packaging: when we want to give the best impression to our guests by giving them the best that one can give, make that extra effort to earn extra points through the packaging makes worthwhile, make them get excited and remember with more joy the ceremony for how beautifully wrapped your present goes.
Jute Bags are becoming an excellent gift as well as eco-friendly option couple are interested in. Jute bags are sturdy and come in beautiful designs with the fact that they have so many uses. The unique combination of artistic splendor incomparable with a touch of Indian culture makes them much more appreciable.
Another similar alternative is Potli Bags. These small Indian bags work well when you want to maintain a more delicate and sophisticated aesthetic. Use the colorful ones to give jewelry, a handful of candy or a variety of mini gifts. Use other ones more sober with other kinds of souvenir, like littles statues, figurines or unique personal objects of reference. Bearing in mind that it is the favorite option for women because of its beautiful and decorated appearance.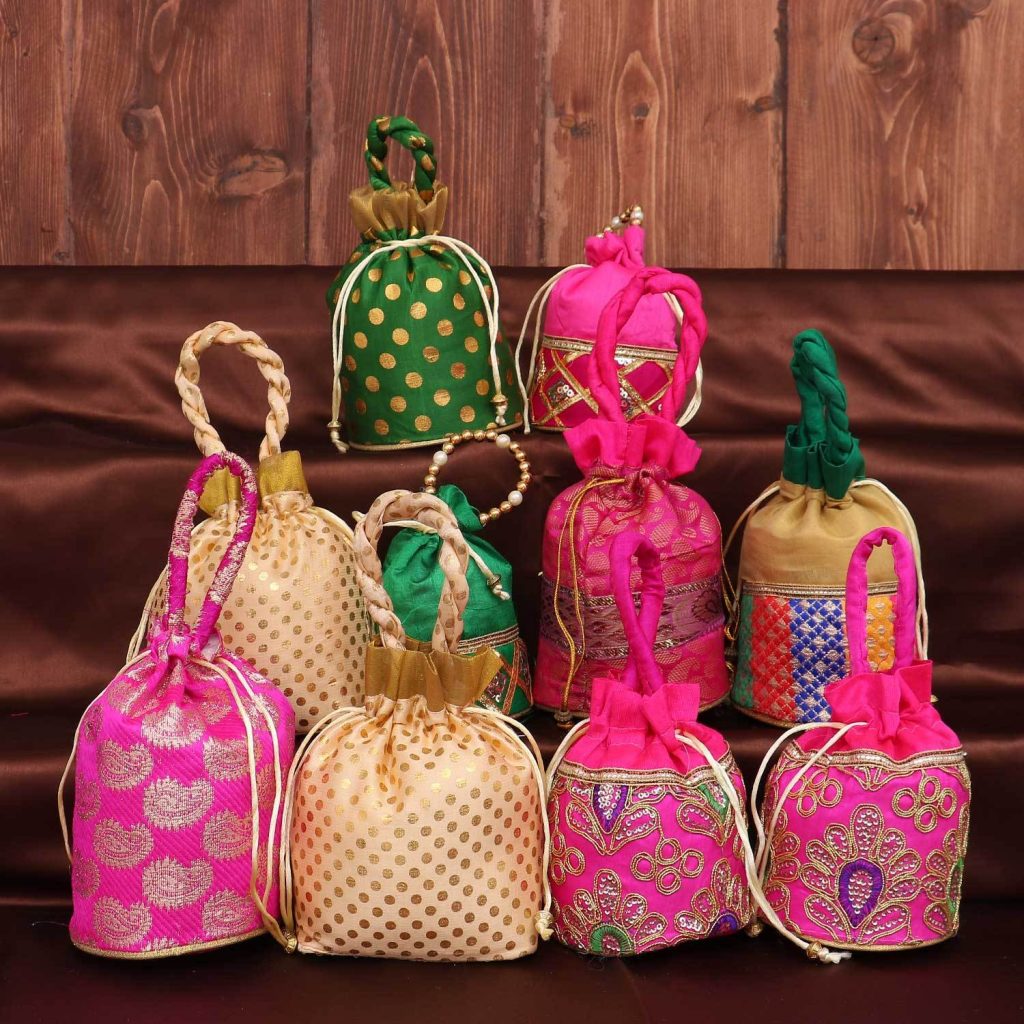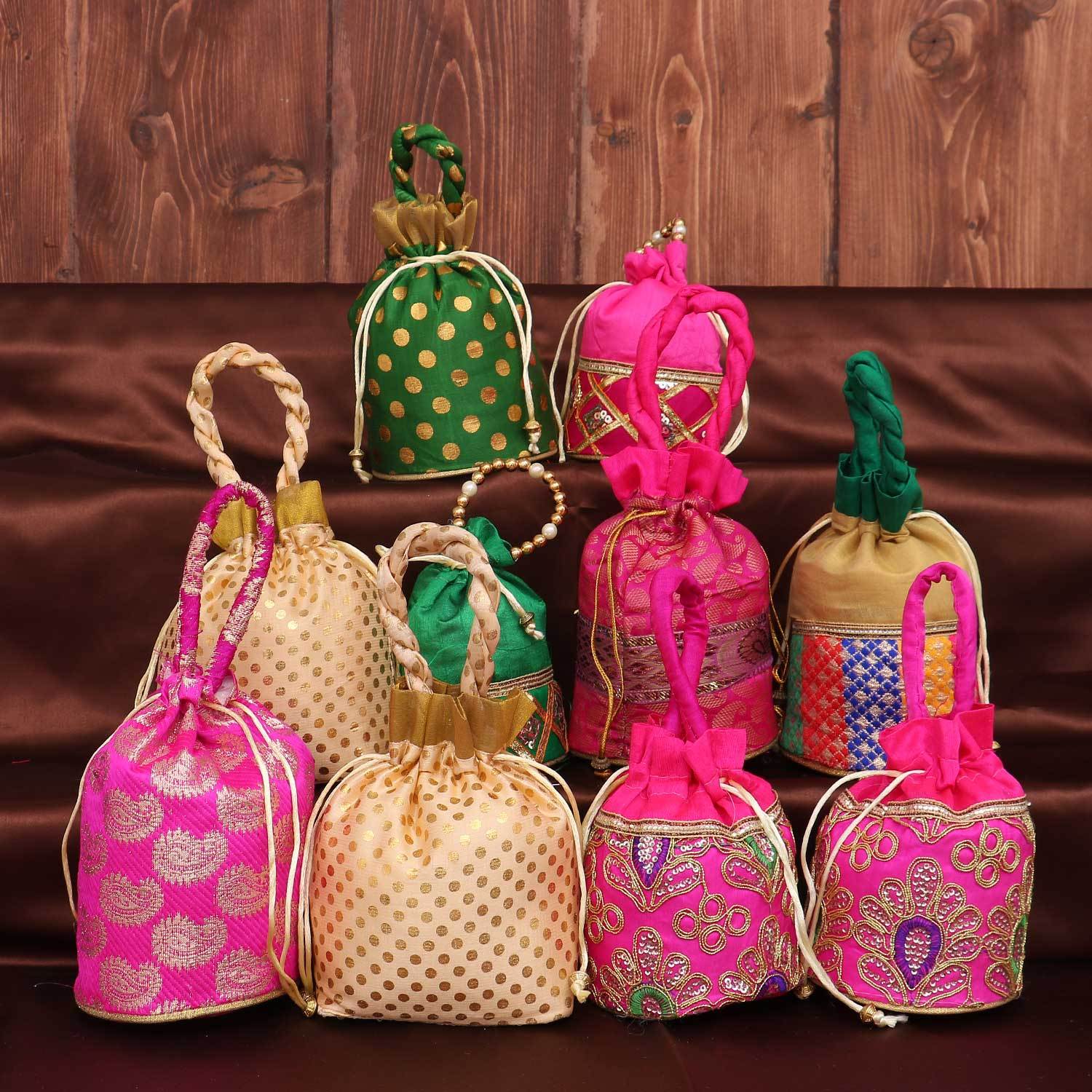 Chocolate or mithai boxes are the article with which many melt their hearts with their delicate beauty. It is a wonderful reminder that is also highly customizable. It allows you to use it for countless materials such as wood, German silver, marble, brass metal, rusty metal, glass and much more, depending on the budget for this purpose, personalized with unique carvings or engraved with the initials of the newlyweds. Another wonderful modern option as wedding return gifts for being a future home accessory for our dear guests.
Since we mention the variety of the materiality of the chocolate boxes, another alternative that comes to light as an excellent wedding return gifts are the oxidized boxes. Metalwork is very common in Indian handicrafts. Hand-crafted metal has its primary usage in religious ceremonies and rituals. It is an artisanal item that will do wonders in the decoration of any home, of intricate beauty in carvings, molten forms, engraved or enameled. Therefore, these small boxes are the ideal gift to store small trinkets, cash or Pooja items.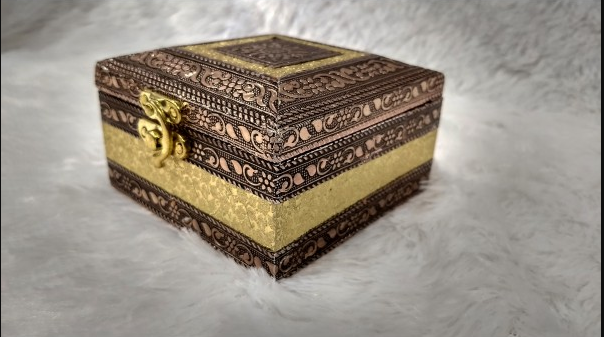 India is a country with a culture with a long history of tradition and commitment. It does not prevent its celebrations from having those different touches that everyone wants so that their moment of joy is unique and makes a mark on the people who accompany them on that special occasion.
At NRI weddings it is more than normal to observe certain indications of international transculturization, making the variety of possibilities for gift ideas more extensive and creative than traditional, leaving a small cultural mark on any other wedding return gifts that is a tendency to The date is a creative and beautiful alternative. Make the traditional Mehendi to small objects that are a tendency such as plant vessels, personalized cards, small glass containers, small sheets of glass, plastic or wood engraved with patterns or instead Mehendi candles, which by their exotic quality with aromas give it that Indian touch that will brighten homes through a product so popular in Indian culture and aesthetically improved.