Do you feel frustrated by always having to shave, wax, or pluck hair you don't want? Are you looking for an easier and longer-lasting way to get rid of that hair? IPL hair removal is an easier way to get rid of hair for a long time, and it's not as expensive or painful as other methods like electrolysis. However, there are many IPL devices to pick from, and they have different features, which can make it hard to decide which one to get.
To make your work faster, we are introducing the most useful IPL device named Ulike Air3 in this article. This article will describe my 8-week journey with the Ulike Air3 IPL Hair Removal device.
Part 1: What is IPL Hair Removal?
IPL stands for Intense Pulse Light. It's a way to get rid of hair that lasts a long time, and you can do it at home. IPL machines use special light with different strengths to stop hair from growing back. You can use IPL on many body parts like your face, legs, and armpits. There are some benefits of using IPL for hair removal:
Convenience: You can use IPL at home, and the machines are small and easy to carry.
Cost-Effective: You only have to buy an IPL device once, and it can last for many years, maybe even a lifetime.
Fast: IPL is a quick way to remove unwanted hair. The machines have different modes that make it easy and painless to use.
Long-Lasting: IPL helps get rid of hair for a long time. Even if the hair starts to grow back, a few touch-up sessions can keep it from coming back for a while.
Versatility: IPL can work on different parts of your body, so it's a flexible choice for getting rid of unwanted hair.
These benefits of IPL make it a popular choice for people who want an easy and effective way to remove hair and have smooth skin for a long time.
Part 2: Why Ulike Air3 IPL Hair Removal Device?
Ulike (Founded in 2013) is one of the leading companies for at-home hair removal devices. This company is determined to provide people with a safe hair removal method that lasts long. All its devices are FDA-cleared. There is IPL (Intense Pulsed Light) technology in the devices which makes the hair grow back slower.
Today, we are going to talk about Ulike Air3, the updated version of Ulike Sapphire Air+. This laser hair removal device was launched in March 2023. The color of this machine is crystal purple shade with white accents and it weighs only 271 grams.
Ulike Air3 is the best IPL device for larger body parts such as legs, stomach, arms, etc. There are 3 different treatment systems and you can choose them as your preference. It uses an auto-glide feature and produces a flash every 0.7 seconds. You can easily use this hair removal machine and get your work done in less than 10 minutes.
Part 3: What I Like About Ulike Air3 Hair Removal Machine
Below are the things that I like about Ulike Air3 Hair Removal Machine –
Size, Weight, and What It Looks Like:
The Ulike Air3 is made to be comfortable to hold, with a nice design that's easy to use. It comes in either white or crystal lavender and weighs 270 grams. When you first see it, it looks like a simple, stylish remote control. I like the way the Ulike Air3 looks because it's simple and elegant.
Efficiency
The Ulike Sapphire Air3 IPL hair removal device will begin to work after about 3 weeks, and you'll have permanent hair removal in about 7-10 weeks. To achieve these results, you'll need to use it twice a week for 3-4 months.
Cost-effectiveness
The Ulike Sapphire Air3 device costs $329 and comes with everything you need for hair removal, like safety glasses, shaving razors, a charger, a cord, a storage case, and the IPL handset.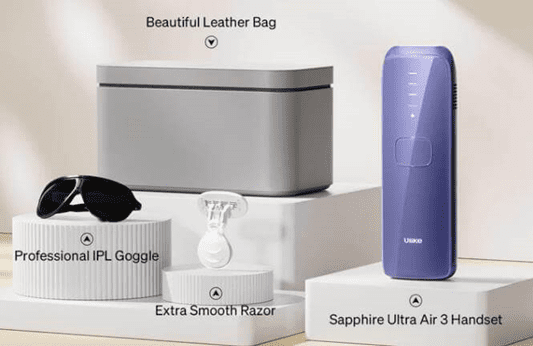 Guarantee
A money-back guarantee means you can trust a brand and its product quality more. The Ulike Sapphire IPL hair removal device has a 90-day money-back guarantee, so you can return it within 3 months if you don't think it's reliable.
3 Treatment Modes
The Ulike Air3 purple IPL device has 3 treatment modes for different body parts. It makes you very comfortable.
Soft mode is for sensitive areas like the face, chin, upper lip, and bikini line.
Body mode is for bigger areas like arms and legs.
Power mode is for stubborn hair in places like the armpits and chest.
Ice Cooling Effect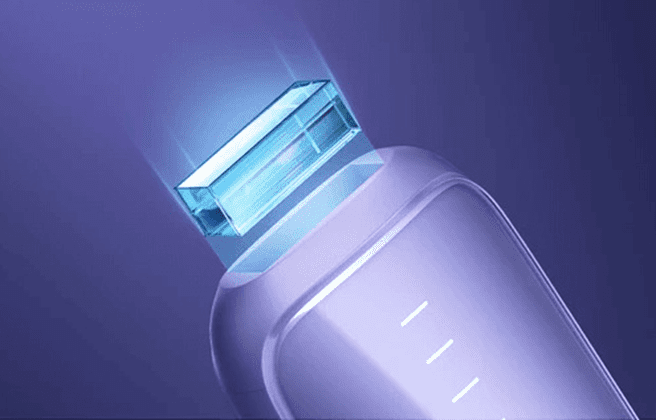 Many IPL devices can make your skin feel uncomfortable or painful, but Ulike IPL device is different. It uses a special ultra-ice cooling system to keep your skin cool while you're getting the treatment. The Ulike Sapphire AIR3 IPL device can lower the high temperature of intense pulse light from 158 degrees Fahrenheit to just 50 degrees Fahrenheit. It only takes 1 minute to reach this cooler temperature, and it can stay that way for up to 30 minutes.
Flash Time
The Ulike Sapphire AIR3 hair removal IPL devices can treat your entire body in just 10 minutes. How does it do this? It's all thanks to how fast it flashes and the different ways you can use it. It produces a flash of light every 0.7 seconds, and you can choose between stamping and gliding modes to make the treatment go quickly.
Energy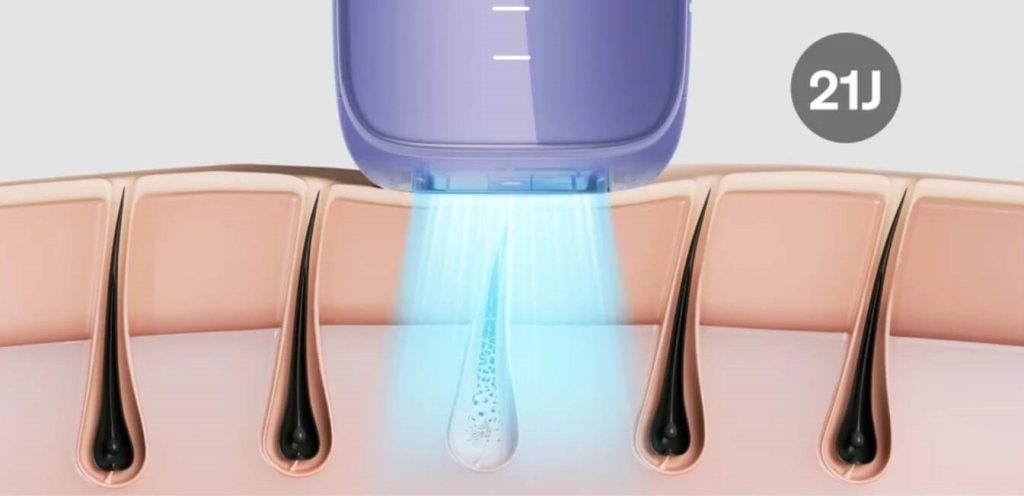 The Ulike AIR3 has an energy level of 21 J/cm2, which is close to what professional lasers use. It's twice as powerful as other at-home IPL devices. More power means you'll get better results in less time. You can expect over 90% less hair regrowth in 3-4 weeks.
Part 4: What I Don't Like About Ulike Air 3
There are some things that I didn't like about Ulike Air3. It says that IPL might not be the best choice if you have dark skin. Because it can harm your skin due to the higher melanin content in darker skin. If you are not sure, it's better to consult with a dermatologist. Additionally, IPL works best when the hair is significantly darker than the skin. If your hair is very light or fine, the results may not be as effective since there's not enough melanin to absorb the light. Last but not least, it is recommended not to use IPL if you are pregnant or breastfeeding as the outcomes can be uncertain.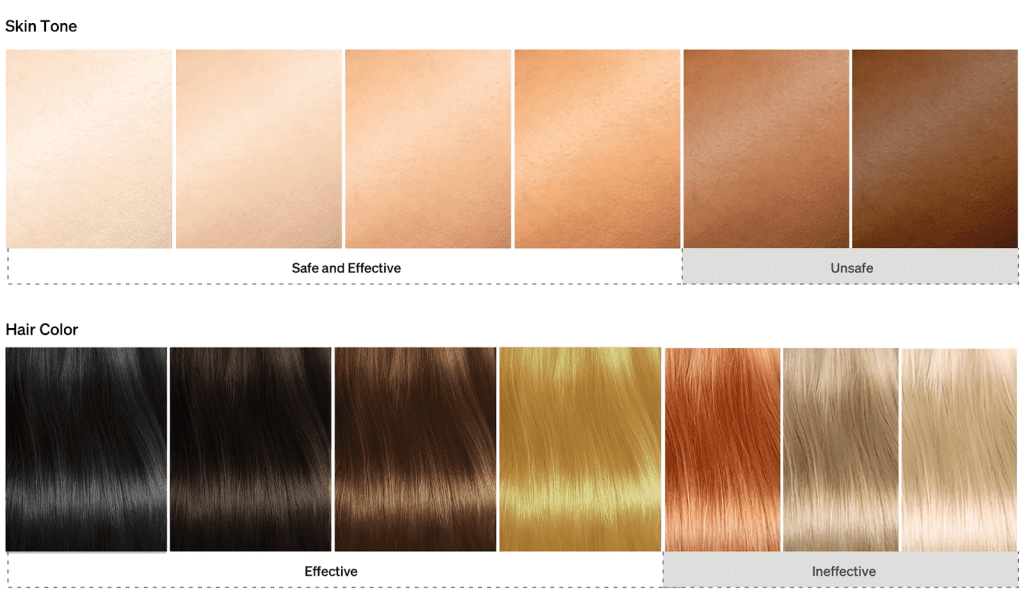 Part 5: Preparation Before Starting IPL Hair Removal Session
Before you start using IPL for hair removal, it's really important to get ready properly. Doing this can make a big difference in how well it works and how safe it is. Here's why preparation before starting an IPL hair removal session is so important and what you need to do:
Why Getting Ready Is Important:
Better Results: When you prepare properly, IPL can do a better job of targeting your hair, making it work better and for a longer time.
Less Risk: Getting ready helps lower the chances of bad things happening like your skin getting irritated or burned during the treatment.
Safety First: Following the right steps makes sure your skin is in the best shape for IPL, which means fewer chances of problems.
Choosing the Right IPL Device or Professional Help:
For At-Home Devices: If you're using an IPL device at home, look into different brands and types. Find one that matches your skin and hair, and fits your budget. You can read reviews and even ask a dermatologist for advice if you need it.
If You're Going to a Pro: If you want a professional to do IPL for you, pick a good clinic or spa with experienced people. You can ask friends or family for recommendations, and also check what other people say online.
Getting Your Skin Ready
Shave First: Before each IPL session, make sure to shave the area you want to treat. This is important because IPL works on the hair under your skin, and longer hair on the surface can get in the way and make it less effective.
Stay Away from the Sun: Don't spend time in the sun or use tanning beds for a few weeks before your IPL session. If your skin is sunburned or tanned, it can be more sensitive to IPL and might cause problems.
No Self-Tanners: Don't use self-tanning products on the area you're treating because they can change your skin color and mess up how IPL works.
Clean Skin: On the day of your treatment, make sure your skin is clean and doesn't have any lotions, oils, or makeup on it. These things can mess with IPL.
Test a Small Area: Before you do IPL on a big area, test a small, hidden part of your skin to make sure you don't have any bad reactions to the IPL machine or treatment. Wait at least a day to see if anything goes wrong.
By doing all these things and getting your skin ready the right way, you'll make sure your IPL hair removal works well and is safe, whether you're doing it at home or with a professional. Proper preparation helps you get the best results while reducing the chances of any issues, so you can have smoother skin without worries.
Part 6: How to Use Ulike Air3 Hair Removal?
Using the Ulike Air3 is easy, but you need to know how to use the buttons right. You can use this IPL device on any part of your body where there's hair. How you use the different modes, like spot, auto-glide, gentle, or body mode, affects how well your IPL hair removal works. Here are the steps to use Ulike Air3 Hair Removal –
Step 1: First, plug the power cord into the adapter. Then, plug the cord into the wall socket. Now, take the Air3 device and plug the charging cord into its charging port.
Find the power button on the left side of the device, right where your fingers can reach. Press it once and let go to switch on the device.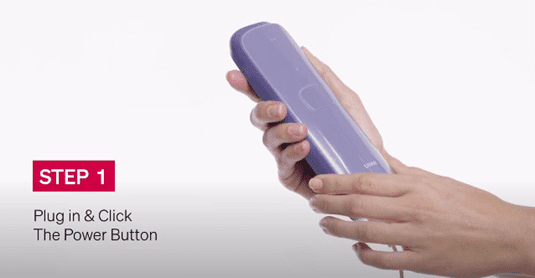 Step 2: When the device is on, place the light part on your skin and press the power button to choose the right level based on how sensitive your skin is and how much pain you can handle. Begin with the lowest light level, and as you press the button, it will show on the lights in the front.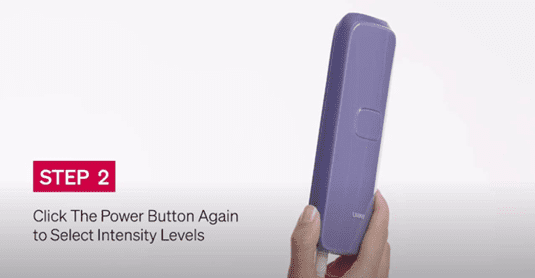 Step 3: You need to get your skin ready by removing anything that might block the light from reaching the hair's root. To get your skin ready, you should shave the areas you want to treat with the razor that comes in the package. After shaving, clean those areas with warm water and then use a dry towel to make your skin dry.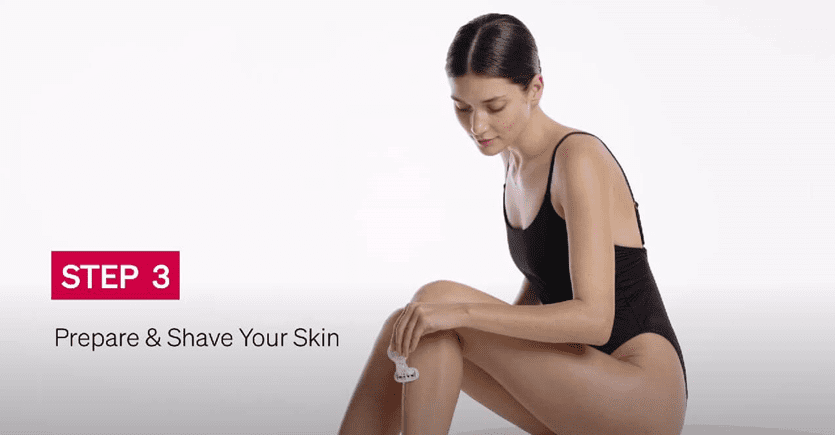 Step 4: Take the protective glasses from the box and put them on your eyes.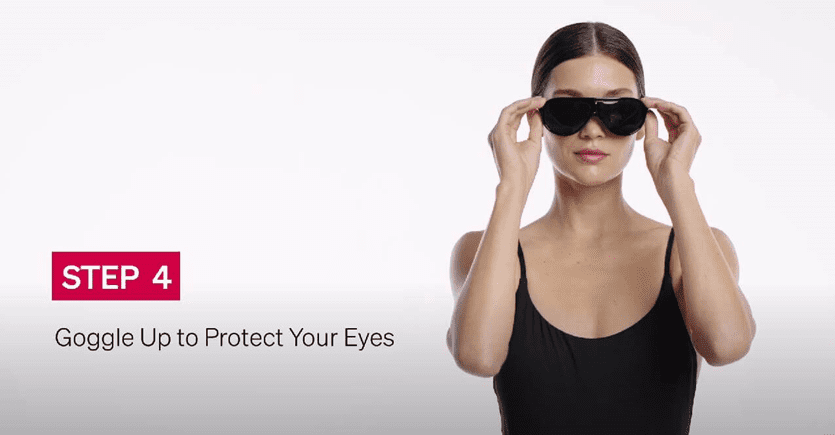 Step 5: The Sapphire Air3 offers two ways to remove hair and three different settings to choose from. To pick a way or setting, use the big button on the front (called the treatment button) and the power button.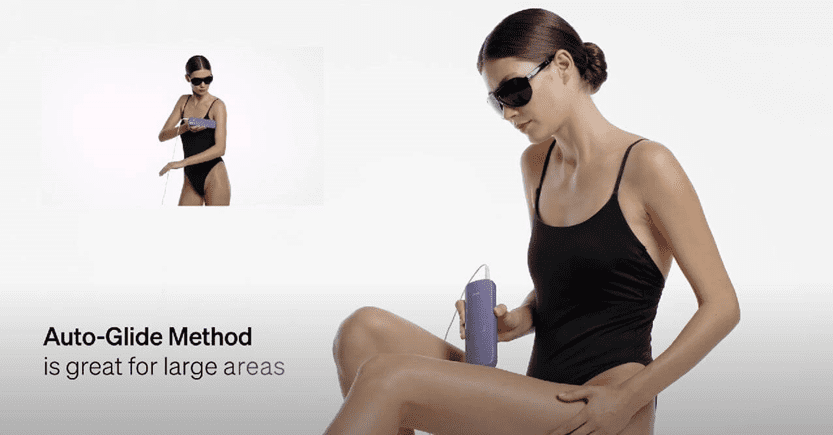 Step 6: When you use the device on your skin, the part that touches your skin can collect your skin cells and dirt. You can clean it by using a clean cloth or towel to wipe the part that emits light all around it.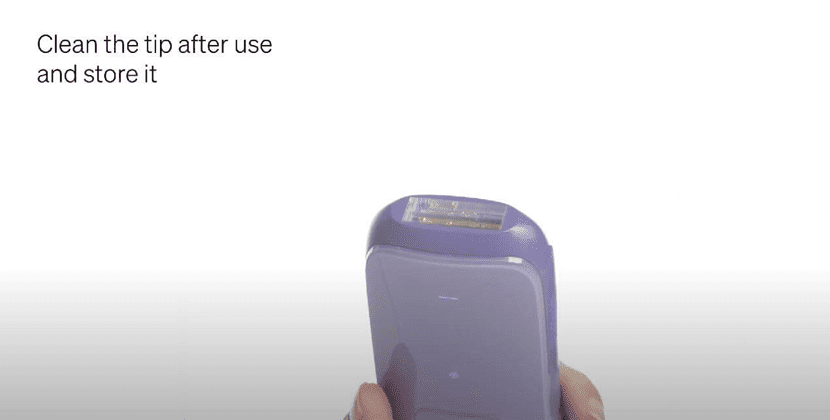 Step 7: Once you've done the treatment on your skin, you'll likely want to go outside. If you're going to be in the sun, make sure to put moisturizer and sunscreen on the treated areas before heading out.
Part 7: Results of My 8 Weeks Journey with Ulike Air 3
First of all, I need to mention that I have very thick hair in my armpit. I have tried different kinds of methods such as shaving, waxing, etc. Unfortunately, the hair grew back again and again. Also, I have to spend a lot of money on these methods. One day, I saw a review video of Ulike Air3 while scrolling TikTok. Then, I opted for more videos to collect different kinds of user reviews and luckily, they all praised Ulike Air3. After viewing all the positive reviews, I decided to give it a try and share my review with you. Here I will describe the results of my 8 weeks journey with Ulike Air 3 –
Ø 1st week –
In the 1st week, I was a little bit unsure if I would get the results or not. I have used the IPL device 3 times in the first week as they have mentioned it. I tried to follow all the instructions they have provided.
Ø 2nd week –
I didn't see any kind of change in my hair so I felt a little bit unmotivated. Still, I decided to give the Ulike Laser Hair Removal device a go. I have used the device only 2 times in the 2nd week. Though it says to use it 3 times for the very first 3 weeks. I missed one session because of my busy schedule.
Ø 3rd week –
As per the instruction, I have gone through 3 sessions of the Ulike Air3 in the 3rd week. I was hoping for this device to work as I was very much tired of trying different things.
Ø 4th week –
This week made me feel more motivated. I started seeing visible results and my hair growth was reduced. From the 4th week, I reduced the session from 3 times a week to 2 times a week. I couldn't wait to be hair-free soon.
Ø 5th week –
I have followed the same instructions as the 4th week in the 5th week also. In this week, my hair follicles began to shrink which made me very happy.
Ø 6th week –
In 6th week, I have fulfilled 2 sessions of this IPL hair removal machine. After 4-6th weeks of session, my hair roots started to fall out. I was very much joyful that I decided to finish all the weeks and share my review with you guys.
Ø 7th week –
I started using the device once a week to get a permanent hair removal solution. I can barely see any hairs in the armpit in the 7th week.
Ø 8th week –
I finally got my desired result and got the permanent hair removal solution. Now I only use this tool sometimes to maintain the result. I always suggest everyone who has hair issues use Ulike Air3. It has saved my life and now, I can comfortably show my armpits to anyone. It gave me confidence and a new life!
Conclusion
IPL hair removal devices revolutionized the hair removal tools industry. This article has described my 8-week journey with Ulike Air3 IPL Hair Removal device.
The Ulike Sapphire Air3 handset costs a bit more, but it's worth it because it comes with everything you need. It's comfortable, doesn't hurt, and the cooling technology makes it even better for a great experience. Get the Ulike Air3 from their official website now and enjoy a discount!