Born in 1959, Val Edward Kilmer is one of the well-known Hollywood stars from California, U.S. Val came into the spotlight after he appeared in comedy movies like Top Secret and Real Genius. He is best known for his roles in films like The Saint, Alexander, and Kiss Kiss Bang Bang to name a few. Apart from the film industry, he has significantly contributed to the television, theatres, video games, and music industry.
From comedy to thriller, and action, he has performed exceptionally well in all types of movie genres. However, it was in 2015, when Val Kilmer's Health went down and he was diagnosed with throat cancer due to which he struggled with speaking issues.
There is a lot more about Val Kilmer health that may blow your mind.
In this blog, we have tried our best to equip our audience with the best information about Val Kilmer's health in 2022, cancer recovery, marriage, & other important details.
Val Kilmer Health
Many die-hard fans are curious to know about Val Kilmer Health. As mentioned above, it was the year 2015, when Kilmer first time noticed a lump in his throat and later he was diagnosed with throat cancer. 
The Top Gun actor tried his best to keep his medical condition away from the media. After he was diagnosed with cancer, chemotherapy and tracheotomy surgery helped him to fight cancer. 
After struggling for quite a good time, Kilmer was cancer-free by 2016. However, tracheostomy surgery permanently damaged his speaking ability. 
Val Kilmer health and his cancer journey – Documentary
Released in 2021, Val is an American documentary that highlights the key facts about the life of Val Kilmer. The film was directed and produced by Leo Scott and Ting Poo and was written by Val Kilmer. 
It was Cannes Film Festival in 2021 where the film was world premiered first. The documentary narrates the life and career story of actor Val Kilmer. It includes scenes from his childhood and home movies.
The film also talks about Val Kilmer health and his cancer journey. There are also some hidden truths about his personal life, including the early death of his brother, his marriage, and his kids.  Val Kilmer's fans can watch his documentary on Prime Video. 
His Marriage 
Val Kilmer had been in relationships with many Hollywood beauties like Angelina Jolie, Cindy Crawford, and Ellen Barkin.
However, he tied the knot with English actress, Joanne Whalley in 1988. The couple first met on the sets of their film, Willow. But, they got divorced in 1996. The duo is proud parents to two kids: a daughter and a son.
Versatile Actor 
Val Kilmer is one of the most popular personalities in the entertainment industry. He is also one of the most versatile actors. Whether it's portraying the role of Bruce Wayne/Batman in Batman Forever, Dr. Nicholas Pinter in Double Identity, or Hall Baltimore in Twixt, he has justified every role in the best way possible. 
Some of his best career hits are Top Gun: Maverick, The Snowman, Batman Forever, and Breathless. Besides the film industry, Val Kilmer has showcased his acting skills in television shows like Psych, Ghost Ghirls, and Numb3rs.
He is also a theatre artist who has performed in shows like The Postman Always Rings Twice and Slab Boys.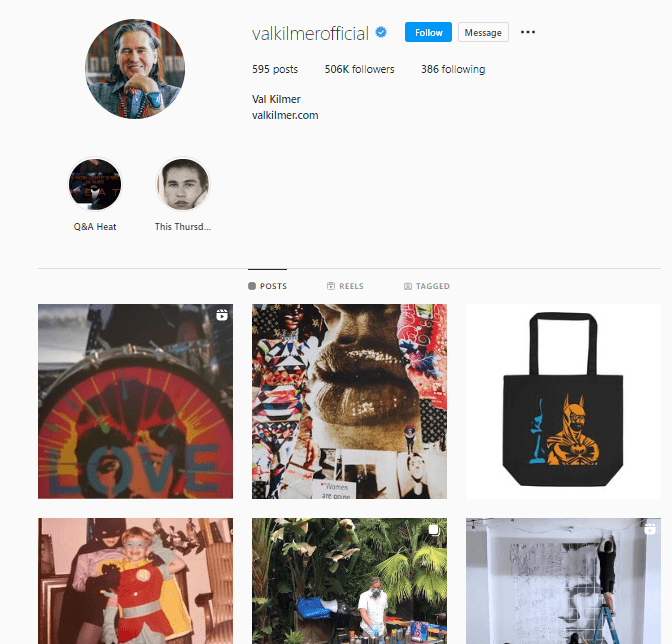 Big Fan Of Cate Blanchett
You will be surprised to know that Val Kilmer is a die-hard fan of Cate Blanchett who is a beautiful Australian actress and television producer.
Kilmer has even expressed his love for Blanchett on his Twitter account. 
In 2017, Kilmer shared a selfie with the caption "Once I flew all the way to Australia to talk to Cate Blanchett. Her husband met me first. Or, instead, I guess, to be accurate." 
However, the following day, he gave a clarification by stating that Blanchett is "amazing in person," and that she's "so real it's almost unreal."
He even admitted on social media that once he did a cameo just to be near her. However, Kilmer was so mesmerized by the personality of Cate Blanchett, he even forgot his lines.
Strong Religious Beliefs
Val Kilmer is quite a religious personality and is even a strong follower of the Christian Science religion. When Kilmer was diagnosed with throat cancer, his kids forced him to undergo treatment.
However, Val was not in favor of treatment. As per Val, the best way to treat cancer was through prayers. Though surgery and chemotherapy have helped him fight cancer, he still believes that his prayers helped him get rid of cancer.
In The End…
Above all, Val Kilmer is a versatile actor, cancer survivor, loving father, and a great entertainer.  Hopefully, now you are well aware of Val Kilmer health, cancer recovery, personal, and professional life. We hope you liked the article. For more updates on celebrities, stay connected with us.