Every one of us knows about the financial conditions of almost every country on the globe. We all are going through a financial crisis, which makes things even worse all around. Which makes us face a hard time finding a job, especially in this phase of the recession. As a result, people are looking for some online strategy that can help them find a good job. And to make things easier for the global job seekers. The new bliss of technology is proving it quite efficient and renowned as Video Resume.
Although, the concept of a video resume is not exactly new in the HR industry. But, still, it is turning out to be the latest trend of the market. And with each passing phase, it is growing wider and going global.
This concept has emerged as an inseparable part of the initial screening session of Recruiters. Now, all the leading Recruiters and concern agencies involving the idea of the Video Resume. Under its initial round of screening for the candidate. This interviewing tool is truly assisting all the job aspirants from worldwide by saving them time and money.
Let's brief out the actual concept of a Video Resume the differences with the Text-based Resume. Also, how it can be utilized for the vast array of job seekers that are present all around the globe.
Here, we start with a brief introduction:
It is a short video of the job seeker that can last from 60 seconds to 2 minutes. This video showcases the soft skills of an applicant. Several key points need to keep in mind to record a presentable Video Resume.
Get dressed up. (professional)
Be positive and confident(It shows your strength and enthusiasm)
Start with a brief personal introduction, your experience, and the job you are applying for

.
Lastly, be simple and clear with your words.
This is a powerful tool for presenting yourself in front of recruiters, or you can say it is a mock exercise for the freshers or beginners. By getting your resume record of job seekers to receive an abundant opportunity to learn and grow more. They are getting an instant makeover or called as they exercise themselves for entry into the corporate world. Precisely, it is the most powerful tool of self-evaluation and correction. Which can get you the right job for your career.
The second issue to resolve in this recession is differentiating between the traditional resume and a Video-based Resume.
A general resume is composed of educational, professional, and personal information in a formatted manner.
Does it portray the real you?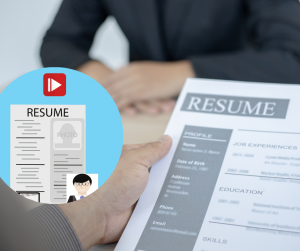 No, then here comes the Video Resume, which carries all your personal, professional, and personal. The details need to present by you in front of recruiters by using the right words through your soft skills.
This amazing presentation factor adds a much-needed boost to your resume. It makes you stand apart from others, ultimately increasing your chance of getting selected for the particular job.
Lastly in this recession, how a fresher or an experienced applicant can get benefit with the help of a Video Resume.
To be very precise, video resumes are just not meant for the core professionals. It is making a big wave in the stream of freshers as well. Fresher from any industry. The counting a few industries like entertainment, fashion, journalism, technology, and many other fields.
Beginners can get their video resume more powerful with effective communication. It will lend them the desired job. So, beginners' main motto should be to brush up the communication skills. You can watch the sample video for inspiration, and record. You will get incredible results from this video.
For the experienced applicants, you seem to be on the beneficial edge here. As you come under the most entitled candidate for any job, you beg more chances to get selected. You need to concentrate on the soft skills and expertise you have to impress the interviewer. 
Benefits
Easily you can display your abilities in a video resume, but a paper resume fails to portray. It is especially appropriate for applicants who need to set up themselves in acting, making a song, or sports activities career. This is due to the fact the employers call for to view their realistic. Revel in earlier than deciding on them, and it's far handiest viable with a video resume and now no longer paper resume. Even whilst the case is ready checking applicants' conversation abilities then it's far plenty less complicated to decide this the use of a video resume. It has additionally been proved that sorting through video resumes is ten instances greater green than screening a candidate primarily based totally on a conventional paper resume.
Conclusion
There are ways greater data to be had whilst you could see a complete auditory and visible reaction to a given query. A paper resume simply leaves a query mark and a piece of doubt withinside the business enterprise's mind. These are a number of the blessings of a video resume over a conventional resume. There isn't a doubt that employers opt for video resumes. Over conventional resume due to the fact it's far a short device which hastens the screening method. The business enterprise can gauge the expert skills like presentation abilities.