The IPL 2023 encounter between Sunrisers Hyderabad (SRH) and Royal Challengers Bangalore (RCB) in Match 65 at the Rajiv Gandhi International Stadium in Hyderabad on Thursday was a high-scoring affair that witnessed Virat Kohli's century, leading RCB to a crucial victory.
The match had several standout moments, exceptional player performances, and record-breaking achievements. Let's delve into the details and dissect the thrilling contest.
Innings Overview
Sunrisers Hyderabad, batting first, posted a competitive total of 186/5 in their allotted 20 overs. The highlight of their innings was Heinrich Klaasen stunning century, scoring 104 runs off just 51 deliveries. Klaasen's explosive knock featured eight fours and six sixes, with Harry Brook contributing a decent cameo of 27 runs from 19 balls. However, the rest of the SRH batsmen struggled to make a significant impact.
HKarnage at Uppal 🔥🧡

Time to continue with the ball now 💪 pic.twitter.com/i22HM99cA0

— SunRisers Hyderabad (@SunRisers) May 18, 2023
In response, RCB started their chase on a strong note, eventually achieving the target with four balls to spare. Virat Kohli played a captain's knock, registering a magnificent century by scoring 100 runs off 63 balls. His innings comprised 12 fours and four sixes, displaying his exceptional batting prowess. Faf du Plessis played a crucial supporting role, contributing 71 runs to the partnership. SRH's bowlers managed to take only two wickets, with T Natarajan and Bhuvneshwar Kumar scalping one each.
Virat Kohli's Century & Player of the Match
Virat Kohli was rightfully awarded the Player of the Match for his exceptional century against Sunrisers Hyderabad. Kohli's brilliant innings of 100 runs off 63 balls demonstrated his mastery of the game. With 12 fours and four sixes, he played a captain's innings, showcasing his skill, determination, and ability to anchor the chase effectively.
4️⃣ to start off his innings 😮‍💨
6️⃣ to get to his 6th IPL century 🔥

Virat came in and instantly made his intentions clear. The King, the GOAT and now, one half of '𝐓𝐡𝐞 𝐈𝐧𝐤 𝐁𝐨𝐲𝐬' 😬
#PlayBold #ನಮ್ಮRCB #IPL2023 #SRHvRCB pic.twitter.com/RFDZapvwe9

— Royal Challengers Bangalore (@RCBTweets) May 19, 2023
Top Records and Stats
The SRH vs RCB clash witnessed the creation of several records and noteworthy statistics. Here are the key highlights:
Virat Kohli and Heinrich Klaasen became the first batsmen to score centuries for opposite teams in the same IPL match. This showcased the exceptional batting talent on display during the game.

Virat Kohli achieved a unique milestone, becoming the first player to complete three IPL centuries with a six. Previously, this feat was accomplished by Hashim Amla twice during his IPL career.
Kohli's six centuries for RCB set a new record for the most IPL hundreds by a player for a single team. Chris Gayle scored five centuries for RCB, while Jos Buttler achieved the same feat for RR.
The outstanding partnership between Virat Kohli and Faf du Plessis, amounting to 172 runs, surpassed the previous record of 133 runs set by Michael Hussey and Suresh Raina for the highest partnership against SRH in Hyderabad. The partnership was crucial in RCB's successful chase.
RCB's Rise in the Points Table
RCB's victory in this crucial match elevated them to the fourth position in the IPL points table, momentarily securing their place in the playoffs. With 14 points to their name, they were level with Mumbai Indians but held a better net run rate. The final league match for both teams would play a significant role in determining their fate. RCB's improved position provided them with renewed hope of securing a spot in the playoffs, while the net run rate advantage over their rivals boosted their confidence.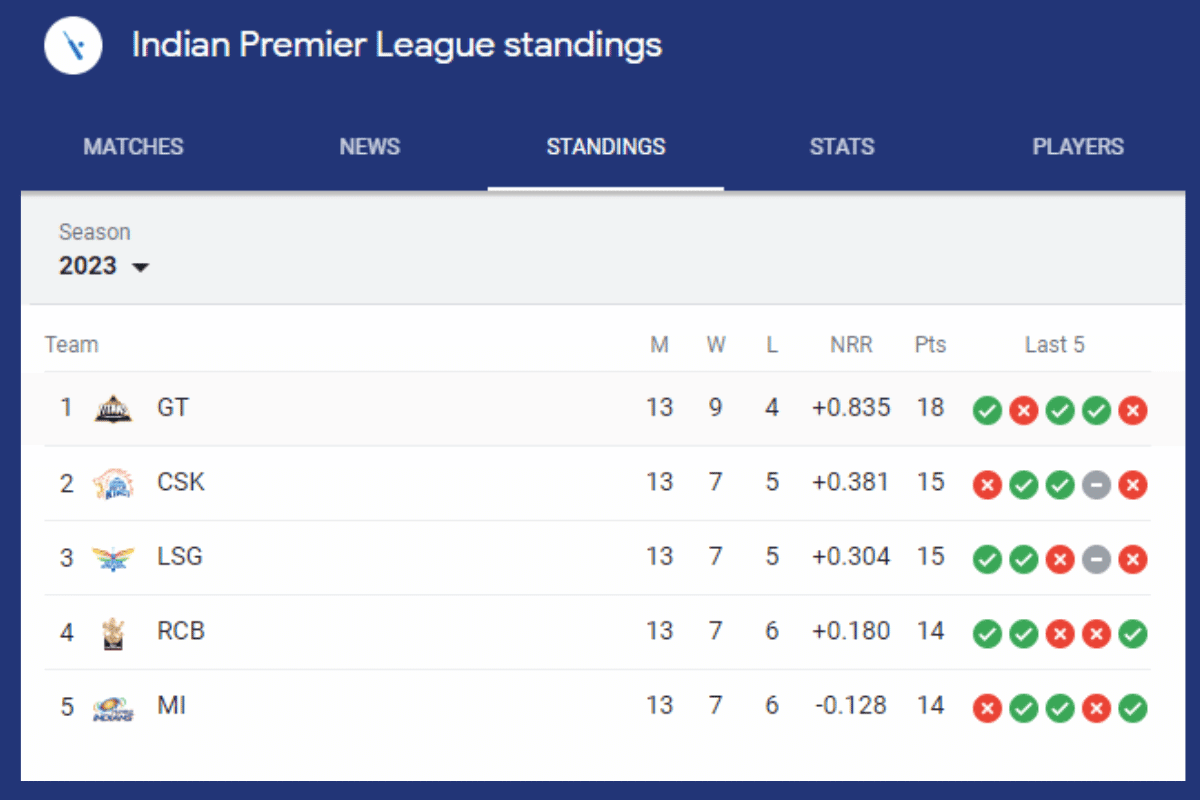 SRH's Struggles
Sunrisers Hyderabad's batting woes persisted in this match, contributing to their disappointing result. Despite Heinrich Klaasen's remarkable century, SRH's batting lineup failed to provide substantial support, with most batsmen struggling to make an impact. This has been a recurring issue for SRH throughout the season, and their inability to consistently post competitive totals has hindered their progress in the tournament.
While Klaasen's exceptional knock was positive for SRH, it highlighted the over-reliance on individual performances rather than collective efforts. The team management will need to address this issue going forward and find a way to build partnerships and ensure contributions from the entire batting unit.
RCB's Improved Form
On the other hand, RCB's victory in this crucial match showcased their improved form and strengthened their chances of securing a playoff spot. Led by the magnificent century from Virat Kohli, RCB's batting lineup demonstrated resilience and composure in their chase. Kohli's leadership and ability to anchor the innings proved crucial in guiding RCB to victory.
Additionally, the partnership between Kohli and Faf du Plessis played a vital role in RCB's successful chase. The duo complemented each other well, displaying excellent shot selection and a good understanding of the game situation. RCB's batsmen showcased their depth and ability to handle pressure, a positive sign as they approached the business end of the tournament.
Looking Ahead
With their victory in this match, RCB has significantly boosted their chances of making it to the playoffs. However, they cannot afford to be complacent as the competition remains fierce. Their final league match against a formidable opponent will be crucial in determining their final position in the points table. RCB will need to maintain its winning momentum and address any remaining weaknesses in its gameplay.
Conclusion
Virat Kohli's century in the SRH vs RCB match was a memorable display of his exceptional batting skills and leadership qualities. RCB's victory not only propelled them to the fourth position in the IPL points table but also showcased their potential to be strong contenders in the playoffs.