We understand the importance of having the perfect wardrobe in your bedroom or dressing room. It makes life so much easier and allows you to save a significant amount of time while dressing up every morning. Moreover, chic wardrobe interior designs add the perfect finishing touch to your room and add to its aesthetic appeal. 
Image Source: Pexels
So, if you are looking for built-in wardrobe designs that won't just provide simple yet effective storage solutions but also add to your room's aesthetic appeal, we have a few options for you. 
Simple but Not Basic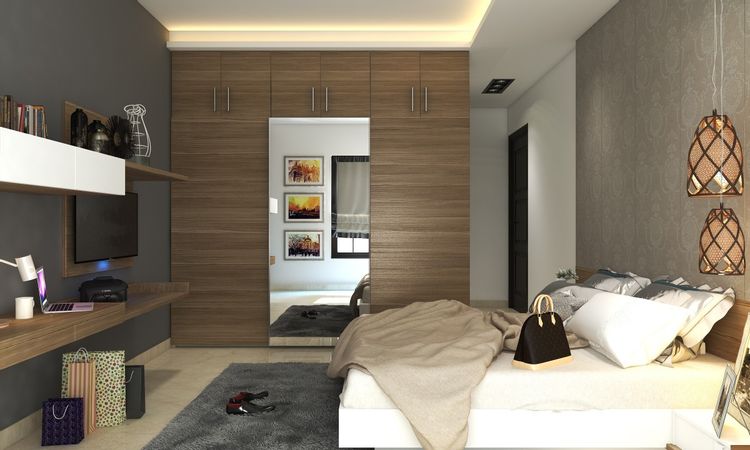 Image Source: LivSpace
Who said you need loud wardrobe designs to make a statement? This cool-tone wooden wardrobe with chrome accents will become the centre of attention in your room without taking up much space. A compact yet spacious design, this monochromatic piece will make your room look like a contemporary Eden. 
Smart Space Saving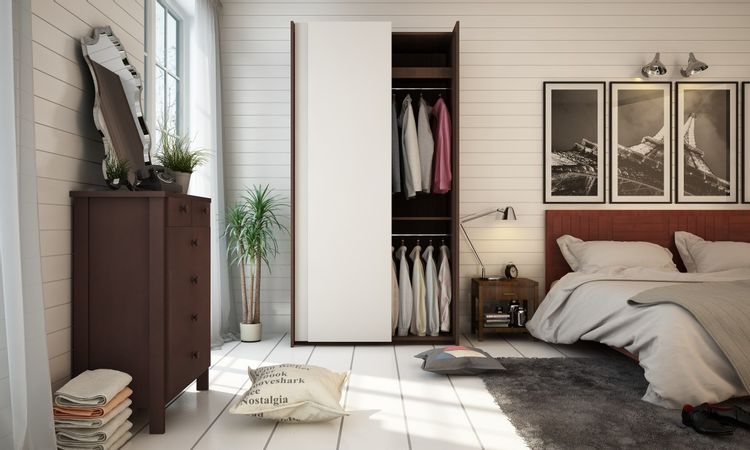 Image Source: LivSpace 
Looking for wardrobe designs for a compact space? Look no further than a double door wardrobe with smart space-saving shelves. Featuring hanging rods to keep your glad-rags neat and wrinkle-free, this wardrobe is your solution to smart dressing every day. Say goodbye to stubborn creases and folds that take hours to iron away every morning. 
A True Statement Design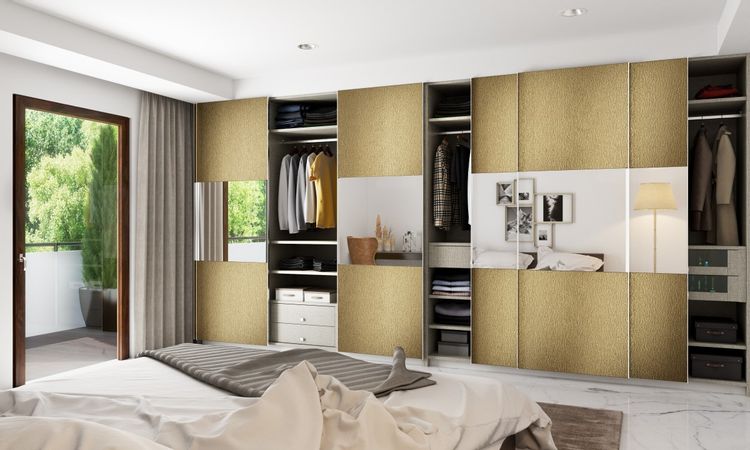 Image Source: LivSpace 
Standing tall in all its glory, this wardrobe is all you need to make your room go from basic to fabulous. The bright gold colour and the glossy finish makes it a perfect addition to artisanal rooms. Such wardrobe designs make sure you never run out of space to store your bits and bobs – the ultimate storage solution indeed. 
Clever Storage Solutions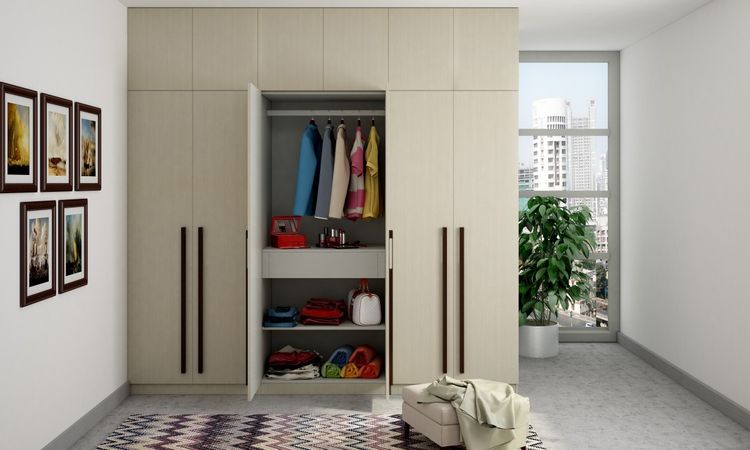 Image Source: LivSpace
Meet Annalisa. She's a true storage veteran. Clothes, shoes, belts, or bags, no matter what you wish to store, you'll find a place to store it in Annalisa. The straight lines and elongated handles give it a minimal look, and the cool calming tones add to its understated design. Featuring a hanging rail and two solid shelves, this wardrobe is perfect for kids' rooms too. 
Start Every Day Bright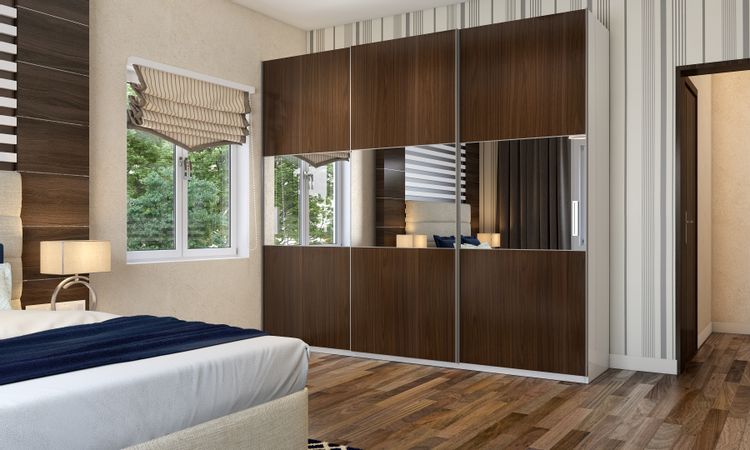 Image Source: LivSpace
Reflective surfaces are perfect for adding space and openness to any room. Whether you have a small space or a large room, such wardrobe designs can be a great storage option for you. Warm hues make your room welcoming, while the mirror details add vastness. Notice the clean edges and vertical wood grain. Homey, right?
Clutter-Busting Caitlin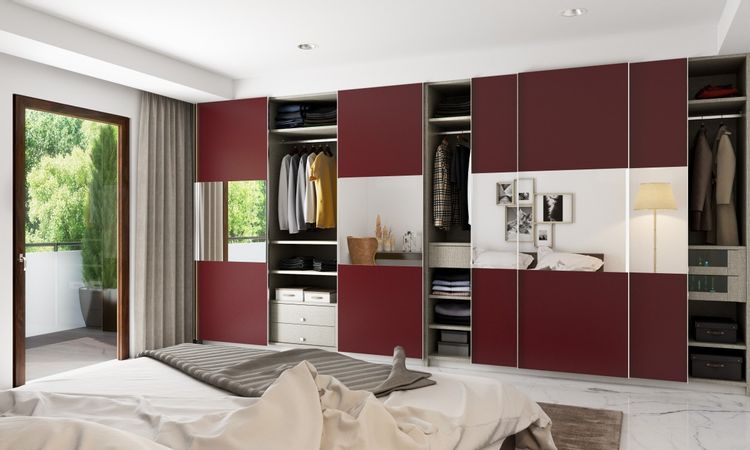 Image Source: LivSpace
Say hello to clutter-busting Caitlin – a wonder-wardrobe indeed! Your room never felt so vast and open. With so much storage space, you'll fall short of things to store in it. A royal wine hue, perfect for adding a pop of colour to any monochromatic room. Get it and get sorted! 
Brick Bossdrobe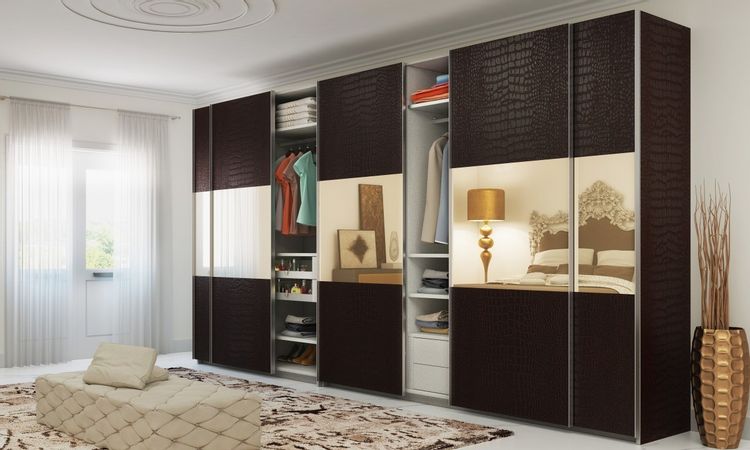 Image Source: LivSpace
Make the most of your space with this 'bossdrobe'. Everything from your accessories to your coats finds a home in this wardrobe. No more struggling to find the right spot for your knick-knacks. The smooth, dark, and warm finish makes this wardrobe a perfect addition to contemporary décor themes. Bring this and forget cluttered rooms. 
Wardrobe Selection Made Easy
There are many renowned names in the market like LivSpace that can help you get your hands on the beautiful wardrobe designs for your abode and help you transform your space into your dream home. No matter what your style might be, with LivSpace, you can translate it into reality and make your home your haven. 
So wait no more. Visit the LivSpace website today and lay the foundation to your dream home!