How to file for workers' compensation Claims and Benefits in Georgia
Employees who get injured while on the job in Georgia are protected by the Georgia Workers' Compensation law. This is a mandatory insurance program that is designed to compensate workers for their medical care and lost wages when they get injured while working. This law protects both the employer and the employee. The employer is protected from lawsuits resulting from such injuries while the employee is automatically protected against such eventualities as those described above. This, therefore, is something that is beneficial to both parties. See the board's website here for more on this.
The state of Georgia requires that a business that employs three or more people must have workers' compensation insurance. The coverage begins from an employee's first day on the job. It is for regular workers, that is, anyone who works for the business on a regular basis including part-time and do not identify as either
A federal worker,
A railroad worker,
An Independent contractor,
A Volunteer or
A domestic worker.
These set of people listed above do not qualify for the insurance in Georgia. Also, self-employed people, either a sole proprietor or a partnership, are not required to have the workers' compensation insurance. Though they may elect to do so, Georgia's law recognizes sole proprietors and partners as employers and not as employees.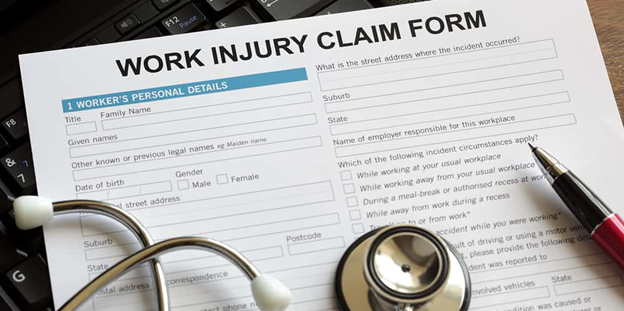 How to File For Compensation
Any injury or workplace accident should be reported to your employer immediately. The employer, in turn, must immediately file a report with the insurer's claim office. As an employee, documenting and describing the incident that led to the injury is a good idea. If you wait longer than 30 days to do so, you risk losing the benefits. Your employer should provide you with documents necessary for filing for workers' compensation.
Consulting a lawyer to know your options is also a good idea as you may never know what complications may arise in the future. If there is a need, the lawyer can submit the necessary paperwork to Georgia's Board of Workers' Compensation and ensure both your employer and their insurance company get copies.
If you are filing a claim by yourself, you must complete a WC-14 form with the State Board of Workers Compensation. Send a copy to your employer and also the insurance provider.
If you require medical attention, check with your employer to know the medical providers you can request medical care from.
Determining Compensation
An employer may use one of these two methods to determine the amount of workers' compensation paid by the insurance company to the injured worker.
A panel of Physicians: Every employer is required to post six (6) physicians you may consult. This would consist of six non-associated doctors and an orthopedist. Only a maximum of two doctors can be from industrial clinics. The panel should include, where possible, a physician who is a minority.
Workers' Compensation Managed Care Organization: These are organizations certified by the Board of Workers' compensation. They coordinate plans that deliver treatments under Georgia's Workers' Compensation Act. They are also required to include minority physicians.
Mistakes to Avoid When Filing For Compensation
Not reporting an Injury
Immediately you sustain a workplace injury, make sure to notify your employer in a timely manner. If your employer claims not to know of your injury or does not know, then he cannot be held liable. Let whoever is concerned know in writing as soon as you can. Keep a copy of your notice.
Making Mistakes on Claim Forms.
In filing for it, there are several forms to fill. You will need to gather a lot of information and also meet deadlines. If you feel you are not up to it, it is best to seek the help of a lawyer to help in filing the claim.
Exaggerating or Downplaying Your Injury
Let every physician you see understand the full extent of your injury. Your compensation will be based on the doctor's reports. If you exaggerate your injury, a doctor will see through it and if you do not complain, the physician might not know to what extent you are injured. Be as truthful as possible, providing every necessary information to the doctor.
Not following the Doctor's orders
As your compensation is dependent on the doctor's report, you need to do all that you are told. If it is reported you are not being cooperative in treatment and getting recovery, you may be at risk of your claim been denied. Keep all appointments, take all your medication and follow the treatments as prescribed.
Conclusion
Your claim may be rejected for several reasons. Maybe you have made any one of the mistakes highlighted above or maybe the board feels you do not have enough evidence to show you were injured at work.
Filling the claim documents yourself might lead to this. You need to reach out to a lawyer as a first step in helping you advance your claim. The lawyer will also assist you in filling and filing the necessary documents. Should you also find that, for one reason or another, you need to take things further, a lawyer will be in the best position to guide you all through the process.
Tags:
Claims and Benefits in Georgia
,
File for Workers'