Born in 1991, Kelsey Asbille Chow is a 31-year-old Hollywood actress well-known in the film, television, and music industry. Kelsey is an American actress, social media star, and a great entertainer. 
She is mainly known for portraying the roles of Mikayla Makoola in the popular television series, Pair of Kings and Monica Dutton in Yellowstone. She has also been featured in popular films like Full of Grace and The Wine of Summer to name a few. 
Apart from films and television series, Kelsey Asbille has also been part of music videos like Sleepwalker and Girls Like Girls. That's not all!
Continue reading the blog to know key facts about Kelsey Asbille.
Instagram Star
Apart from being a great actress, Kelsey Asbille is also a social media celebrity and has around 252K followers on her Instagram account. Everyone from kids to teens, and adults adores the beautiful actress. She has mainly posted content related to her lifestyle and work on her social media channel. 
However, despite having an Instagram account, Kelsey doesn't seem to be very active. Over the last few years, she has just shared 30 posts. Yes, you read that right.
This shows Kelsey is a private person and likes to keep her personal and professional life away from the social world.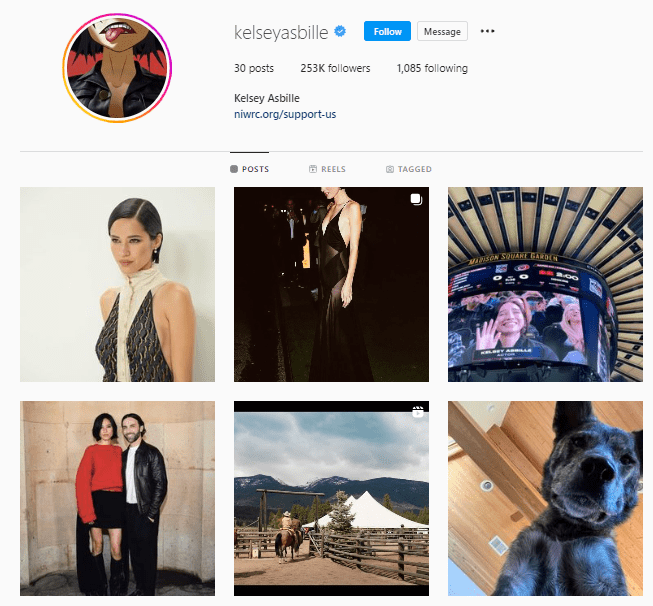 Her Relationship
It may break the heart of many of her die-hard fans, but Kelsey is not single. The beautiful actress has been in a love relationship with handsome English actor William Moseley since 2012. 
To people's knowledge, William Peter Moseley is a well-known British actor known for portraying the role of Peter Pevensie in the famous film series, The Chronicles of Narnia. The actor has even won a Kids' Choice Award for the film series. He has been part of many films, television series, video games, and music videos. 
Both Kelsey and William were featured together in the movie Run.
Part Of The Music Industry 
As mentioned above, Kelsey is not only confined to the TV and film industry. She has shown her acting skills in the music world also. 
She has been featured in 2 music videos. One is Sleepwalker by Bonnie McKee in 2013 and another is Girls Like Girls by Hayley Kiyoko in 2015.
It seems Kelsey likes facing the camera no matter the industry. 
Early Life of Kelsey Asbille
Kelsey Asbille is the proud daughter of Dr. James Chow and Jean Chow. She has one younger brother, Forrest, and a younger sister, Kiersten, making Kelsey the eldest of all three siblings. Once Kelsey stated that her father is Chinese and her mother is an American from Columbia.
In one of her interviews, Kelsey said that since her father is Chinese, she always wanted to learn Mandarin Chinese and traditional Chinese. However, when she portrayed the roles of Native Americans in 2017 and 2018, she claimed to have Cherokee blood and an "Eastern Band Cherokee descent" which made it easier for her to play the role of an Indigenous woman.
However, the tribe issued a statement claiming that they have no evidence that proves Kelsey is a descendant.
Her First Role
After acquiring experience in community theatre, Kelsey bagged her first major TV show in 2005. She portrayed the recurring role of Gigi Silveri on the television show One Tree Hill from 2005 to 2009. 
Created by Mark Schwahn, One Tree Hill is an American teen drama and romantic television series. She was just 13 years old when she portrayed the role of Gigi Silveri. In fact, she was the youngest one to be part of the show. The rest cast members were all in their 20s. Despite the age difference between Kelsey and other cast members, she portrayed her role flawlessly and with full confidence.
A Fashion Lover 
Kelsey Asbille is an excellent entertainer and a great artist who is a keen lover of art. She loves to showcase her creativity through her films and dressing style. 
While the acting is her favorite way to show off her creativity and her love for art, she also likes expressing herself through her dressing style. She is a big fashion buff who loves experimenting with different types of clothing trends and putting trendy outfits together.
Let's Wrap Up
Above all, Kelsey Asbille is a successful American actress, fashion lover, great entertainer, and a true artist. At such a young age, she has achieved so much fame and name in the entertainment industry. The information mentioned above has been taken from different sources and is true as per our knowledge. In case of any change in facts, we are not accountable. 
We hope you like the article. Stay connected with us for more updates and information on the business, celebs, sports, lifestyle, beauty, fashion, and travel worldwide. We are committed to providing our audience with the most relevant, engaging, and interesting information that engages and interests them.