Imagine a program where you just type your thesis topic and it instantly produces a flawless thesis for you…
It would be an amazing invention but we are far away from that kind of technology at the moment and it's disappointing a lot of people around the world but you know what? Eazy Research has an amazing team of writers and provides services from essay writing to engineering-homework-help, and so many places!
Well, there's nothing for Ph.D. students to get help from automation (not yet at least), but there is so much automation around the education system which is being used around the world to save time and effort in a number of ways.
Let's start from scratch and look at schools implementing automation in different departments from admissions to checking exams.
Is automation really necessary and helpful? Is it taking away jobs?
If this is something that you thought of, then don't worry we got answers and a lot more information for you that you might find interesting.
These are some ways schools have implemented automation and are getting benefits from it!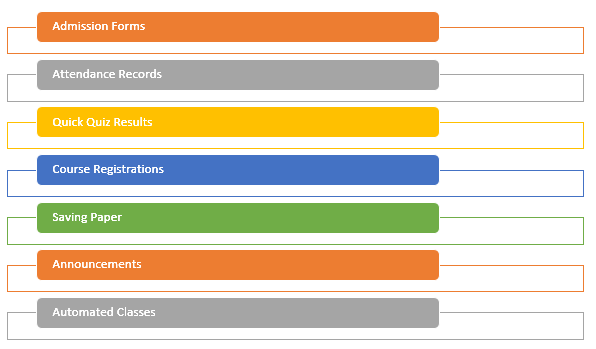 No More Juice-Stained Admission Forms!
With everything being digital, the classic spilling water or juice or tea on forms is getting outdated.
Schools are automating the admission processes with online forms, the parent or student fills it through the given link or website.
How does it work?
When the parent or student fills the form, the information is sent to the admission officer quickly with no hassle. On approval or denial of the form, the parent or student who submitted it receives an automated text on the phone or an email, depending on situations and other factors.
It saves time on both ends and reduces the cost of papers and other things used during the admission process.
Nobody Yells "Present" Anymore!
Schools now have an automated attendance system that might not be as cool as yelling present when your name is called but it is way more convenient and beneficial.
Instead of marking down attendance on a journal every day, schools now either have a card system or thumb impression system for attendance.
Schools with card system give students cards which they swipe in the attendance machine to mark their attendance. Thumb impression system well, it just scans student's thumbs and their attendance is marked with it. Simple as that.
The only downside which is actually an upside is that students can't cheat their attendance or mark their absent friends as present in the journals.
No More Waiting for Results
Have you ever got your result so late that you actually forgot about the test or exam you took? Well, it doesn't happen anymore. Schools now have mini-robot-like machines that scan out examination papers and quizzes and give out results instantly.
Although they are very limited to their functionality they are very efficient and time-saving and with quick results come quick improvements!
No More Course Registrations Queues!
Every year at the start of the academic session, we would be standing in queues to enroll ourselves in our desired courses, it doesn't happen anymore.
With the automated course registration system, schools allow students to register for their courses online through the school's website. Later on, the students are informed and provided with course-related materials and information through email or text messages automatically.
Schools are Eco-Friendly Now
Over 40% of wastage from schools is paper.
Bad for the environment as the majority of school's papers can't be recycled which includes forms, assignments, students' notes, workbooks, and other things.
Automation has made almost everything digitalize and eradicated papers from a lot of departments. Emails have replaced forms and results and other things.
Being digitalize isn't only making schools Eco-friendly but also having a good impact on their budget too as good grade paper could cost a lot.
No One Misses Announcements!
The days of inaudible announcements over speakers are over as schools have learned a better way to engage with their staff and students. Schools contact the students or teachers or whole classes with automated emails and text messages.
It reduces the noise pollution in schools, nobody misses any announcements and only intended people to get the announcement. It also reduces confusion between students as they don't hear random announcements throughout the day and wonder why and who was it for.
No More School!
It might sound ridiculous but the time where students won't even need to go to school isn't far.
As the current and new generation loves technology, and prefer to be around them all the time. A lot of schools have video-oriented classes on their school portal websites.
When a child doesn't want to attend school, parents can make them take classes at home through video lectures on the school portal. The schools send them their child's curriculum through an automated email system and they know what their child might be missing at school that day.
Although learning from videos can't replace schools and teachers but it is a great substitute and make the children to their studies even at home.
These were a few examples of how automation is making life easier for teachers, students, and management at schools. Automation isn't perfect yet, it has a far way to go before it can be considered perfect, but what is present with current-day technology is nothing less than a miracle.
Automation has taken away jobs from people like clerks from school who'd just carry out documents and paperwork in the schools as papers have become obsolete and outdated.