If you thought that decorating the bedroom or the living room was hard, things get even more complicated when it comes to the bathroom. Keeping up with the trends can be difficult at times because each new season brings challenges of its own. However, the 2019 season is ushering at least 7 exciting solutions for your bathroom's décor. From the bathtub to lighting fixtures, this year brings a lot of new details that will make your bathroom glow.
Rounded Rectangle Mirrors Are Making a Comeback
The previous years have seen a decline in popularity of the rounded mirror but few people expect for rounded rectangle mirrors to make a comeback. This mixture of the standard rectangle mirror and a more fashionable rounded vanity mirror is the king of 2019. Regardless of its size, you can place a stylish wooden frame around this mirror to give out the impression of opulence. At the height of their heyday, these oddly-shaped mirrors had a frame out of plastic, which is something to avoid this season.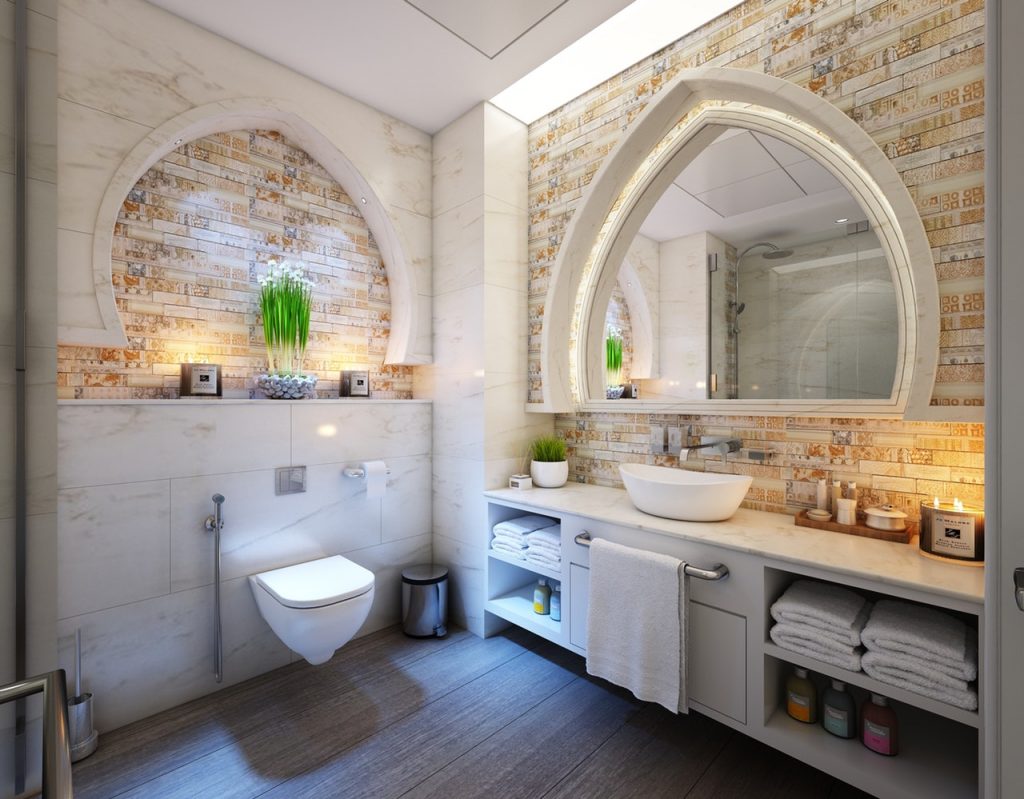 A Floating Toilet
When it comes to the toilet, bowls with sexy contours have given way to wall-mounting toilets. Unlike a freestanding one, a floating toilet doesn't have a base on the floor but it's rather nailed to the wall. This design is not only more appealing, as you might have seen such toilets at fancy restaurants, but practical as well. Mopping around the conventional toilet bowl you and I have back at home is a nightmare. A wall-mounted toilet is much easier to clean underneath, guaranteeing a higher level of hygiene.
A Corner Towel Warmer
Towel warmers are nothing new in 2019. They have become a bathroom standard long ago but recently designers are trying to reinvent them. For instance, instead of taking up an entire section of the wall, they can be placed in one of the corners of the bathroom. Apart from the shelves, there is not much you can place there. That's why such a location is ideal for a towel warmer. This solution is ideal for large, stately bathrooms common for Australian countryside mansions where there is plenty of unused space. Even a small apartment bathroom can benefit from a corner towel warmer but it will require more skill to place them and install them properly.
Freestanding Baths
If the freestanding toilet is going down the drain (no pun intended), then the freestanding tub is making a comeback this year. In whichever way you decide to resolve the age-old dilemma whether a bath or a shower is better, a freestanding bath is a fashion statement in 2019. It is no wonder that you can find a freestanding bath in Sydney for a reasonable amount because so many people are ordering them that their prices have dropped. Every house owner would like to see a stately tub in their bathroom because they come with great benefits in the form of soapy bubble baths.  Mind you, the yellow rubber duck is not included in the offer.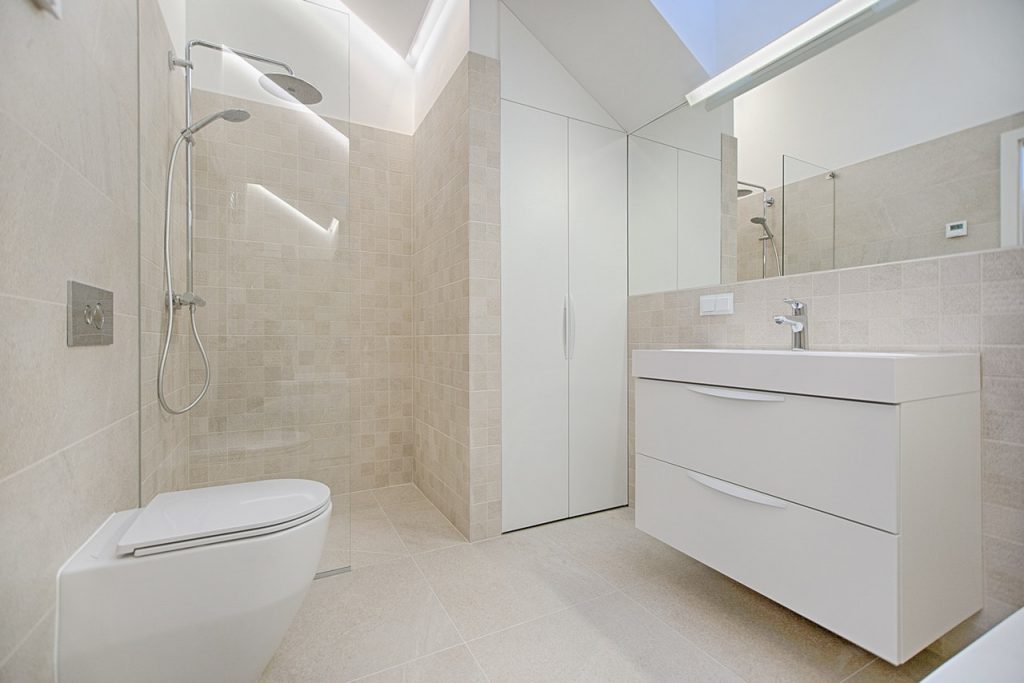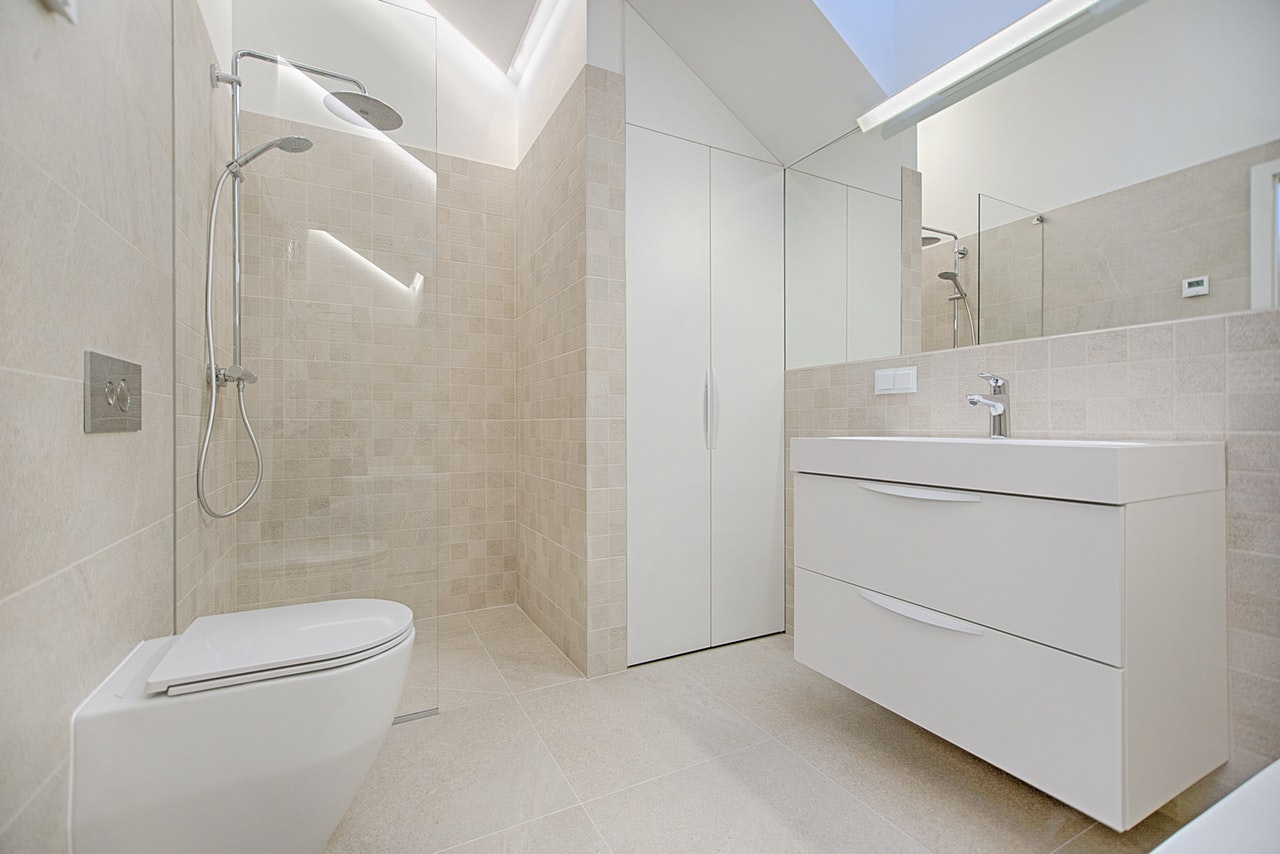 Walk-In Showers Without a Dam
As far as shower cabins are concerned, the dam is gone in terms of style. This leaves the person taking a shower with the problem of water drainage. However, such walk-in showers usually have a tilt at the base and they come with strong rubber edges. The combination of these two techs prevents any water from escaping the cabin while you are having a shower. By implementing this technology, you virtually lose track of where the cabin begins and the bathroom ends because there are no visible signs on the floor tiles.
A Light from Below
You might have followed the trends of LEDE strips around a vanity mirror. They work well when the mirror is nice and round but an LED strip would look plain ugly one rectangular mirror. That is why these décor light pieces have migrated southwards towards the vanity cabinet itself. They should be placed right under the counter and near the floor, under the cabinet door. The whole bathroom will be lit from below with beautiful and eye-soothing multicolored LED light. 
Matte Tiles
Glossy tiles might have popular at one time during the 80s and the 90s but their fame is long gone. In fact, they are considered kitsch today so never go back to this goofy bathroom décor trend. What you need nowadays are matte tiles and plenty of them. We're not saying that the entire bathroom should be tiled in such a manner but at least make the area around the lavabo look sexy and appealing. These tiles are super easy to maintain, as their finishing repels any dirt.
The only thing you need to take care of is the level of natural light. Since they are usually black or some other dark color, they do not reflect natural light but absorb it. If you have a super small window, you might end up with a darkroom instead of a bathroom, even during the days the sun is the strongest. It would be silly if you had to turn the bathroom lights on at noon when the sun is the strongest in Sydney.
These are the top 7 trends for this season. However, there are other novelties when it comes to bathroom décor in 2029 so make the effort to discover them all.