The trend toward coworking spaces has been rising for several years now. According to projections, more than half of all employees will be freelancers or self-employed in the next five years, so coworking spaces are likely to become extremely popular as people look to share office space, as well as various resources with other workers.
Many think that coworking spaces will take on an even more significant role in the workplace in the coming years, with some estimating that they could account for nearly a third of business by 2027.
Coworking spaces will continue to gain popularity, and the number of coworking spaces around the world will increase from 4,600 to 9,000 by 2023.
Many business publications and journals have hailed coworking as the future of work, and there are ample exciting coworking trends in 2022 happening with this new type of office space right now.
In this blog post, we'll look at five interesting trends in the future of coworking spaces. You should know if you're considering opening one up or working at one in the future.
But, first, let's understand what a coworking space is.
What is a Co-Working Space?
Working alongside other individuals, especially when they compliment your skills and knowledge, is often more inspiring than toiling away by yourself. That's where coworking spaces play their role.
Coworking spaces provide a physical space ‌anyone can rent by the hour or day. Some coworking spaces may include shared office equipment such as printers, desks, or drawers, while others offer just a peaceful place to operate with Wi-Fi.
Coworking spaces vary widely around the globe. Some foster a calm and studious ambiance, while others cultivate sociability and innovation. Some are vast open rooms filled with desks, while others are modest private offices.
Coworking spaces have plenty of amenities, including office coffee machines, printers, fax machines, and much more. Many even offer free Wi-Fi or organize lectures or workshops on topics relevant to freelance workers who seek to enhance their skills and knowledge base.
The popularity of coworking spaces has been growing in recent years. By 2023, this trend will continue as more coworking places open in various locations.
Why are Coworking Spaces Extended to Grow?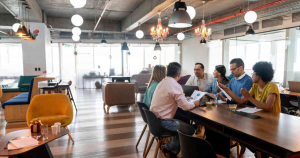 Coworking spaces first gained popularity in 2007, when they were first recognized as formalized locations where individuals may collaborate and work on their own schedules.
According to a variety of research, experts believe that by 2023, about 41 million people will be freelancers, which is almost two-thirds of the population. That's why the culture of coworking spaces is expected to grow at a rapid pace. Because these people can't afford to rent offices, they need an alternative space where they can work and share their ideas with others.
Also, these people are job hoppers who frequently switch their jobs, making it challenging for them to settle down in one workplace. Coworking spaces solve both these issues by providing a flexible environment where you can discuss your project with other freelancers on similar projects‌.
Our world is changing, with the global economy growing ever closer and people becoming more mobile. One of our key values is mobility. That's why it makes sense that we embrace a new way of working and interacting with one another.
We hope you now know why coworking spaces are expected to grow.
Now let's look at the upcoming trends for coworking spaces. 
5 Interesting Trends for Co-working Spaces in 2022
1) Coworking Will Be Open To Everyone
Coworking was started with the aim of supporting creatives and freelancers, but now it's open to every individual. Whether you're an entrepreneur, initiating your startup, or a corporate professional looking to downsize your office space, coworking spaces are the best option. It's just another example of how far coworking has progressed from its origins as a provider for small teams on their startup journey.
Several large corporations have recently turned to coworking spaces as they rebuild their employees' experience. Also, the term "private offices" will become obsolete. Coworking is all about creating a community where everyone from freelancers to small companies may collaborate and help one another.
In the coming days, many new businesses will opt for coworking spaces where people can quickly meet up and network with one another while traveling or just taking a break from work away from home or office.
2) Coworking Will Become Affordable
One of our key expectations is that coworking will be inexpensive and available to a broader audience. Coworking spaces will be ‌ standard, just like shops and cafes, and there will be an abundance of co-work places in every neighborhood.
People will be more likely to engage in coworking on a regular basis. The main reason for its growing popularity is that many people want to be outside their home office during working hours and feel comfortable at their workplace.
More people will use co-working spaces as they will become affordable and flexible. They won't have to pay for a regular workplace and may easily relocate if they're unhappy.
Some people don't need a permanent office. Coworking will be available to such individuals with no fixed contracts.
3) Coworking Will Become More Diverse
 Coworking spaces will ‌ become more diverse. In 10 years, we'll see different ‌people working together, thanks to workplace diversity and gender equality becoming important issues. A coworking space will attract people with similar interests and hobbies.
People from different backgrounds with shared passions can already find each other in the same coworking space. This will only increase in the next ten years, as advanced search tools will make it easy for coworkers to see each other based on their needs rather than simply their location or industry.
In short, coworking spaces will bring like-minded people together and enrich their experience greatly.
4) Employee Attendance Tracking Will Be Used
There will be a major focus on employee attendance tracking software. With many employees working remotely, employers and managers will need to track who is logging into which programs, when they're online, and if they're actually working or just slacking off.
The best coworking spaces will use employee attendance tracking software to inform employers of potential problems with their remote workers or send messages if an employee hasn't logged on to their account.
Coworking spaces can create a culture of increased productivity by encouraging an environment where employees can hold themselves accountable for their attendance.
These employee attendance tracking programs may also help motivate remote workers by allowing them to view how many hours they've worked each day or week and help them assess what they need to do in order to be more efficient in their work.
Coworking spaces will ensure your employees are as productive as possible by utilizing attendance tracking software.
5) GPS Time Tracking Will Gain Popularity
GPS time tracking apps will become more popular because co-workers and employees need a way to accurately report how much time they spent on their tasks or projects. GPS time tracking apps can give your employees and co-workers a way to show how they spend their day.
These types of software tools also have several other benefits that can help small businesses stay organized, increase productivity, and maintain efficiency.
GPS time tracking apps will allow coworking spaces to have an accurate list of hours worked. By utilizing GPS time tracking apps, small businesses can better manage their employees and collaborators.
One of the best benefits of using a GPS time tracker is that it allows you to keep a constant track of your employee to ensure that they are not moving around or stretching out work hours beyond what you pay them for.
You can keep your employees productive with the best attendance tracking software. You can use it to track employee time, location, and productivity while they work.
It will also help you be more efficient, allowing you to focus on the key aspects of your business.
Conclusion
There are no indications that the coworking spaces will decline As the number of companies like IBM, Facebook, Microsoft, and Amazon tap into them to enhance productivity. Also, employees can work from any location in their city, allowing meetings to be held at various locations.
Additionally, flexibility is another key reason why people join coworking spaces. These days, more students and freelancers choose to work from these locations due to their flexible working hours.
Therefore, We believe that the coworking space industry will continue to grow in the coming years, with even more companies adopting it as a means of increasing productivity and fostering company growth.
That's all for today. We hope you like our post. If you have any suggestions or queries, let us know in the comment section.
Also, don't forget to subscribe to our blog for more exciting content like this.
Until next time. Keep Learning, Keep Leading.
Thank You !!