It has become essential for businesses to solve all the problems and issues of the customers more accurately and efficiently. This might help them to ensure customer loyalty along with the brand establishment. It is just similar to earlier times when businesses have stepped to take the help of machines to just avoid the constraints and limitations of humans.
But in today's time, customer service has become a vital aspect for business, and the innovation which is responsible for this is a chatbot technology. It is considered as the future technology which helps in providing enhanced customer service and helps businesses to manage all the activities related to it more efficiently. Besides providing the best customer experience, there are numerous benefits that businesses can leverage when they consider opting for advanced chatbot technology for their business.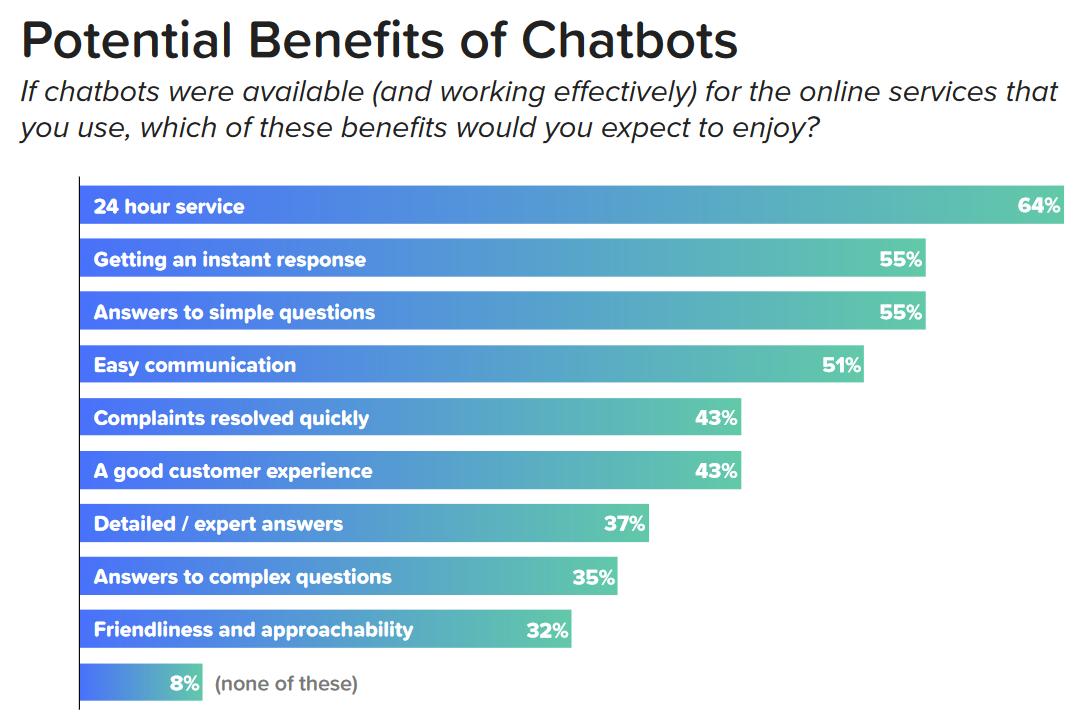 Chatbot Technology: Know Why Businesses Need To Opt For This Advance Technology
Most of the customers these days prefer to use chatbot technology, more than 67% of customers opted for chatbots in 2018, while this number in 2019 as a quarter of the population was predicted to opt for one or another kind of chatbot support, this number is predicted to grow higher in the nearby future. However, chatbot statistics also show that more than 46% of users will prefer to communicate with a live person, while rest would love to interact with the chatbot as it provides them the best experience.
The topic of chatbots has become a buzzword in the corporate world these days. Most of the businesses are considering integrating this advanced solution in their businesses as it offers them numerous benefits that they haven't imagined before. AI-based chatbots not only help in providing the best experience to the customers, but it also results in reducing cost, which they usually spend on providing all-time support to their customers.
A chatbot can help businesses to answer each and every issue of their prospective customers and help them in avoiding long waiting times in queues of customer hotlines. Most of the issues are always solved by this advanced AI-based, but if it fails to answer any queries of customers in real-time, then a human employee can easily take over it at any time and from anywhere. 
Most of the businesses avoid considering this advance technology for their business because they think that it will not fit in their budget, but they need to understand that the cost of integrating chatbots depend on various factors and one of it is a type of chatbot, listed below are some of the popular types which business can consider for their business.
Command Based Chatbots
This type of chatbot mostly relies on a database of heuristics and replies. Command based chatbots reply to customers' queries by selecting any kind of answer that matches the context of their query. This type of chatbots does not create new text, it poses various characteristics which include:
These types of chatbots possess the capability to answer very few queries of the customers.

Command based chatbots require manual help for atypical questions.

This chatbot can't perform functions outside its designed code.

Chatbot has to analyze and understand the question first before providing the answer for the same.

This type of advanced chatbot uses a dynamic or template search for understanding and answering questions.
AI-Based Chatbots
It helps businesses to answer various questions of customers more efficiently and accurately than ever before. This advanced AI-based chatbots accurately generates replies from scratch to answer customers' queries more efficiently, it uses natural language processing to generate the outcome for the queries fired by your prospective customers. This type of chatbot becomes smarter with the passage of time as it learns from past questions and customer's behavior.
Both the chatbot categories possess their own pros and cons. Hence businesses have to make sure that they make the smart and cost-effective choice for their business. Command based chatbots provide grammatically correct and more reliable answers to customer's queries, but it fails to respond to those questions which are outside their knowledge base. Moreover, in comparison to that, AI-based chatbots demand a huge amount of learning data and can easily form a longer sentence in return for customers' queries.
Chatbots Mandatory Part Of Business: Explore Reasons That Justify The Answer
A chatbot is advanced software that helps businesses to automate their conversations. It also helps them engage in conversational marketing with numerous messaging platforms. This advanced communication platform uses pre-programmed scripted or artificial intelligence for providing a response to the customer in real-time. 
AI-based genuine chatbots possess the capabilities to handle more tasks in a sophisticated manner. There are many other reasons which justify why businesses must consider this pre-programmed bot for their business.
Scale Up Business Operations
Today's businesses are adopting various ways to scale up their business operations, they have developed advanced app solutions like ubereats clone or any other, they are integrating chatbots into their business website, and many more. Integrating chatbot for answering customer's needs can prove to be a better option for businesses as it does not suffer from a human agent. 
Chatbots can operate effectively with the end number of customers while compared to that, live agents can only handle 2 to 3 conversations at a time. It helps to complement the human task force, which is integrated with their business. It improves the efficiency of businesses and provides them with new ways to enter a completely new market.
Concluding Thoughts
Automation technologies are taking over almost all areas of our life these days. Be it a development of smart homes, smart cities, workspaces, digital personal assistants, or anything else, everything has been automated in the present market. With smart development, we are moving closer to the digital future. Chatbot technology is undoubtedly infancy, and we are just scratching the surface of it.
But one thing is quite clear that chatbot technology is here to stay for a longer duration of time. This development will definitely have a great impact on both customers and businesses. The present integration of AI-enabled chatbots in the business sector opens a doorway for businesses to satisfy all the needs of their prospective customers and helps them understand the future uses of chatbots for accomplishing various business operations.